Your senses will be awakened by the aroma of a perfume. There is a plethora of perfumes to choose from, but the challenge is identifying the one that best expresses your unique personality. It might be difficult to select a perfume that isn't overly sweet or too warm when there are so many brands to choose from.
Consider the essential phrases stated on each perfume while searching for your distinctive aroma. "Chypre," "Citrus," "Floral," and "Woody" are some of the most often used terms. Fragrance Families are a word used to describe groupings of smells that are related in some way. These suggestions are well worth experimenting with in order to find your own preferred scent.
Choosing a bottle size might be confusing
One option is to purchase a large bottle to put in your closet as well as a tiny travel-sized bottle to have in your handbag, or you may buy a large container to store in your closet and a fairly small vial to decant into later. While the process of decanting might be laborious, it's critical to ensure that you don't lose any essential oils.
How to Extend the Life of Your Perfume?
Don't slather
After you've sprayed, don't rub your wrists together. When rubbing, the fragrance's top notes are actually hindered from blossoming to their full potential. Heat generated by the friction might compromise the fragrance's freshness. Once you've sprayed each area, wait for it to dry.
Properly store
Perfumes aren't fans of direct sunshine, heat, or steam. Perfume should be stored in its original container at room temperature to preserve its scent.
Moisturizing is important
After bathing, apply your perfume on skin that is already hydrated. Moisture holds the fragrance in place and provides it with the foundation it requires to enhance the scent and maximize its longevity.
Harvest of Jasmine
Harvesting the jasmine bloom early dawn prevents the long white petals from being scorched by the sun. From May through June, Sambac and grandiflorum jasmines are picked, respectively. It is still conceivable for certain perfume companies in Grasse to include jasmine blooms in their creations, despite the flower's rarity in the region today.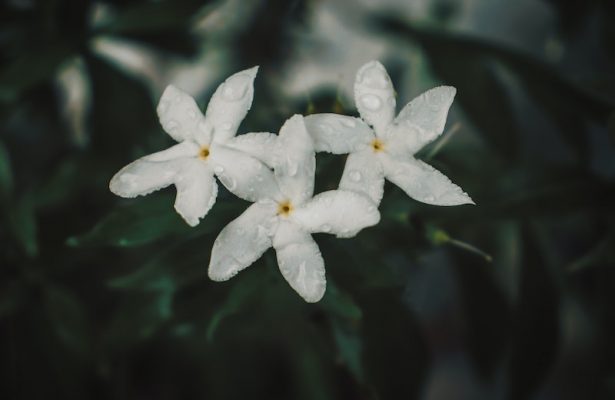 Because of the harvest's fragility, prices tend to be high. An exquisite gem in perfumery, Jasmine Absolute is a Jasmine absolute. Jasmine was traditionally extracted using the enfleurage method. Because it is now prohibitively costly, the extraction method using volatile solvents has taken its place. A very aromatic waxy substance known as "concrete" is isolated and mixed with alcohol in various ways.
It's all about your body's chemistry when it comes to the way you smell
Maybe you've discovered that a specific scent you loved a long time ago no longer smells quite right when you use it. Alternatively, it's possible that your scent is more potent on some days than it is on others. What's going on, then? Why do fragrances appear to fluctuate from person to person and year to year?
The solution may be found in one's own individual body chemistry, which is what gives each person's physiological processes their own distinct character. The chemistry of your body has a significant impact on a fragrance's influence on you. You must also know how to test scents for your body chemistry in order to choose the best perfume for you.
Gift her a scent she'll love
Stock up on her favorite cologne or perfume, if she does have any (simply look inside the closet while you're there). It's an extra bonus if the bottle is personalized with her name! A few days' notice and/or a charge may be required by certain high-end boutiques year-round. But, don't you think it lends a distinctive touch to the whole experience?
Make her feel like a million bucks with a high-end gift. Choosing a perfume that she hasn't tried before can increase your chances of a pleasant surprise.