If there is one thing we can take away from this season's Women Tell All episode of The Bachelor, it is this: Chris Harrison would be demolished in a cat fight. Let's just say he is much better off as a Bachelor host than a career as a referee…
The episode jumped right into the dramatics, putting Britt and Carly on the hot seat to sort out their unresolved issues. If we recall, Carly stabbed Britt in the back several times throughout the season, blindsiding Britt into thinking they were "friends." Unfortunately for Carly, Jillian has no problem jumping in the middle of their battle (having Jillian on your side makes all odds in your favour) to point out that Carly's insecurities and jealousy "shine right through." How does it feel to "squirm" now Carly? I mean you did find such an obscure and pathetic joy in seeing Britt get crushed when Chris let her go. Oh, Karma.
Next up was Kelsey against… well, all the women. Referred to as the "black widow,"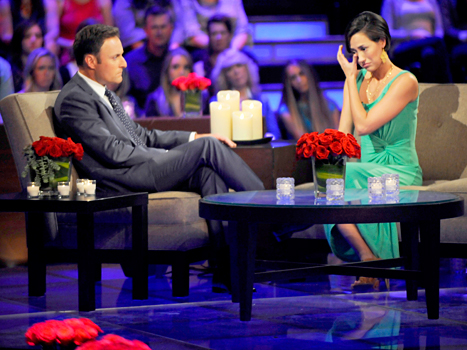 Kelsey takes the trophy for the most controversial woman in Bachelor history. You know, I like to give people the benefit of the doubt. Kelsey has been through a lot, but there is a type of allure that she just… doesn't have. When you start bluntly stating you're on a higher level than others, well then excuse me for not putting you at the top of my favourite list. Allow me to point out one other thing: As a guidance counselor, I would never trust one word coming out of this woman's mouth. Ever.
And of course, it wouldn't be a Bachelor Women Tell All episode without the Bachelor himself. Cue farmer Chris. As soon as Chris walks in Britt starts the waterworks, Jade tenses up and Kaitlyn gets ready for battle. It's time to demand answers and gain closure. Chris looks as uncomfortable as a chicken in a bullfight.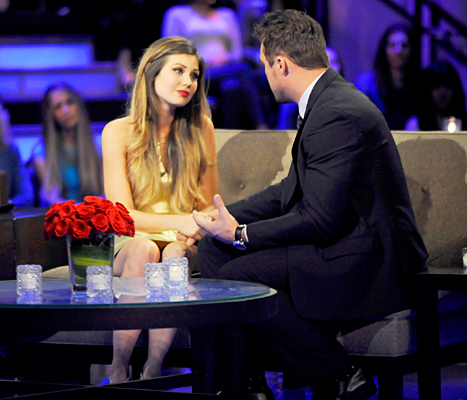 So Britt and Chris share an awkwardly too long embrace, Kaitlyn tries to understand why Chris lead her on for so long and Jade confronts Chris about his "disturbing" comment on his blog. All in all, ladies you should be filled with happiness. You'll never have to move to that place in the middle of nowhere.
Tune in next week for the Bachelor finale!