The big city, just like you pictured it – flashing lights, busy streets with the excitement of the everyday hustle and bustle. You can smell opportunity in the air simply breathe it in "Aaaah!" Oh wait, I think that's smog? You have on your most posh black Hepburn dress, cute pumps with matching bag and accessorized to the nines! You're it and ready to start making things happen! This is the place where dreams are made of and we have the most fabulous tips to get the ball rolling for ya gorgeous!
 Pursue your passion with conviction. A truly fabulous woman is one that understands why she's here, what makes her tick, and what gets her revved up and excited to start her day each day. A woman who's passionate makes things happen because it runs through her so deep that nothing can possible get in the way. For a passionate woman roadblocks are only a fair challenge to keep her thinking, create an amazing idea and flow past it – of course she's looking amazing all the way through complete with a pair of pink pumps. So readers I ask you this – what's your passion? What could you do everyday of every hour and feel stimulated all throughout? Go on, you owe it to all of us to get on with what you're good at.
Wear heels often. Oh yes darling I did say it! There is no right or wrong time to whip out your favourite pair of heels and strut your stuff down those busy streets! How much fun did you used to have sneaking into your mom's closet playing dress up and putting on her cutest kitten heel? Made you feel like a real woman right? Heels allow us to be feminine, girly and feel elegant. They turn any old outfit into a hot number and there is nothing sexier than a woman who's mastered that walk and is all beauty and grace, a real head turner. So go on girl werk it in your fav pair! Heck strut around like on the catwalk in your condo – practice makes perfect after all!
Surround yourself with positive and successful people. I can't stress this one enough. In the big city it's easy to get caught up with the wrong people I mean there are just so many! Let's not get this phrase twisted. I'm a firm believer in thinking that people are inherently good however not everyone is passionate about the same things or understands you to the fullest. Be around the people who inspire you most, who support every possible brilliant idea for success you have – no matter how wild and mostly who can be positive no matter what. Positivity isn't only suitable when the mood strikes or when things are going your way it's a way of living. It's saying "I'm going to look on the bright side, put on a smile and be kind even if the world around me is falling to pieces." Surround yourself with these types of people and your life as we know it is one bright rainbow and that pot of gold is only a few steps away.
Keep calm and have a cupcake. The hustle and bustle of everyday life can sometimes be exhausting. I mean we're making dreams here in heels so it definitely leaves a girl a little stressed time to time. Let yourself chill out, take a breather and grab a cupcake! A delicious, fluffy, sugary, icing topped treat can be the perfect pick me up on a stressful day – the walk to your closest coffee shop from the office is soothing and lets you air out your day then diving into a pink, icing topped treat gives you both that sugar rush and feeling of nostalgia – bring yourself back to those playground days. Go ahead treat yourself!
Book happy hour with your besties. First, I say book because all fabulous women have busy schedules so planning ahead is key. Second, making an occasion out of happy hour, sipping on a bevvy with your besties is always appropriate. There is nothing better than sitting around with your fav, positive gals, having a glass of red and chatting about all the great stuff your up to. All fabulous women have their go-to girls that are always there for love and support and it's so important to always same some time for them no matter how busy the schedule and let them love all over you and vice versa. Think Sex and the City brunches. I mean where would Carrie be without Miranda, Charlotte, and Samantha. You're just as fabulous as Carrie so round up your girls, happy hour is on me!
If you like these tips then you'll LOVE everything DivaGirl! We have an amazing show coming up fit for the fabulous woman that you are! "High Society" put on by The Chick-A-Boom Room is on July 9th. It's a sexy burlesque-style show so come on out.  Did someone say Girls Night Out?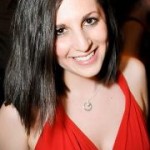 Written By Julia Marie Gallo
DivaGirl Membership & Social Membership Coordinator
[email protected]
www.divagirl-inc.com