Are your workouts not doing anything for you anymore? Are you no longer losing weight and or gaining muscle mass? If this is the case then you have indeed hit the exercise plateau.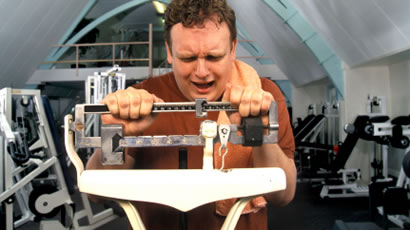 What is the Exercise Plateau?
An exercise plateau is something that happens when your body essentially resists change regardless of how hard you push to move it in one direction. When you hit a plateau your body has essentially become used to your workout routine and or nutrition plan and further change will come at a much slower rate or be nonexistent all together.  The important thing to remember at this time is that you are not doing something wrong this is just your body trying to stabilize itself. The body's willingness and ability to regulate itself is astronomical in fact this is what makes serious changes to your physique so challenging. Regardless of what direction you want to move your body in it will require consistent action and consistent focus.  Getting past a plateau can be very challenging both mentally and physically since in most cases an individual hitting a plateau is already exercising regularly and following a sound diet.
How Do You Avoid Hitting A Plateau?
The best thing you can do to avoid hitting a plateau is varying your workouts. By varying your workouts I mean switching up your exercises on a weekly basis and keeping everything fresh. Perhaps you use dumbbells one workout, barbells for another and then kettle bells the next week. As for cardio-training you ride the bike on Monday, hit the treadmill on Wednesday and do the elliptical on Fridays.
By keeping your body guessing of what is going to be thrown at it next you minimize the probability of hitting a plateau. If none of that works then it may be best to take time off. Often people mistake a plateau with burn out. If you have been going to the gym diligently for months then it may be time for you to take a couple weeks off and then get back at. Give it a try and feel free to share your results with me.
Paul can be contacted by email at [email protected].  www.gilltraining.com