It was Shakespeare who said: "The eyes are the window to your soul".  We can intrinsically sense what someone is feeling and even thinking when we look someone straight in the eye. We can tell if they are lying or being truthful, if they are sad or full of joy, and even if they are feeling shy or full of confidence at a moments glance.
From a primal perspective this makes sense as well. When we look someone in the eyes, we identify who are our real physical threats and who we can trust and not trust. Humans learned to develop an unconscious ability to read the patterns in the iris to determine all sorts of emotions and safety factors.
From an emotional perspective, we get back what we are our projecting through our gaze, so even if we have a huge smile plastered on our face, if the eyes project sadness there will be an unspoken expression of this pain. Similarly, if we are projecting cheeky playful confidence, the observer will take note and feel this too… Hmm, interesting.
The fact remains that when we make and maintain eye contact with another person it obligates them to respond in some way. And often times, there is an unspoken demand for attention through eye contact that can be quite sexy.
I wanted to set my friend, Jenna, up with my male friend and the first thing she said was,"Let me see a picture of his eyes." The eyes give us certain cues as to whether or not someone possesses the confidence, sincerity, and sexiness we all seek.
So if this if true and the eyes really are the windows to the soul, what do you want others to see?
Whether you catch the eye of cute stranger across the bar, or you give your partner a flirty glance, or you have a heartfelt moment with a special someone, it is vital to be conscious of the feelings you are projecting about them and yourself.
Like attracts like – it is a law of the universe. So, LOVE yourself for everything you are here and now, and it will shine through, and ATTRACT back!
You are all beauties on the inside (and out) so that's easy! But just to make sure you catch his attention, here is a tip on how to perfect your graphic liner to make those gorgeous eyes stand out.
Graphic Liner: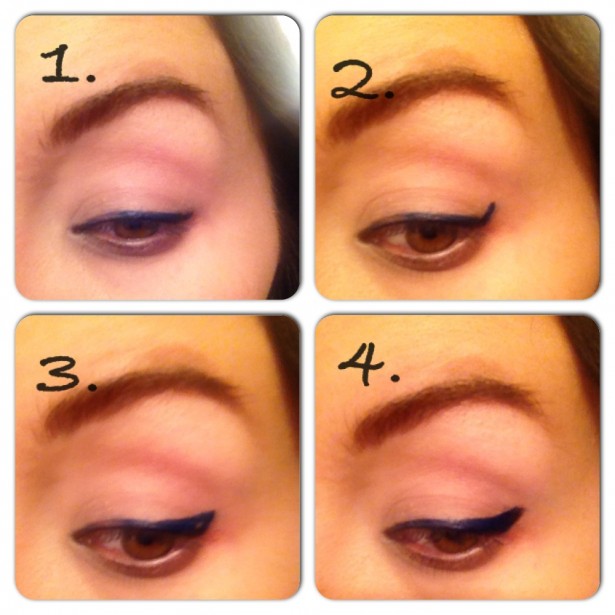 Draw a thin line with a liquid or eye pencil across the lash bed.
Draw a line upward at a 45 degree from the outermost corner of the eye.
Draw a 3rd line, connecting the top of this line to your original line.
Fill in the blanks and smooth out the line if there is any unevenness.
Look in the mirror, and tilt your head back so you are looking up. From this perspective check to see if the lines on both eyes are even. Correct as necessary.