By: Rebecca Stewert
I was getting dressed last weekend for a night out and got the usual answer from my boyfriend when I gave the standard 'do you like my outfit' question – "umm it's fine, not my favorite". This is the case more often than not. I don't rely on my partner to feel good about what I'm wearing as the ultimate decision is mine, but I am always curious what he really thinks. With the growing popularity of the "Man Repeller" notion (made popular by Leandra Medine of ManRepeller.com), I think he is fairly used to non-sexy, sometimes weird style choices. I am definitely a "Man Repeller" at heart when it comes to my sartorial choices, so how do I keep my guy still somewhat interested in my look?!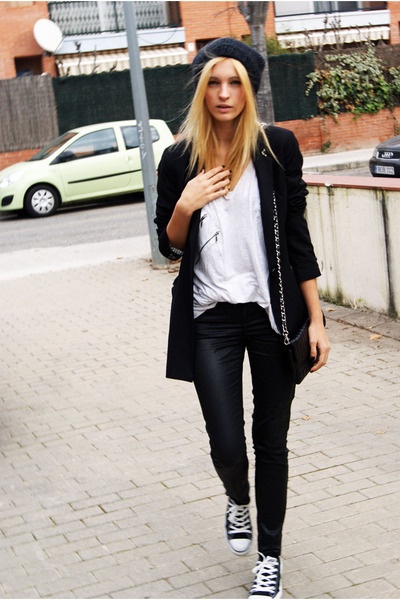 My first choice: leather pants. Even though I most often style them up with shirts buttoned to the collar, layered statement necklaces and snakeskin flats, he always likes the pants. Leather pants are a great way to ooze some sex appeal while still staying true to your fashion heart. I love my leather pants for both work and weekend, and it's just a bonus that he likes them too.
My second choice: the white tee. He claims that jeans and a tee are his favorite look; so why not throw him a bone once in a while and style up my favorite white tee. Easy and versatile, I can still top it off with a great wool blazer, or put the focus on some statement ankle boots. Let him like the t-shirt, and I can like the associated jewellery and jacket I opted to pair it with!
Third: Converse, or some similar variety of casual shoes. I like to mix dressier styles with casual footwear and if this makes him somewhat ignore what's going on up top, so be it. I think this idea works as it is something familiar to him; it's fitting to his own personal taste so he likes when I partake too. And on the weekends I'm happy to trek about town in flats. Try sporting a pair of runners with a dress and denim jacket instead of the usual boots you may opt for.
Rebecca has been working as a Personal Stylist in Calgary, Alberta since 2011. Rebecca formally launched her styling service after completing the National Stylist Workshop that was lead by Stacy London in New York. Rebecca's focus is finding silhouettes that flatter the figure and pieces that highlight personal style, whether it's at home in the closet or out shopping together. www.rebeccastewart.ca.