So, it is official (well, it's been official) – Summer is here! And along with all the wonderful things we can wear, do and partake in, one vital component that A LOT of men forget is their feet. Street feet is what we like to call it. Let's be honest; although some men like feet (it's a fetish, we get it) the majority don't take care of them. What do we mean by that? A PEDICURE!
We know this is an odd topic, but after talking about fashion and footwear with friends, colleagues and yes, strangers, they all agreed that people need to take care of their feet. MEN INCLUDED! There is a dogma that comes along with association to pedicures for men. It makes them more "feminine."
WRONG!
People (women especially) appreciate someone who takes care of themselves. You can't just cut your toenails and think that's grooming. You need to get in there! You need a woman (or a man- are there men estheticians these days?) to scrub, rub and clip you down. Stay focused gentlemen we are talking feet here! No one wants to lay down with someone and have summer, sweaty feet on them; not clipped and sandpaper bottoms (we've already shaved that day, thank you!) Gross! Unless you are into stuff like that, than hey all the power to you!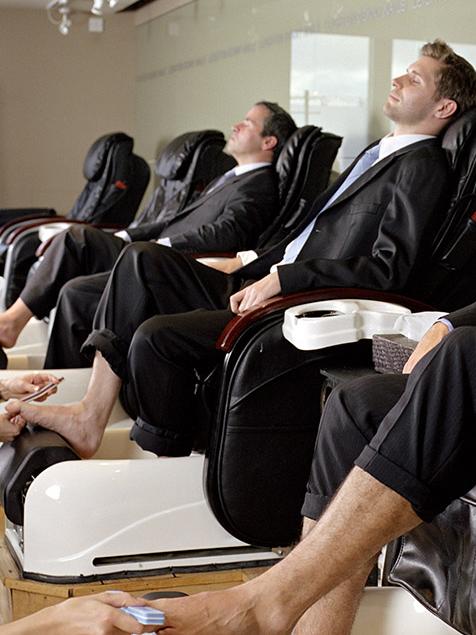 If you don't want to walk into a nail bar in the fear that women are going to think your emasculating yourself, you've got it all wrong. Personally, when we are sitting in there and getting our nails done and we see a man or men there with pants rolled up, and getting their feet on, we are thinking "good for you." Women look at everything! The whole package! The head-to-toe effect, nothing less!
If you don't want to go into a nail bar and get a pedicure (pedicures range from $25.00-$35.00 usually) than please let Shoppers Drug Mart (or any pharmacy store) be your best friend. There are tons of scrubs, scrapers and lotions to help you get desirable feet. 20 minutes of your time and your feet will thank you, and women will too! And hey, maybe a foot fetish will soon become your thing!
If you are a man who does not groom his feet and tries to hide it, here's a piece of advice: SOCKS AND SANDALS will never be in. Don't do it! Don't be that guy!
Take care of your feet. Make them look good and smell good. Fashionable feet are sweet!