Alright, guys and gals – all our single ladies and fellas, let's state the obvious here in saying we live in one the greatest cities in the world, with a million things to do at any given moment. So naturally, when it comes to Toronto date ideas it should be a piece of cake, right? Well, it can be challenging but we've got some out of this world, yet still down-to-earth date ideas to take your dates to the stratosphere of exciting.
Lovin' from the oven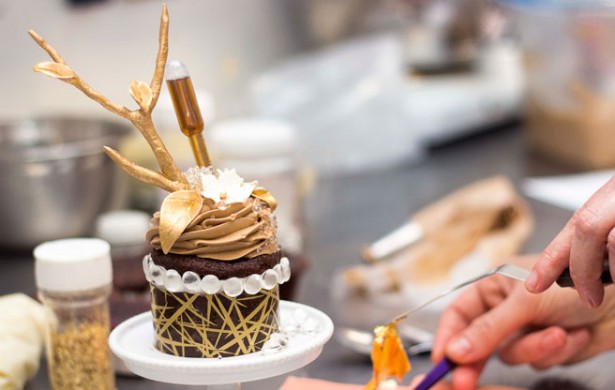 Take one step into Le Dolci and your senses will scream, "SWEEEEEEET!" – don't even try to control it. Embrace it. And remind yourself that life is a deliciously fun learning experience. So don't act too surprised when you realize that Le Dolci offers baking classes. Yup. As in, we've got the perfect date night for you and other Toronto singles to – SWOON. Learn how to make wildly tasty treats like Parisian macaroons, cupcakes, cake pops, mini fondant cakes, truffles and much more.
Here's how it works: you book a class that interests you, from cupcake decorating and making perfect pies, to cake baking 101. Bring yourself and some creativity. Le Dolci provides all the supplies and you'll leave with a dozen cupcakes, fully decorated in a cake box. (Take that, perfect match you met on that insightful online dating site!)
Super reasonable, right? Let's say you show up to one of these classes and you bake the heck out of some cupcakes. And your date was so impressed with your efforts that you really want to take your baking skills to the next level. Well, you can have your cake and eat it too because Le Dolci offers 4-week and 6-week boot camp classes. Whether it's a date night or more, when the lesson is done, chow down on the fruits of your labor. Now that's worth celebrating!
Here are the details:
Le Dolci
http://www.ledolci.com/
1006 Dundas St. West Toronto, ON M6J 1W6
Just playing games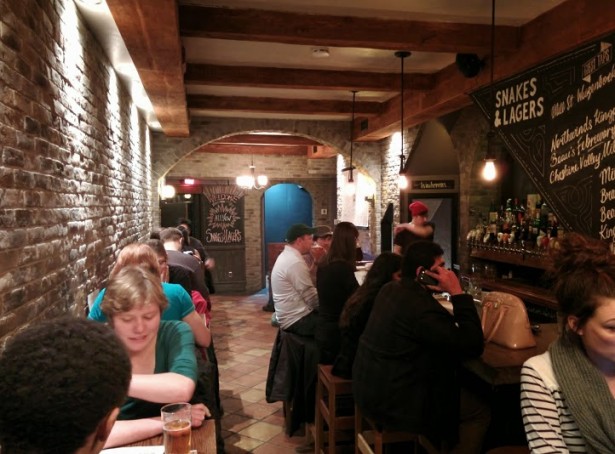 Board games. We know what you're thinking. Don't worry; despite its reputation to ruin friendships it's a great date activity! Toronto board game cafes are slowly but surely becoming a major trend in the city, so save this fun date idea for a special someone you meet on a Toronto dating site. Introducing, Snakes & Lates – the concept café draws quite the diverse crowd, from families, teens, singles, hipsters, and couples. Its friendly and welcoming vibe is paramount, and its catalogue of 2,500 board games is equally as impressive. The staff doesn't mess around either. They are all well versed in the art of board games. So let's talk about the basics: the cost is a$5 per person to stay and play, however be prepared to wait – it's a hot date activity that a lot of Toronto singles are taking part in.
Another board game café option is Roll Play Café, which might be significantly less crowded considering it hasn't been open as too long. It's well decorated and spacious, so that means you'll have plenty of elbow room to sink your date's battleship and celebrate with ease. Here are the basics: There isn't an hourly fee or a cover charge but you must be a paying customer. Purchase cake or food and you get free Americanos, espresso, or tea.
Perhaps you're looking for something with a little more oomph – introducing Snakes & Lagers. That's right, just like Snakes & Lattes, except with alcoholic beverage options – 19 draft taps from mostly local craft breweries. With over 250 board games and beer, it's like the best of both worlds, but expect a wait. The cost of admission is $5.
Here are the details:
Snakes & Lattes
http://www.snakesandlattes.com/cafe/
600 Bloor St. West Toronto, ON M6G 1K4
Snakes & Lagers
http://www.snakesandlagers.com/
488 College St. Toronto, ON M6G 1A4
Roll Play Café
10A Edward St. Toronto, ON M5G 1C9
A canoe for two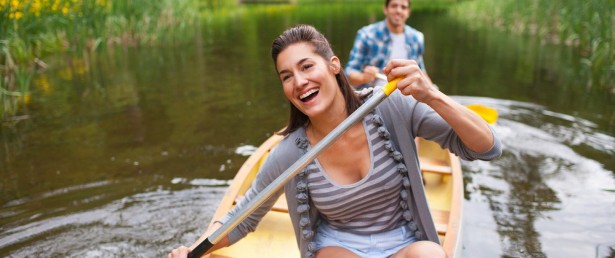 What if we told you that the idiom, "calm before the storm" is really referring to a sense of peacefulness followed by a tremendous confetti boat party on the water? Well, it's not varying far from the truth. But canoeing and kayaking on calm waters is a great way to get to know someone. Perhaps it's the fact that you're both on water, so a certain level of trust is involved? Or maybe it has everything to do with the scientific fact that it's simply way more awesome? Either way, discover the fun at the harbor front Canoe and Kayak Centre. For over 30 years they have been providing Toronto singles (let's face it, it's a popular dating activity) with tandem canoes, tandem kayaks, certified guides and instructors. The 13 Toronto islands are nearby with secluded beaches, bird sanctuaries, and picnic areas. Here's how it works: No paddling experience is required. Book a time slot. (We recommend a sunset tour, $95 for two). Enjoy a relaxing 2.5 hour guided tour of the 13 Toronto islands at a leisurely pace, stopping off at landmarks and exploring lagoons only to break for hot chocolate before returning to an incredible sunset on Lake Ontario.
Let's say you're not into the group tour guide thing. Of course, you can always just rent a kayak or canoe and venture out on your own. And for those who complain far too much about their nine to five because the human body was not designed to sit down all day, there's also stand up paddle boarding for you.
Here are the details: http://www.paddletoronto.com/Home.aspx
Location: 283 Queens Quay W
Article sponsored by eHarmony.com