Hello again, Bachelor Nation! It's Week 3 in the mansion, and this week had the best date ideas I've ever seen on the Bachelor(ette) before.
Before we jump into those, we were left on a cliff hanger last week when Kupah decided to disturb the peace before the rose ceremony. Kaitlyn over hears him yelling at the camera crew, clearly upset that she kicked him off. She decided to take matters into her own hands and confront him, telling him that "nothing is gonna change" and that she wants him to stop yelling and making it uncomfortable for everybody. She returns to the mansion, and Kupah continues to rant only "whispering" this time. Bye, Kupah. She's just not that into you.
The rose ceremony is underway, with Kaitlyn clearly being in an annoyed mood. She eliminates Cory and Daniel, leaving 16 bachelors.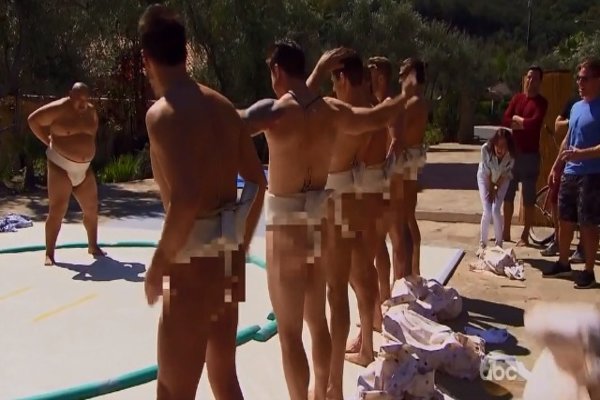 The first date of the week is a group date with Clint, Chris, Tony, JJ, Joe, and Shawn B in attendance. Kaitlyn announces that they will be suited up in adult diapers to compete in a sumo wrestling competition. The special guests are Sumo Wrestling World Champions, one weighing in at 600 lbs. These scenes contain a lot of sensory blurs, due to the amount of man junk projecting from the mawashis. Kaitlyn didn't mind, stating, "I don't think these are supposed to be sexy, but they are." There were also comments made about Tony having a non-existent ass, and how Joe's left testicle was hanging out the entire time. During their practice matches, Tony seemed confident as ever fighting against the Sumo World Champs.
After his loss he fled the scene, telling Kaitlyn how he doesn't like how he has to "show aggression in every competition" and how he'd much rather go on something "peaceful and loving". He continues to explain himself with saying he has a "heart of a warrior and a spirit of a gypsy." Kaitlyn tries to explain that the date was just supposed to be fun and that it wasn't about violence. Tony continues to be persistent with his argument saying, "Am I the only one who sees that there are other ways to connect?" At this point JJ (of course), steps in and tries to be a man by shutting Tony up. This obviously doesn't go well, and Jonathan pulls JJ away. In the end, Kaitlyn decides to be the bigger man and apologize for making Tony feel uncomfortable. She said that she understands how he's a sensitive human being and she wants to try to make it work, because she really sees something in him.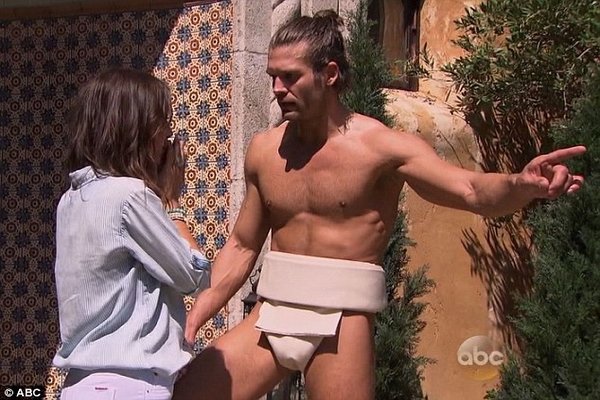 Later when the group date turns into an exhibition in front of a live audience, Tony does not attend. He asks the important questions like "Why can't we just go to a zoo?" before he, unfortunately, decides to pack up his things and leave, making sure to say goodbye to Kaitlyn and explain himself. Kaitlyn was probably relieved, knowing that it wouldn't have worked out between them anyway. I, on the other hand, am heart broken. Tony was hilarious, and I'm going to miss his abstract personality.
Going back to the group date, Clint introduces a new approach to steal Kaitlyn's heart. Have her make the move. This definitely didn't work. She confronts him after giving Shawn B the rose, saying how she took him on the first one on one date, and now he's ignoring her. "So, that's a problem", she tells him, with his reply being a solid "Alright." Then The Bachelorette goes where no Bachelorette has ever gone before. They start hinting that Clint has real feelings for JJ. Stay tuned for more on that.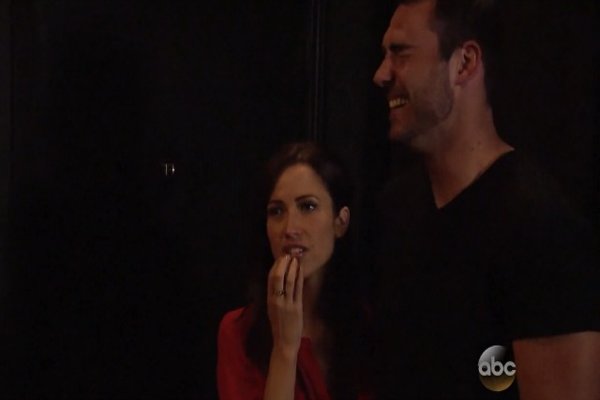 Ben Z is taken on a one on one date, where Chris Harrison has arranged everything without Kaitlyn's input. They have to participate in an Escape Room challenge titled "The Basement". It's basically a haunted house where you have to find clues and solve puzzles in order to escape the place. This is an ideal date to form a real bond. Ben Z has to be the brave man and hold her hand while he's secretly just as horrified. They face birds, cockroaches, scorpions, snakes, and creepy people under blankets. They end up escaping just in time. They go back to Kaitlyn's hotel room and talk more about Ben's past where he admits that he hasn't "cried in 11 years." Then during a classic hot tub scene, Kaitlyn gives him the rose.
The second group date calls for Jonathan, Ben H, Joshua, Ryan, Tanner, and Jared. They are going to have to be substitute teachers to a class of elementary school kids (secretly actors). Their lesson plans are for Sex Education. Joshua is the poor awkward one on the date, proving this by pronouncing tampons wrong and admitting he learned everything about sex as a kid from watching his cows.
Back at the mansion, we see more bromance from JJ and Clint. They're hanging by the pool, cooking together, and touching more than normal. Other guys are starting to notice how inseparable they've become. They've also developed this extremely over-confident character while they're together. They also reference showering together and popping each other's zits. This might explain why Clint isn't so into Kaitlyn anymore?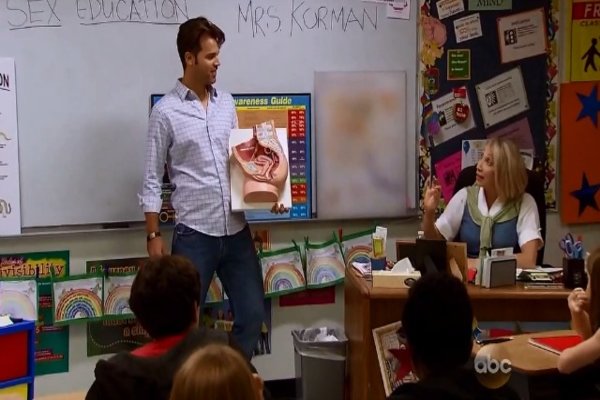 In the classroom, their Sex Ed class begins. The guys must each give a lesson on female anatomy, contraception, menstruation, and reproduction. They also have to answer questions such as "What are the 4 bases?" "How many positions are there for having sex?" and, "What's a wet dream?" Ben H steals the show with his lesson, tying in his relationship with Kaitlyn. After class is dismissed, they move the group date to a rooftop lounge. Ben H shares a romantic moment with Kaitlyn, and ends up snagging the rose for being the star of the day.
Back at the mansion, we get to see more of Clint and JJ's blooming relationship. In a side interview, Clint admits that "I feel like I've connected probably more with JJ than Kaitlyn right now. I never thought I'd meet someone like that here. We've grown very close, almost too close at times. The possibility of coming onto the Bachelorette and falling in love with a man never crossed my mind. But I believe in the process and at this point, I'm a success story." Crazy, right?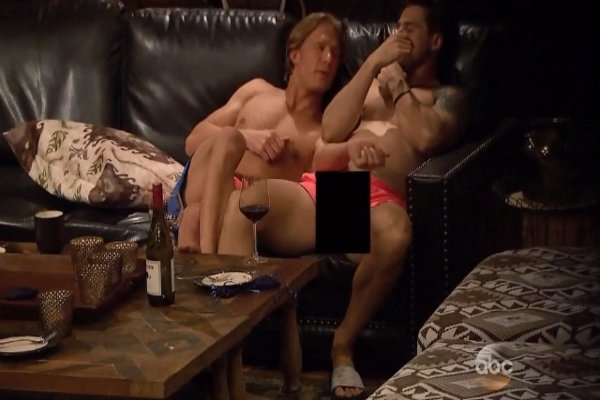 Cut to the cocktail party, where Clint reveals that he knows Kaitlyn isn't the right person from him. But he loves JJ, and for that reason he needs to get a rose from Kaitlyn to stick around. He then goes ahead and puts on an act to win Kaitlyn's heart back, and she buys into it. He reveals his secret weapon to the camera, which are his "power socks" which he wears when he needs to feel powerful. Sexy?
Clint then goes to flirt with JJ, calling him cute and complimenting his jaw line. They discuss how they're the new villains of the show, and express some pretty psychopathic and egotistic thoughts. Meanwhile, the other men are warning Kaitlyn of the new self-proclaimed villains.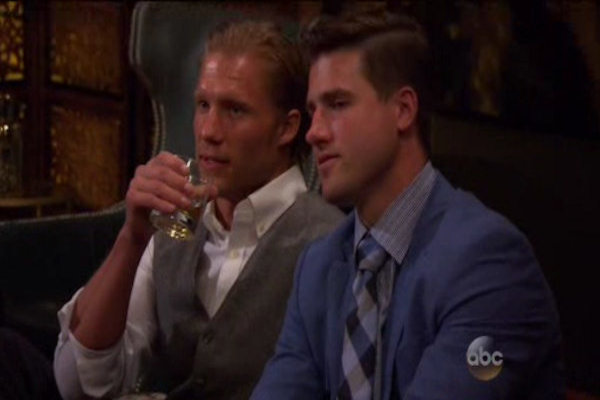 The show ends with Kaitlyn confiding in Joshua about Clint. "I have to address this Clint situation. I'm over it. I'm done. Is there anything else I need to know before I go do this? Because, trust me you're not gonna see him again." It shows her pulling Clint away to talk, and then we're left on yet another cliff hanger with Kaitlyn saying "Clint is going to go down in flames."
Now the real question: Does JJ even know that Clint is into him? JJ just seems to be enjoying being the villain, but he doesn't seem to pick up on the pretty obvious hints that Clint is dropping.
What did you think about Week 3? Tweet me your thoughts @emilydick_jb.
XOXO,
Your Bachelorette Guru