Cuffing season is here. The temperatures are dropping, the leaves are changing colour and it's the time of year when all you want to do is curl up on the couch with someone special. If you're single, you know not to be surprised when you see texts from people who you wrote off (or vice versa) months ago, only to pop up again when the air gets crisp. Kinda sounds like musical chairs, doesn't it?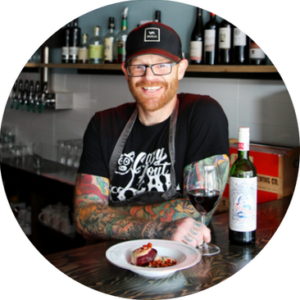 To help you raise your game we asked our friend, chef Dave Mottershall (of Loka in Toronto) to share a foolproof recipe that's sure to impress your partner.
Dave came through with a delicious red wine poached apple dessert. The ingredients are minimal, the recipe is easy and can be done in six quick steps. This dish features warm poached apples, a walnut caramel sauce, cinnamon whipped cream, and is infused with Inception's Deep Layered Red wine. Yes, there's even a little wine in there.
If you're ordering in, allow us to assist you in the inevitable "what do you feel like eating" conversation. Inception's Deep Layered Red pairs well with Bolognese and spicy beef thai dishes. We saved you 15 mins. You're welcome.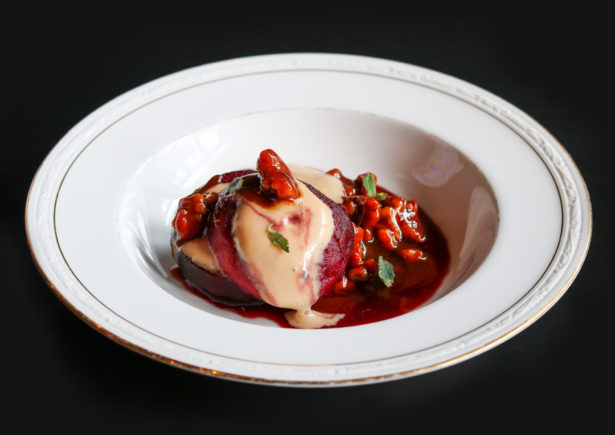 INGREDIENTS
4 large gala apples, peeled
1/2 bottle Inception Deep Layered Red wine (13.95 at lcbo)
1/4 cup white granulated sugar
1 star anise
1/4 tsp nutmeg
WALNUT CARAMEL SAUCE
250g chopped walnuts
1/4 cup white granulated sugar
1 cup 35% cream
1/4 cup unsalted butter
1/4 cup poaching liquid from apples
WHIPPED CREAM
1 cup chilled 35% cream
1 tsp cinnamon
1 tsp vanilla extract
PREPARATION
1. In a heavy bottomed pot over medium-high heat bring red wine, sugar, star anise and nutmeg to a boil.
2. Add apples and reduce to a simmer. Cover with lid. Poach 15-20 minutes or until fork tender. Remove apples from liquid and set aside.
3. While apples are poaching, in a saucepan over medium high heat toast walnuts, stirring continuously so as not to burn them. Add white sugar and stir until sugar is caramelized and golden. Walnuts will be sticky.
4. Add butter, reduce heat to low. Continue to stir until butter is melted. Add cream and poaching liquid from apples. Bring to a boil and reduce by half. Set aside but keep warm.
5. To a cold stainless steel bowl add cream, cinnamon and vanilla. Whisk until stiff peaks form.
6. To serve, place apple in bowl and spoon walnut caramel over top. Top with whipped cream.