Q: Hey, Ward: This was a mild winter. How should I dress if it's not quite spring and not quite frozen? Should I throw all my dark clothes in storage and go straight for the pastels?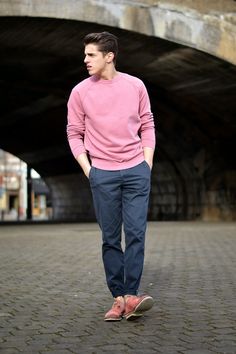 A: The best part of an early spring or mild winter (besides not freezing your ass off, of course) is that it allows men the chance to try different outfit choices they normally might avoid this time of the year. It's a chance to actually mix some of the colors of spring with the heavy fabrics of winter.
For instance, that black turtleneck all the fashion magazines were telling you to wear this winter? It pairs perfectly with a light blue or light grey blazer. That little bit of spring wrapped around winter will look amazing paired with a dark pair of chinos or jeans. Flip it around a bit and a light blue (or even pink) sweater under a dark blazer and paired with a pair of black pants is an excellent blend of both seasons. Wearing a dark suit? Try a very light-colored scarf. This is even a good time to bring back autumn's faithful stand: Camel. Just pair a camel blazer or topcoat with pastels or whites.