Celebrity Fitness guru and Juice-anista Kirsty Dunne knows a thing or two about looking and feeling her best. She is the founder of a cold pressed juice line, OTG3, and has trained with many celebrities such as Mario Lopez with her transformative method "21 Day Metabolic Shape up" Tm
According to Kirsty, juicing and exercise both play important roles in having a strong, toned body and healthy glowing skin, but the amount of collagen reserves a person has is also a key factor to their overall health inside and out.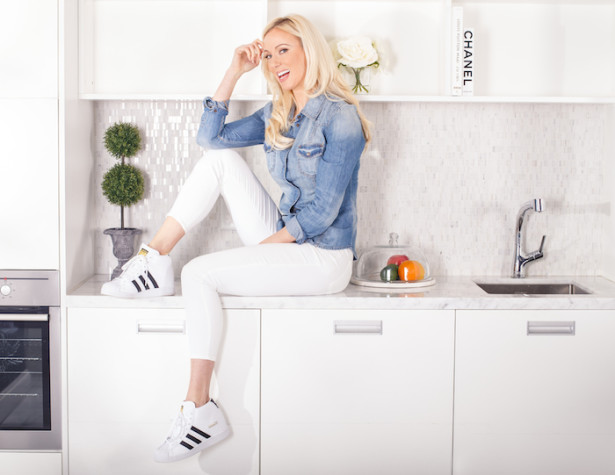 "Health begins from within, which is why I don't subscribe to the hype about collagen additives in my skin cream," says Kirsty.
This is because cream is applied to the outer layer of our skin (the dermis) and is usually sweat, or wiped off before it sinks to the deeper subcutaneous layers. Also, skin creams are not readily digested and absorbed into our blood stream so they don't benefit your entire body. When collagen is ingested your body is able to utilize it more efficiently, which is why she recommends adding collagen to your daily diet.
Read on to learn Kirsty's tips and tricks on how to achieve a natural glow, healthier skin and a leaner body through boosting Collagen in your diet!
But what is collagen?
Think of collagen as the "glue" that helps hold your body together. Found in our muscles, bones, skin and tendons, collagen is the most abundant protein in our bodies. It gives our skin strength and elasticity, and helps replace dead skin cells.
Our bodies produce collagen naturally, however, production slows as we get older. This, combined with sun damage, environmental toxins, processed foods and crash dieting, can result in older looking dryer skin. Depleted collagen reserves can also lead to a break down in muscle tissue, weaker joints, and cellulite. Without the naturally plumping effect of collagen, our cells become deflated and less efficient.
How you can incorporate collagen into your daily life
Collagen is often found is skin creams promising to erase fine lines and wrinkles. But its benefits increase exponentially when it's taken internally. Through foods and the right supplements, you can improve your body from the inside out.
Top foods high in collagen:
Restore, regenerate and repair damaged collagen. Get out your pen. It's time to make an anti-aging shopping list!
1. Bone Broth – This is a powerful way to restore collagen in your skin and reduce wrinkles. The gelatin derived from the collagen in bone broth has healing effects on your digestive tract which is a surefire way to prevent inflammation and aging skin. You can find Bone Broth at Nature's Emporium and other health food stores.
2. Dark Green Vegetables – Green leafy vegetables such as Kale and Spinach offer antioxidants that protect against the free radicals that break down collagen.
3. Healthy fatty Fish and lean, grass-fed meat – Omega-3-rich fish like mackerel, salmon and tuna along with grass-fed meat (which is also high in omega-3,) protect the fatty membrane around skin cells. The omega-3s plump up the cells for more supple, healthy younger-looking skin!
4. Berries – Blueberries, strawberries, blackberries and raspberries are all high in antioxidants that fight against free radicals and oxidative damage on a cellular level while boosting collagen.
5. Garlic – Garlic offers lipoic acid and taurine, which help rebuild damaged collagen. (Just remember to have breath mints on hand!)
Increase collagen through supplementing and choosing the right supplement
One of Kirsty's go-to supplements for her total body and beauty regime collagen boost is available in a liquid form of collagen that you simply mix into water or your favorite juice.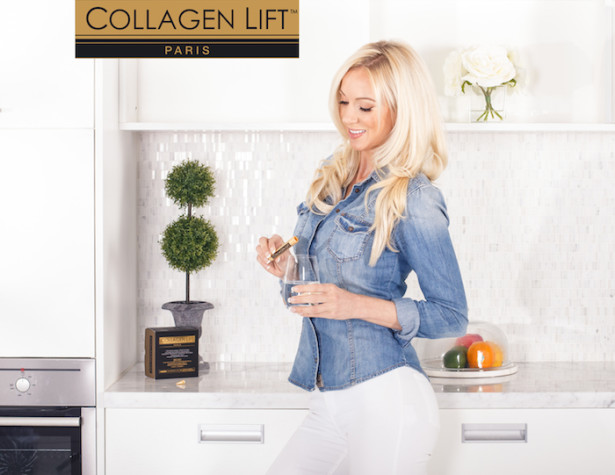 Collagen Lift Paris is a natural collagen drink ampoule enhanced with Mediterranean seaweed extract, vitamin C, minerals, antioxidants and the secret to Kirsty's glowing skin. This once-a-day user friendly on the go supplement makes it easy to take care of both your skin and nutritional needs without any harsh chemicals or invasive injections, and receive all the benefits of a life rich in collagen.
Now if only there was a supplement to get Kirsty's washboard abs…
Photo credit: www.jjfitnessphoto.com