I have discovered over the past few years that sacred baths are helpful for so many things—for mental clarity, increased guidance and creativity, self-care and well-being…but it can also fire up your sex life!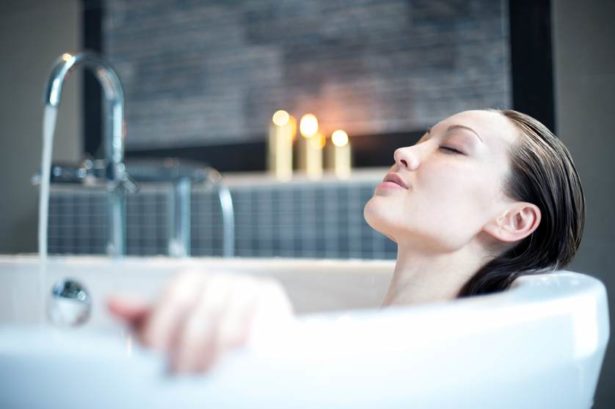 A sacred bath is a bath for your inner consciousness and purification. It can include essential oils, crystals, lighting a candle, creating an intention, meditation, visualization and prayer. It just takes 25 minutes but it creates a powerful high impact time that facilitates an energetic shift in your relationship. For example, if you were creating a bath to increase your passion you could put in a few drops of Jasmine oil, said to enhance romantic and spiritual love. Rose essential oil represents love, femininity and emotional feeling, Ylang Ylang essential oil is an aphrodisiac and Neroli essential oil is associated with romance and sensuality. You can then drop in the crystal Beryl into your bathwater, which is said to awaken love in those married but jaded. When you climb into the sacred waters together you would do the meditation and visualization in my book to increase your passion and romance. In my new book, The Book of Sacred Baths: 52 Bathing Rituals to Revitalize Your Spirit, there are couples' baths to improve your communication, release stress, create a shared vision, increase your passion and more. But below I will describe 5 reasons why taking a sacred couple's bath with your honey can improve your romance and passion.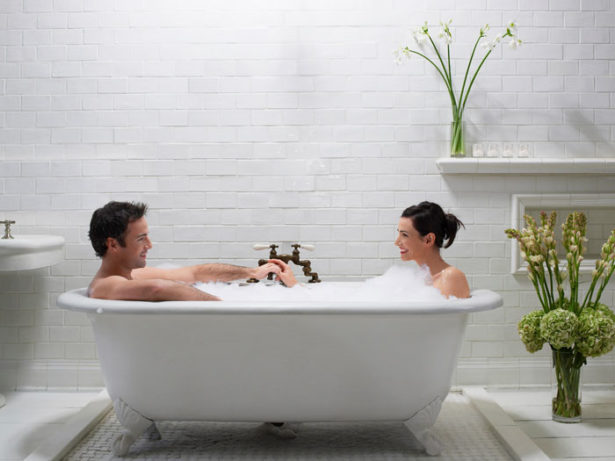 FOCUS & DESTRESS: Women often multitask and many report being too stressed for sex. Studies show that it takes them 10-30 mins to transition. Sacred baths are 25 minutes of relaxing wellness, soaked in sensual essential oils. It's the perfect way to release stress and to focus on your partner, letting go of your day.
USE YOUR IMAGINATION: Experts say that sex begins in the mind and your brain is your biggest erogenous zone. In, 'The Book of Sacred Baths' (Llewellyn, 2016) there is a couples' bath to increase your passion since you both imagine what you'd like to do to each other in bed and recall all the sexy things that you love about each other. This definitely relaxes you both, gets you in the mood and activates your joint imagination, which is where it all starts.
IMPROVE YOUR SELF-CONFIDENCE: True confidence is about self-acceptance and your self-talk. A study at The University of Texas found that women with more body esteem had higher levels of sexual desire. There are several ways to accomplish this type of confidence. In, 'The Book of Sacred Baths' there are a few bath rituals with a meditation and visualization to address your body image issues. This shift can improve your sex life. Another bath ritual meditation helps you to practice conscious positive self-talk and to let all negative messaging that you have about your body go down the drain. If you practice this on a regular basis, it will hopefully filter into your daily self-talk and can help you to develop a better body image, thereby improving your passion and ability to be confident in the moment.


GET PAST YOUR NERVES: Being nervous during love making causes you to freeze up and get into your head instead of being the moment. Sacred baths are highly relaxing for nerves because they include deep breathing and shift you into your parasympathetic nervous system (away from the fight or flight sympathetic nervous system) and help you to emerge feeling peaceful and open.
STIR UP THE LOVE: Also, visualizing the things you love about the other person leads to positive feelings. We spend a lot of time in long-term relationships noticing what is not going right and what we would like to change in our partner. Your sacred bath is an opportunity to remember all the good things and to bring back appreciation and cherishment. This definitely impacts the romance.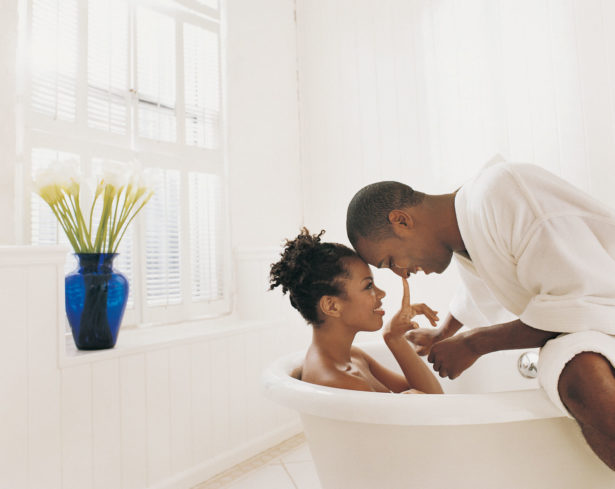 I hope that you will try out this new tool to improve your relationship. It's the most enjoyable way that I know to make these changes, from the inside out.