So I just spent two hours changing my closet from season hot to season cold. While I said "see ya" to dresses, tees and tanks I said "hey there" to jackets, pants and … yep, leggings. All 7 pairs of them.
I know what many of you may be thinking: "why do you have so many pairs of leggings?" After-all, we are often preaching the sentiment that less-is-more and PLEASE – stop buying multiples of the same thing. I get it. But, full disclosure – in winter I live in leggings.
The reasons may be obvious but let me state them just in case you need reminding.
Leggings Are Like Pajamas, But A Whole Lot Sexier
Seriously. If you don't know what I'm talking about, stop reading this article and drop whatever else you're doing and GO AND BUY YOURSELF A PAIR OF BAMBOO LEGGINGS. No, now. If it's the one thing you add to your wardrobe this winter, I promise you this should be it.
Why bamboo you might be thinking?
For one, they wash well, hug you in all the right places (vs. slouching off you like another roll) and unlike cotton, they won't pill on you quickly. Which when you wear them as much as I do – is a thing.
For two, they will never scrunch up on you in boots. While some skinny jeans can pass the test, leggings are brilliant when worn with a boot.
An above the knee boot is super sexy for dates or special events, the riding boot is great for a work look paired with a long sweater and the ankle boot (or work boot) is perfect for a weekend look. As we like to say, "style and comfort are not mutually exclusive". And when you are comfortable, your mood follows and your confidence increases and next thing you know…your brain is receiving all that nice dopamine!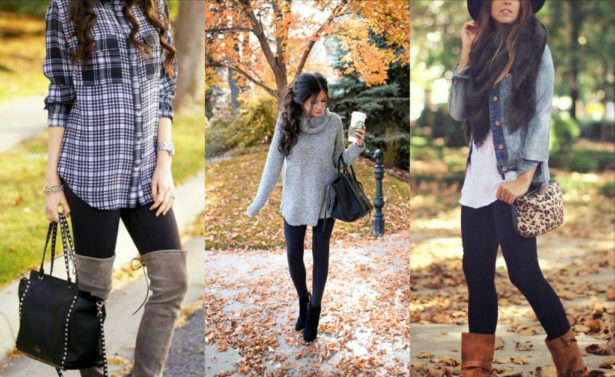 Leggings Transition Well From Day to Night.
Now I realize not everyone will agree with me here, but let me try to win you nay-sayers over. The right legging, paired with the right items CAN look both dressed up and extremely sexy. Just the other day, I was wearing a pair of leggings with a very subtle all black snake-skin pattern, my amazing Ron White snake skin tipped boots, a fitted black dress, and leather jacket. The first thing out of my male friends' mouth was, "You look HAWT!" So not only was I comfortable and layered but I STILL conveyed the look I was going for. After all, ladies, being told you look hot is mostly and not ever a really bad thing.
The thing to remember in this case is to play with layering, fabrics (like leather, which automatically says dressy) and accessories. And you always want something to cover your butt (remember: Leggings are NOT pants). If you're unsure or don't feel right, it's likely not. Trust your gut on this one.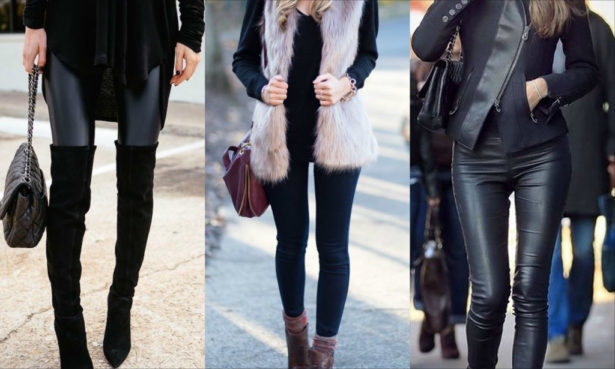 So enjoy wearing your leggings this winter, ladies. But please, if you are going to do any of these things … well just don't.