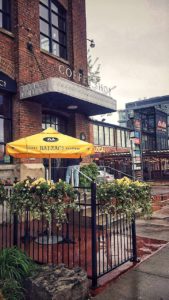 If doctors ever took a deep insight into my blood count it would most definitely be 50% sugar and 50% coffee! So when Balzac Coffee's hottest trend of 'coffee in a cone' caught my eye I, quite seriously, committed to my tingling taste buds that no matter what, tomorrow I'm going to raid that café! The next day was brought in with Toronto's typical summer thunderous showers. Now if you're a pluviophile like me who experiences pure joy on rainy days, then you'll understand how a rainy day and a new coffee shop meant to be explored had my spirits soaring! For most people, the drive to Downtown tends to get them edgy with the narrow road and people traffic. Balzac's Coffee however located on the roomy corner of 43 Hanna Ave. that is conveniently opposite to a spacious parking lot.


Balzac's heart-winning atmosphere!
The instant you step into the café, the strong scent of coffee will speak to you itself of a promise that you order will not have you disappointed. Walking in from pouring rain the first artistic vibe I naturally picked up was as I wiped my feet before walking in; the stunning mosaic tiles tactfully placed along the long hall of the café were not only pleasing to the eye but also an intelligent play of coffee colors. Now Torontonians, this quaint café not only has a positive aura but the people serving you will make you feel extremely comfortable with their warm smiles as you stand over excitedly hovering over the counter to make your order (just as I was!). Although Balzac has a variety of caffeinated and sugary goods to please the taste buds I dedicated to trying out their coffee in a cone. The first essential rule to ordering your coffee in a cone is to keep it tilted, the angled cone can betray you in all excitement!



What to order:
You've got options to choose from for your 'coffee in a cone' order ranging from an espresso, cappuccino, and macchiato to hot-chocolate. My advice would be to take a type of coffee over hot-chocolate only because your cone is chocolatey enough and to enjoy the sweetness of it the bitter coffee could be the perfect combination. The quaint little café of Balzac and a rainy day should be your go to place, may it be in the company of a book or your boo it will surely not disappoint!