Do you want to live in luxury but are on a budget? Well, there is no need to fret because these are some ways that you can get expensive and classic decorative looks for much less! Check out these DIY luxury decor looks!
Related: DIY Beauty Hacks: Do They Work?
Marble Pencil Holder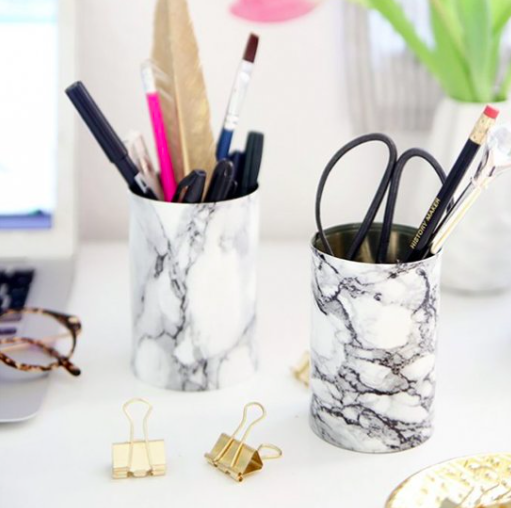 Ah, the marble trend. We see it everywhere: on tech cases, nails, stationery and much, much more. Here's how you can create this "marble" decor without spending the extra bucks! All you need is a can (any size that you would like), marble patterned paper (wrapping paper or scrapbook paper that you can find at your local craft store), double-sided tape, a pencil and scissors. First, wash and dry the can thoroughly. Next, lay the paper so the back (side with no pattern) is facing up. Place the can sideways on the paper and mark the top and bottom of the can with a pencil. Roll the can over so that you have the full shape of the can and mark where you need to cut so that you know how much paper you will need. Cut out the stencil. Once you have the stencil, place the double sided tape on the edges of the stencil on the back of the paper (side that does not have the pattern) and, carefully, stick the paper onto the can and voila! You have a marble pencil holder! If marble is not your thing, you can always use a different pattern instead!
Credit: Hana
Firefly Lamp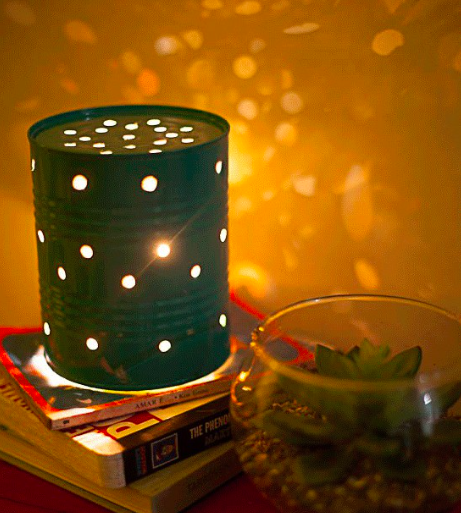 If you are like me and appreciate a good lighting fixture then this is the DIY luxury decor project for you! You will need a can (any size that you want but preferably a can that comes with a lid), a drill, battery-powered indoor lights and paint/spray paint. First, throughly wash and dry the can. Then, carefully, drill holes around the sides and bottom of the can (do not drill holes in the cap of the can) until you are happy with the look. Next, paint/spray paint your can with the colour/colours that you chose. You can decorate it however you like once the paint dries. Then, turn on your battery operated indoor lights (that you can find at a craft store near you or online) and place them inside the can. Secure the cap on the can and you have your own firefly lamp!
Credit: Vivian B
Wall Letters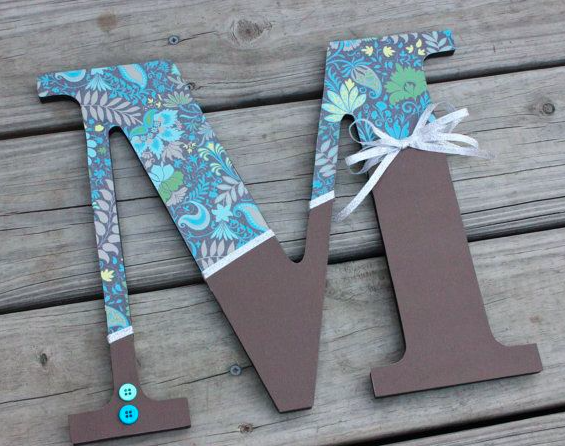 If you have read my past articles than you know I love to write things down! This DIY involves words as decor to accent your walls! You will need wooden letters, paintbrushes, paint/spray paint, painters tape, scissors, glue gun and fabric/patterned paper (optional). You can find wooden letters at your local craft store. First, think about what design and theme you want your letters to have and buy your paint/spray paint and fabrics/patterned paper according to what you like. To start off, use the painters tape to block off the portion of the letter that you want to put your fabric or patterned paper. Once you have blocked off that area, paint or spray paint the rest of the letter with your preferred paint colour and let the paint dry. Once the paint is dried cut sections of your fabric or patterned paper to fit over the bare portion of the letter that you covered with painters tape. Take off the tape and put hot glue (be careful using your glue gun!) near the edges of the area that you want to put your fabric/paper. Then, place your desired paper/fabric over the glue and let dry. There you have it! Your own custom letters! Feel free to add extra decorations or lights to your letters to add some flare!
Credit: Vivian B
Related: Skincare Hacks With Huda Beauty
Try out these luxury decor hacks and maybe you will be inspired to research for some more or even create some of your own. Add a personal touch to your home-sweet-home atmosphere and your guests won't even believe that you paid a fraction of the price for decor that looks just as good, if not better! Then show it off on social media and don't forget to tag @eligiblezine so we can cheer on your hard work.