It's that time of the week again! It's not just Tuesday, it's Bachelorette Recap Day! For this installment, the titular Bachelorette and her traveling band of bros departed Vegas for Richmond, Virginia. How much do you think the Virginia government paid for that kind of coverage? Probably a lot, would be my guess. Methinks this might be the state's attempt at whitewashing over the fact that Nazis like to harass people in the streets of Charlottesville, a nearby Virginian city. I suppose this Bachelor Nation tour through the historic buildings of Virginia is meant to be counterprogramming to reassure tourists the state is safe, which it probably is, if you're a straight, cisgender white man, namsayin'?
Regardless of the somewhat controversial setting, this week's episode got off to a solid start. And it was all down to Becca's incandescent connection with Jason! Gone are the days when Becca couldn't even remember the Buffalonian banker's name when introducing him to her friends! Jason is a newly minted darkhorse candidate to win the whole damn thing!
Becca and Jason's date began in a cemetery, which was weird. I get that death is a natural part of life, but hanging out around gravestones isn't exactly sexy. The date, became even more ghoulish when the pair arrived at the former house of horror writer Edgar Allan Poe. Whether or not you remember it, you've probably read his writing. There's about a 120% chance you were forced to read his short story "The Telltale Heart" in your high school English class. Spoiler Alert: The titular "heart" tells a tale! Anyway, at Poe's house, they met a group of Poe enthusiasts and did what appeared to be goth-style yoga on the lawn. The Wednesday Adams inside me loooooved it! I mean, Adams Family Values is still one of my Top Ten Favourite Films of All Time. As far as I'm concerned, it's on par with Casablanca.
After the spooky walk, the pair retired to a nice dinner where they engaged in the realest Real Talk ever to appear on the franchise. Jason confided in Becca about his childhood memories of his grandmother's struggle with Alzheimer's. In return, Becca spoke movingly about her father's passing, laying bare the enduring pain and anger associated with that loss. After their heart-to-heart, Becca proclaimed her feelings for everyone's favourite Buffalonian increased "exponentially." Their date was beautiful to behold, and obviously there was much making out. FYI: Becca says Jason is a fantastic kisser, so if things don't work out between them, don't waste any time sliding into his DMs.
Back at the boys' hotel, things were not as peaceful. Chris and Lincoln's feud survived the change of scenery, and probably reached its nadir when Lincoln bodyshamed Chris for once weighing in at three hundred pounds. Lincoln, as we now know, is a convicted sexual assailant and I cringe every time he's alone with Becca. I wanted to reach into my screen and save her from him. However, Chris was also pretty agro as the bros go. Lincoln reported not feeling safe sharing a room with him (ironic considering his recent conviction, but still telling).
Because they are models of maturity, Chris and Lincoln brought their gripes with them to the group date. Now, this group date was the debate-themed spectacular I've been waiting for! It's everything I ever wanted as a former high school debate nerd cum Bachelor Nation obsessive. Goddess bless the nerdy producer who came up with this idea! Please @ me on Twitter, because I wish to Venmo you some money in thanks (Yes, I signed up for Venmo thanks to Venmo John, who was sadly cut too soon).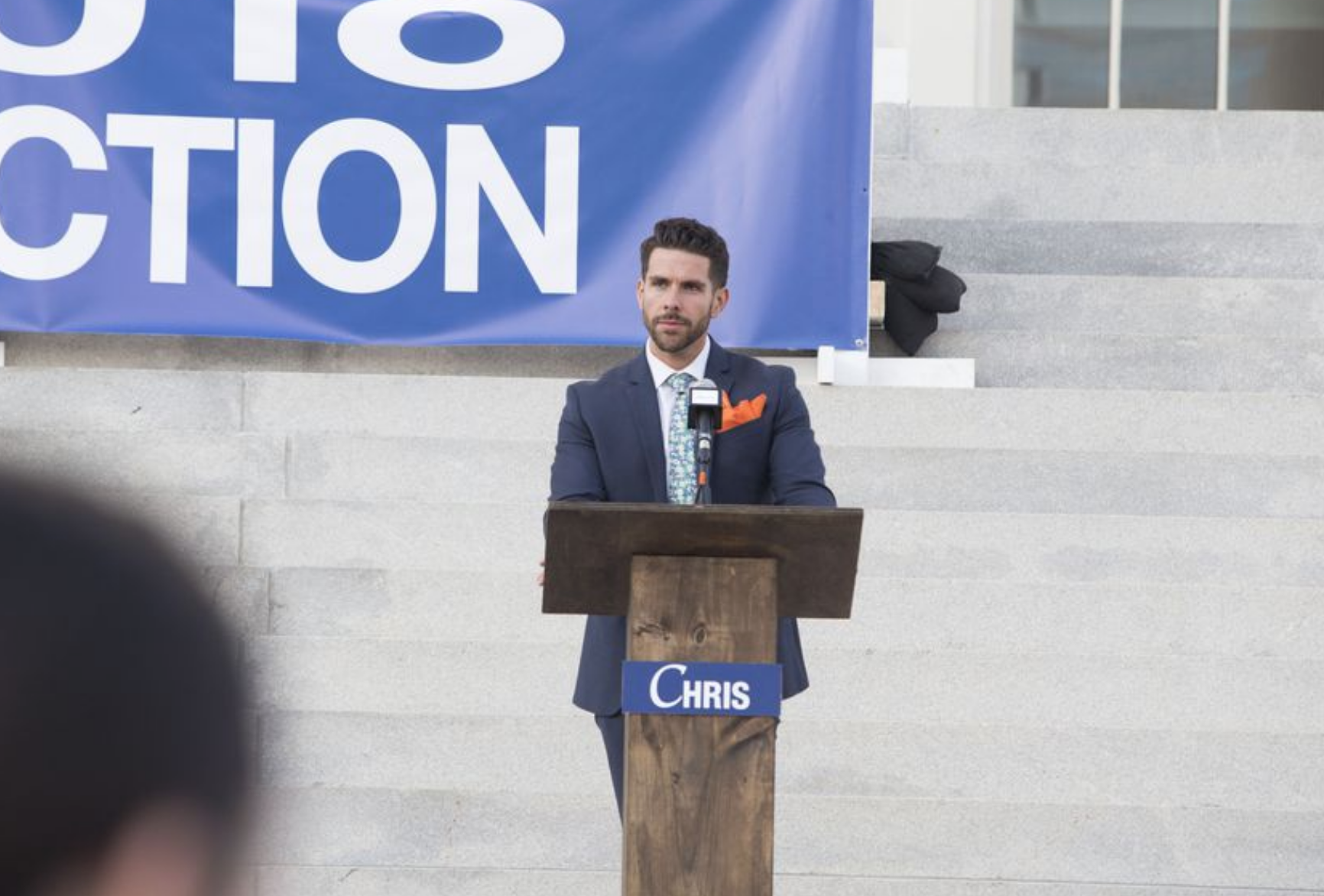 While I was thrilled at the prospect of the bros debating for Becca's heart on the steps of Virginia's capital building, I was dismayed when the event failed to live up to its promise. The activity devolved into Chris pontificating about how Lincoln was a fat-shamer who wasn't there for the proverbial "right reasons." Then Lincoln refuted Chris with more ad hominem attacks, and it was so disappointing because OMG every "debate dork" knows ad hominem attacks are not allowed in a formal debate! Gah! I was so frustrated I almost threw my bowl Skinnypop at the TV. Then, I remembered I'd be the one who'd have to clean it up and stopped myself.
The rest of the date went badly. The men continued to bicker and Becca was so exhausted, she cut the evening short. Her choice to abort the date mission was a bold move, one I truly respected. It was a true "Go girl!" moment to see Becca prioritize herself over the bros who all felt entitled to have one-on-one time with her. It was an exemplary moment of self-care. Becca is normally so focused on being a good hostess I think Becca sometimes forgets she's the star of the show and the dudes are supposed to be competing for her. Her needs ought to come first at least once in a while.
After the disastrous group date, Manbun Leo received his long overdue time to shine! He and Becca went on a one-on-one date, which involved an "exciting" flight over Virginia, where the pair had the opportunity to survey Richmond from the sky. Leo and Becca actually got along pretty well. Leo confided his failure to make the Majors as a baseball player was a source of guilt for him, as his father had worked tirelessly to help Leo realize that dream. Becca in return confided her anxieties about being the Bachelorette when none of the damn dudes get along. Yes, they did some making out (that goes without saying), but their connection seemed more friendly than romantic. Admittedly they established a rapport, but it looks like Leo and Becca are not meant to be; however, I would pay to see them star together in a buddy movie! These two would make great platonic besties. They're really skilled at easing each other's anxieties.
Before the Rose Ceremony, there was one more conflict started by Chris. Because of course he's the kind of guy who stalks a girl he likes to her hotel room. Chris, in a twist that surprised no one, found Becca's hotel room and invited himself in. Once ensconced on her couch, Chris proclaimed how he saw a future with Becca and basically pledged his troth. Becca, for her part, was disgusted. She explained he was just too volatile for her (but in a really polite, Midwestern way), and dismissed her suitor ahead of that night's Rose Ceremony. Ever the hostess, Becca insisted on walking Chris out, because she's so nice she's even sweet to aggro dicks like Chris. Girl, you don't owe him anything! Just relax on your couch and let him huff off into the sunset. Boy, bye!
Finally, it was time for the fateful Rose Ceremony. For weeks, I 've been wishing for the departure of Lincoln, attacker of women and avowed Flat Earther. As Becca bestowed her coveted roses, I waited with baited breath. Could we be rid of Chris and Lincoln in the same night? Are the Gods really so benevolent? The answer is yes! Praise be! Christmas has come early, because Lincoln is out! In bad news, Connor got the axe too. The timing could not have been worse, because we only just discovered how super cute Chris is with his glasses on. If only he had worn them the whole time, he'd probably be Becca's fiancé right now. That's not hyperbole; Connor is like a sexy, Reverse Clark Kent who looks better with his spectacles on. He's what the kids call "a snack." Warby Parker should hire him as their official spokesperson! Or at least give him some sponcon on Instagram.
As bereft as I was to see Connor go, Jason and the lovely Wills survived. That was a silver lining. I'd marry either one of them, but I'd definitely take Leo to The Final Three too. Leo looks like he knows his way around The Fantasy Suite, if you know what I mean…
Until next week, dear readers! Can't wait to do the damn thing again for Episode Seven.