There's nothing quite like a detox to enter into a new season feeling like our best selves, especially after a summer of indulgence, September is an opportune time to press the "reset" button. Busy lives and urban environments tend to put us in a constant state of stress and inflammation, contributing to feelings of fatigue, anxiety, depression, illness, insomnia, weight gain and pain. How many of us can say we're genuinely healthy and happy? Life is about balance, which is why, at least once a year, we need a strict regimen to detoxify our bodies – and minds! – so that we can feel well rested, energized, and powerful. That's why I advocate a 14-day turmeric detox. 
After ebbing low for a couple of months in the spring and not knowing why, I created a fourteen day total reset for myself that included a strict plant-based detox, which was accompanied by intermittent fasting. Around the tenth day of my new regimen, I can truly say I felt reborn. I was finally sleeping deeply, my skin improved, I lost weight, I felt positive and the most incredible part of it? I had energy all day long, we're talking dancing-in-the-streets energy! This summer I challenged myself to a thirty day version. Because so many of my friends wanted in on the secret to this lease on life, I shared 200 copies of the "Golden Detox + Fasting Guide" I created with others in my circle. Soon, friends and family were confirming what I had already discovered, we can take control of our inflammation.
Are you ready to feel like your happiest, fittest, healthiest, most energetic self? If so, here's how you can attempt your own anti-inflammation detox at home!
1. Preparing to Detox
Detoxing and fasting is hard work, so mental and physical preparation is absolutely critical in order to be successful. It requires breaking familiar and often comforting habits, it necessitates saying no to social gatherings centered around food, alcohol or late nights, and it demands healthy grocery shopping with a side of significant meal preparation. For many, the first few days are the hardest, as the body goes through withdrawal from things like refined sugar. Be prepared for the likelihood of mild headaches, interrupted sleep and irritability. Plan the start date for your detox very carefully, taking into consideration personal and work obligations. Set yourself up for success!
2. What's Forbidden
Refined sugar and artificial sweeteners

Animal products: no meat, fish, dairy, whey

Soy, GMOs, preservatives

Vegetable oils

Anything you don't make from scratch at home – no restaurants or cafes!

Alcohol

Cigarettes

Refined carbohydrates: no bread, pasta, rice or crackers
3. What's Allowed
Lots of raw vegetables and fresh fruits, preferably local and organic!

Nuts and seeds: almond, cashew, pumpkin, sesame, peanut etc.

Natural sweeteners: honey, maple syrup, dried fruits

Beans and legumes like chickpeas, lentils, black beans, etc.

Quinoa and steel-cut oats

Vegan protein (Genuine Health fermented vegan vanilla protein is my favorite)

Extra virgin olive oil

Apple cider vinegar

All spices, herbs and pink Himalayan salt

Superfoods like spirulina, maca, cacao and others

Natural vitamins
4. Why Detoxing + Fasting Helps 
Intermittent Fasting is something of a trend, but our ancestors have done it through the ages because of its power to create exponential energy while removing stubborn fat through the process of burning ketones. During the 16-hour fast each day, you consume no calories whatsoever (black coffee is allowed and encouraged), and your body has the chance to go after fat stores it can't normally get to when it's metabolizing a constant stream of food and drink. Silicon Valley entrepreneurs are gaga for IF because of the energy and mental clarity it gives them. The app "Zero," created by tech wiz Kevin Rose, is a helpful way to track your daily fasts. The ideal fasting window is usually between 730pm to 1130am.
5. Harness The Power of A Plant-Based Diet
Meat, fish and dairy cause inflammation in the body and are often full of harmful bacteria, microplastics, and steroids. Eating plant-based while detoxing allows your body to flush out toxins and nourish itself with raw, wholesome vegetables, fruits, nuts, seeds and some grains. This "clean" way of eating is also delicious when you ensure variety, spices and herbs. There are countless vegan recipes online that are simple, fast, healthy and easy to make. Oh She Glows and Deliciously Ella are a couple awesome resources.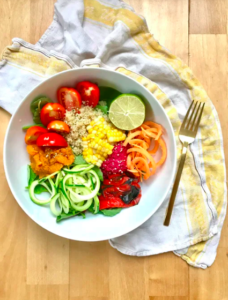 6. Discover Turmeric, Anti-Inflammatory Magic
Turmeric is a root that's part of the ginger family, and it just happens to be the world's most powerful anti-inflammatory. It's been used to reduce inflammation for centuries in India, and it's no surprise why turmeric is such a standby in India; it prevents and/or treats every condition from stomach upset and depression to Alzheimer's and cancer. It's truly a miracle worker. To make sure your detox is successful, at least two heaping tablespoons of turmeric powder should be consumed per day while detoxing – and ideally every day of your life after that! My startup, Shot of Gold, has four different turmeric blends in single-serving sachets to make adding turmeric to your food and drink simple and stain-free. In addition, most groceries stores feature Turmeric in the spice section.
7. Don't Forget The Detox Day
6am – noon: black coffee with turmeric and cinnamon

12pm:

break-fast

with a superfood vegan protein smoothie

3pm: snack on homemade trail mix

7pm: bountiful bowl with turmeric quinoa, homemade hummus, raw and/or steamed veggies like kale, broccoli, tomatoes. Chia seed pudding for dessert.

730: start fasting! 
All good things in life require hard work, and the  same is true for becoming healthy and happy! So never be afraid to embark on a challenging but restorative health plan!
Ready to plan your detox? Email me for my free 14 Day Anti-Inflammatory Golden Detox + Intermittent Fasting Guide. It includes a comprehensive shopping list, delicious recipes and tips for completing your reset successfully. Have any questions? Reach out to me on Instagram @marissabronfman and @myshotofgold Can't wait to hear from you!