In years past, Torontonians have had to wait until December to indulge in Christmas Market fun. But not anymore! For its 8th installment, The 6ix's most beloved Christmas Tradition will begin on November 15th! Rejoice! This is a genuine Christmas Miracle. Yes Virginia, there is a Santa Clause. And he'll be there at the Distillery Christmas Market for a month and a half!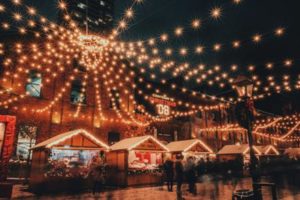 This year's market will feature its signature ferris wheel, a one-hundred foot light tunnel, and a glorious 50-foot Christmas tree! Of course, you'll also be able to do your Christmas shopping at their fun and festive stalls. Savvy shoppers will have the opportunity to procure everything from fudge to art, ornaments and candles!
Whether you're looking for a girls' night out or a heartwarming family excursion, there's something for everyone at Toronto's favourite holiday attraction. Oh, and there will be carolers, choirs, and copious amounts of mulled wine, too! So make sure to pencil in plenty of quality time at the 2018 Christmas Market!
Admission to the market is free on weekdays. Starting Friday at 5 pm, tickets will set you back $6 a person. But good news for new parents, because children two and under are free! This isn't just a fun family outing, it's an affordable one, as well!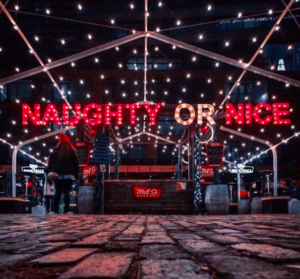 So raise your cup of mulled wine, and let's make a toast to holiday fun! The Market will end on December 23rd. If you're anything like us, you're already planning a dozen or so visits.