Do you feel like you get an un-enthused hello when you walk into the gym? Do you ever sense that gym-goers sometimes give you an eye roll? Well then, it's time to ask yourself if you're committed or not to these oldies but goodies!
You don't put back your weights.
As a former "weight go-fer," I urge you to think of putting back your weights, kettle bells – whatever you're using – where they belong. It only takes a few seconds and helps others get through their workout smoothly.
You hijack other people's workouts.
You noticed those weights beside the bench. You assumed they were abandoned so you put them back, grabbed yours and started pumping away. Well, consider someone may have been in the middle of their routine. Next time, just check with the closest person to you if they are using them. If they are, they'll appreciate it.
You don't wipe the equipment down.
Whether you perspire a little or get totally sweaty, always grab the spray bottle and give a quick wipe down. It shows respect gym-goers and the club.  Plus doing anything less grosses some folks out!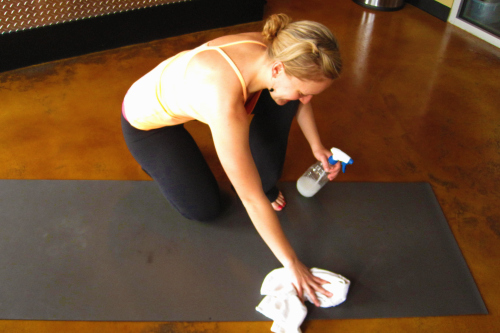 You're socially disconnected. 
Outside of the gym you're outgoing but once you enter, you shut it down. While I realize it's not a party, it is actually okay to acknowledge others. You never know what a friendly smile may bring you one day —  a spotter, friend, a workout tip or even a date.
You won't ask for help.
Gyms can be intimidating places so many of us fear we'll look silly if we ask someone how to use a piece of equipment or what they do to get those killer pipes!
Suck it up and ask for a little help. Chances are that person will be flattered and you will improve your workout – a win-win for everyone!