My debut book, 52 Ways to Beat Depression Naturally, just launched on January 21, 2013.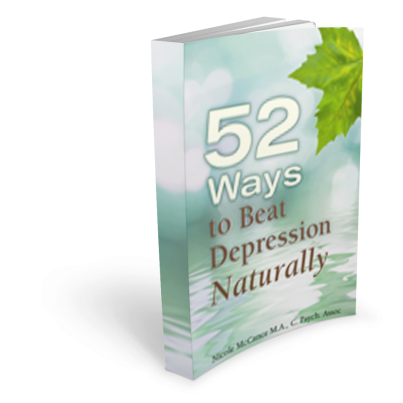 After working in private practice for over 10 years, I compiled my very best and most effective remedies for sadness and depression. I realized that so many books on depression are dense and hard to understand. I wanted to give my clients and those suffering from depression simple tips that they could start right away, and begin to feel a difference.
In the book, I draw on Eastern and Western philosophies, relaxation techniques, nutritional and exercise strategies, sleep therapy, and other means of combating depression. In a world overrun with pharmaceutical solutions, I am offering alternative, natural, and proven strategies to overcome depression.
The book consists of 52 tips, tools, and techniques that offer a straight-forward approach to beating depression. I have also included several schedules for a happier day, which lay out simple exercises that you can practice throughout your day to beat your sadness.
This is a deeply personal project that extends far beyond my professional ambition.  My father committed suicide when I was a teenager and his funeral was on my 18th birthday. I made a decision that day that if I could make it through this terrible time in my life that I would devote my life to helping others.
For more on the inspiration behind the book, check out my book video on YouTube.
[youtube]https://www.youtube.com/watch?v=d6XJmyACQXA[/youtube]
I know that this book will create lasting, positive change in the lives of those suffering from depression.