Deeper isn't always better! In fact, deep penetration can sometimes be uncomfortable especially if his penis is longer and/or her vagina is on the shorter side. And while some women reach orgasm from deep penetration and pressure against the cervix, others prefer the pleasure associated with shallow or external stimulation. If you or your lover enjoy G-Spot play, clitoral touch or intense pressure around the head or corona of the penis, try these shallow thrusting positions designed for maximum orgasmic pleasure.
Standing Missionary provides the intimacy of a face-to-face encounter, clitoral stimulation and the thrill of primal thrusting.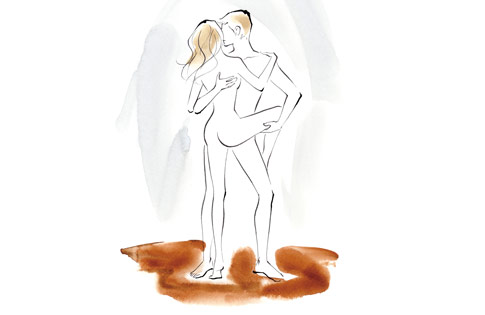 • Stand upright facing one another with her back against a wall.
• She lifts one leg slightly as he bends his knees as needed to facilitate entry.
• She can press down with her hips slightly to stoke the shaft of her clitoris against his shaft as he slides in and out.
On Your Knees offers a tight grip around his shaft and head as well as clitoral stimulation as she squeezes her legs together:
• She lies on her back with her legs together.
• He kneels (or squats) over her and rubs lube between her thighs between sliding inside.
Naughty Spoons is the perfect rear entry position for full-body contact and it leaves your fingers free to roam or lend a hand as needed.
• Both lovers lie on their sides facing the same direction, but with their heads on opposite sides of the bed (close to their lover's feet). She can rest the back of her head against his feet or ankles.
• He lies behind her and slides inside from below.
• He grabs her by the hips to pull he close as she reaches down to play with herself.