Travel…it's a HUGE obsession of mine! In fact, I'm blazing through my bucket list at record speed! Most recently, I hit up 3 epic beaches in just 30 days: My West Coast fave Venice Beach California, the east coast of South Africa, and the Gulf Coast of Florida. It was pretty amazing!
I've also found it's the easiest time to get caught making bad health, fitness and nutrition choices. Eeek! I'm sure you can relate (please tell me I'm not the only one!?)? #DANGER
It's certainly taken some time and serious discipline, but I'm quite proud of mastering these super, fit, and friendly travel tips that still manage to keep your vacay awesome, indulgent and fun! They're no stress, they're simple and will help keep you the smoke-show that you no doubt already are.
Here they are, I hope you'll share them with your #FreedomJunkie friends and family as well:
Tip 1: PLAN plan plan ahead!
The easiest way to get stuck making bad choices is to leave it to the last minute. Call your vacation accommodations and ask in advance for the closest healthy grocery stores, if they have a gym in the building, if there are great hiking/running trails nearby, maybe a drop-in yoga class, etc. Bring what you can with you (snacks, etc) and pick up the rest when you arrive. Make a list and stock what you need! Pack healthy snacks in your carry-on luggage as well. Airplane food is the worst!
Tip 2: HYDRATE way more than usual.
Any and all travel is dehydrating and stressful for your body no matter how fun it is for your soul – you'll want to be sure to consume (at the very least) half your body weight in ounces of water daily. More if it's air travel. If you find water to be boring, you can add a natural (preferably unsweetened or naturally sweetened) electrolyte as well. I also make sure to carry a large blender bottle with me everywhere I go to remind myself to keep sippin' throughout the day!
Tip 3: PACK fitness gear and runners.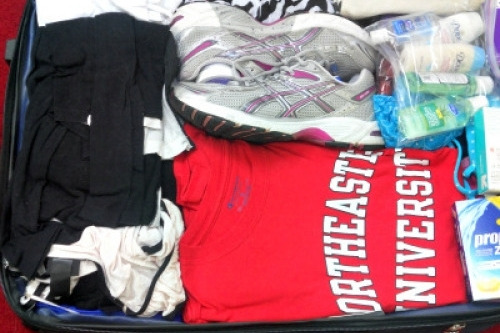 Chances are if you have allocated precious space in your luggage for exercise gear and MORE shoes, you are way more likely to book some time to keep active on your trip! Ladies, I know you hear me on this one – if it's packed you better use it. Those runners have quite possibly taken the place of another pair of heels (that are just a little different than the other 9 pairs…right!??).
Tip 4: Make SMART choices when dining out.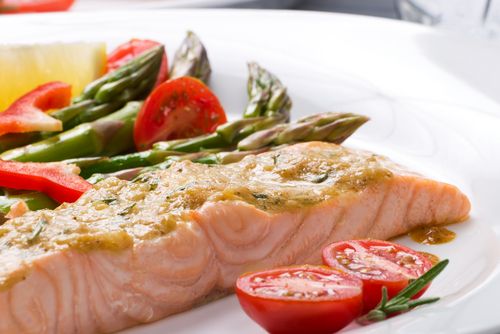 Here is an easy way to get what you want without added calories: simply ask for your meal to be "grease free". This will eliminate any added butters, sauces and cooking oils that could sneak in without your knowing. Also substitute in veggies (fibre!!!) for simple carbs and make sure to request your meats grilled and not fried. While the high calories may be tempting even just as a "treat", your body will not be pleased with your choices – especially on vacation when our digestive systems seem to act up a little more. Also, always skip the salt when you can. Bloating? No thank you!
Tip 5: Have FUN!
This is always my motto in life, and especially when traveling! Go ahead and DO SOMETHING YOU LOVE or have always wanted to do/try…do it for you! Kayaking? Whale watching? Hiking in a lush forest? Make a list and make it happen! I not only have a bucket list of amazing places I want to see but, also of cool activities to try and where I would ideally like to learn/try them.
Tip 6: Make a point to meet some cool new people while trying new activities.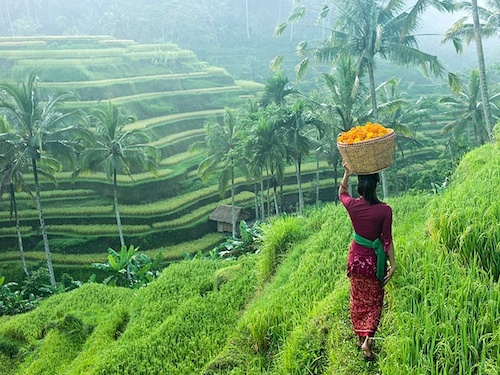 I'm usually a creature of habit, but I've learned that some of the coolest things I've ever done have come from stepping outside of my comfort zone and trying something new. Same goes for many of the coolest people I have the pleasure of knowing. I learned how to surf in Australia, I dove with sharks in South Africa, I learned how to wake board in cottage country, I got to paddle board in Marina Del Rey, rode a wicked tram to the peak in Hong Kong, visited the famous botanical/orchid gardens in Singapore, learned about the rice paddies while on a private tour in Ubud, Bali, and there are a million more adventure stories from all my travels. I'm so grateful for the new experiences and all the fabulous people I met as a result. Get out and get interested! To follow more of my travels check out my YouTube channel here: Lavender Morantz TV
Tip 7: Plan trips around WELLNESS
Go on a wellness retreat, a yoga getaway, or a curated fitness vacation. There are a SO many awesome ones to choose from these days in any dream location you could imagine! What an inspired way to focus on your over all well-being and health!
Tip 8: Bring your SUPPLEMENTS with you.
I never travel without my personalized nutrition program…ever! It follows me wherever I go to ensure a happy, healthy body on all of my travels.
Tip 9: Add a reminder ALARM to your phone.
I add FUN and encouraging messages right into my iPhone alarms for a daily message to encourage me to keep going! Pick a message that fits your goals and journey and set it to go off first thing every morning. A little kind word or two (especially to yourself) can go a LONG LONG way. You've got this!
Tip 10: Give yourself a BREAK.
Ok, so after the other 9 "tips" I want you to know that I too am human and need to go a little easier on myself sometimes. WARNING: this is not permission to throw in the towel all together! It simply means to make sure you still enjoy yourself and take any mistakes you may make in stride. You can start making better decisions at any time you choose – make sure you are being kind to yourself and being mindful to care for your spirit, body and mind as a holistic approach. Self-hate will not help your journey…self-LOVE always will.
Happy travels my darling #FreedomJunkies!
In travel, health and bucket lists,
xo Lav