Growing up I always chose to have a lot of guy friends. I claimed it was always easier to get along with men, and deterred myself from getting close to other females. I was convinced that if I did, I would end up being vulnerable, only to have my secrets spilled and be talked about behind my back. I felt I was always surrounded by other competitive women and I was just never myself around any of them.
This was of course the mindset of a girl who never had a lot of support growing up. The truth was I was always longing for a real best friend.
It wasn't until recently I aligned myself with successful, confident women that I realized that there is nothing more important than having girlfriends. I let my limiting beliefs about jealousy, judgement and competitiveness in other girls go, and in turn I surrounded myself with women that were the complete opposite.
I have never felt more secure, happy and supported in my life. My tribe has found me; and I have learned to find other strong women to connect with. It is so important to embrace our fellow women and encourage them to grow and commend them on their successes – instead of judging or being envious. It is such a powerful feeling to learn from each other and understand the benefits we can all reap if we learnt to work together.
I have become a firm believer that if we take time out of our days to make other women feel special, loved and cared for- we can change the world. Inspiring other women to recognize their potentials and following passions and dreams has become one of my biggest motivations. We need to come together; be loyal and supportive and this will help us as individuals grow and tap into our power as leaders and as strong women.
I challenge you to dig deeper and have intellectual and spiritual conversations with your girlfriends. Challenge them to pursue their visions and let them know that you have their back. There is no better feeling than knowing that you're not alone; you have an entire support system of savvy, beautiful and educated women who cherish you as you are.
I want to thank all of the powerful, inspiring and loving women in my life that have helped me grow to be the woman that I am today. I fell blessed and truly important to them and this feeling is priceless. Once you find your tribe you will know in your heart that anything is possible and that no matter what- you have girlfriends you can rely on.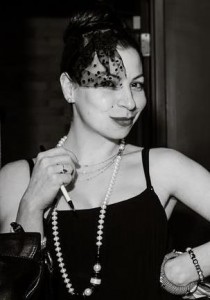 Francesca Annibale's life intention is to inspire other women to live to their true potential!  She is a Global Health Ambassador for Usana Health sciences and a team leader for DivaGirl Nutrition.  She has been a member of DivaGirl Inc. since December and has grown to become an educator of personal development, nutrition and fitness.