"Twinkle, twinkle, little star
How I wonder [who] you are.
Up above the world so high
Like a diamond in the sky.

When the Blazing sun is gone
When he [will but] shine upon,
Then you show your little light,
Twinkle, twinkle, all the night…"
I like to think of NYE as time for reinvention, a time to shine like stars and start anew with this inner twinkle …
It is a night to go BIG and sparkly, and an occasion where anything glamorous is perfectly suited. We look our best and sip champagne, and await the kiss that comes at midnight. We laugh and dance, and flirt and play, and know that it is a night where bright and shiny is simply irresistible.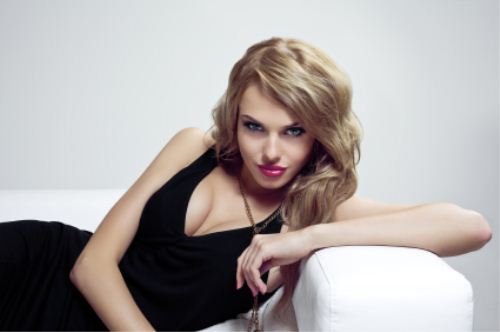 NYE marks the end and a new beginning…an end, I hope, for doubts and worries, and a start of your most loving version.
It is a time to add a little something extra, and give those playful shameless glances. Whether it is to your husband or next boyfriend, playing up your eyes this night is key to all your flirting fortune. They say that our eyes express everything we are feeling, so why not make them beautiful and gleaming?!
Inner love and lashes will add that perfect touch, and make you the girl on New Years, who sparkles very much. 😉
Read below and find the secrets, and for now I wish you nothing but the most radiant new beginning.
Steps For Glamorous Lash Twinkle:
1.After finishing your eye shadow and liner, skip your mascara, and select appropriate strip lashes for your look. In general, the shorter the lash and the less filled-in, the more natural the look. And conversely, the longer the lash and the more filled-in, the more dramatic the look. If you are unsure, go with ones that range in the middle, to avoid an overdone eye look.
2. Size the lashes by placing them over your eye (without glue) to make sure they fit. Trim if necessary and don't be scared! It is important to know that we can trim and customize the lashes for our personal eye shape.
3. Squeeze a thin line of lash glue onto the lash strip. I like using DUO Lash Glue in "dark tone", which can be very forgiving if you make a mistake. It can purchased at your local drug store.
4. Wait 30 seconds and allow the glue to get tacky before your lash application.
5. Place the lash as close to your natural lash line, as possible. The key is to firmly place the lash in the MIDDLE, and THEN adjust the sides. Hold down and press each section of the lash for about 15 seconds to make sure the glue adheres to your natural lash line.
6. Tilt your head upward and check in the mirror to make sure they are even. Tilting your head gives you a clear angle from which you can adjust easily.
7. Once the lashes are perfectly placed, let the glue dry and top with a light coat of mascara to blend. Now, all set for extra flirty NYE eyes!