Ecuadorian cuisine can be bold and daring at times and it can also be expected and traditional. They use an abundance of vegetables and exotic fruits and of course high quality fish and seafood. The innumerable varieties of Andean potatoes are a welcome sight in almost every meal and eating can be either for the budget minded or the luxury traveller. The varying textures and presentation of the food only adds to the delight and it will be sure to keep you guessing at every turn. You will also find a diversity of ingredients and combinations depending on the region of Ecuador that you are visiting.  In the mountainous regions of this beautiful country the locals enjoy dinners of pork, chicken, beef and Cuy, which is guinea pig, and of course carbohydrate rich foods such as potatoes and rice. On the coast is where the seafood lovers are satisfied with fresh fish and tasty ceviches, and plantains will also make a regular appearance in most dishes here. If you are open to trying new foods and interested in getting a taste of South American culture, then Ecuador should be making an appearance on your ever-growing travel wish list.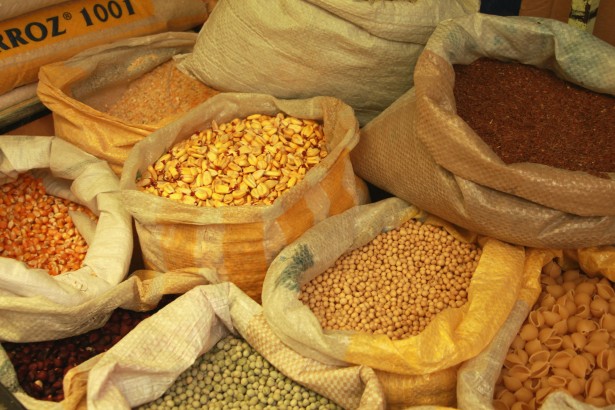 As I had mentioned, eating in Ecuador can cater to people both looking for an exquisite dining experience or for people looking for some interesting and unusual street food. Sure, Quito might not be as glamorous as some of the other South American cities like Buenos Aires, but it should not be overlooked by the curious foodie. It exudes a charm of it's own with a diverse group of chefs working magic with the little countries range of endemic ingredients. In Quito you will find a wide range of restaurants serving up an interesting array of food to tempt any discerning palate. Those of you in search of a romantic restaurant to impress your special someone, should be sure to head over to the restaurant Zazu, where world class chefs will dazzle you with both their gastronomical offerings and their modern and upscale atmosphere. When you are looking for something quick and convenient then you can pop into any of the local lunch spots lining the streets for the lunch  special of the day, which ranges in price from $1.50 to $3.00 a plate, usually consists of a soup to start with and is followed with meat, rice, veggies and a glass of fresh fruit juice. Considering the minimal cost and the adequate serving of food this lunch option is a great accompaniment to an evening splurge at a fancy restaurant later on.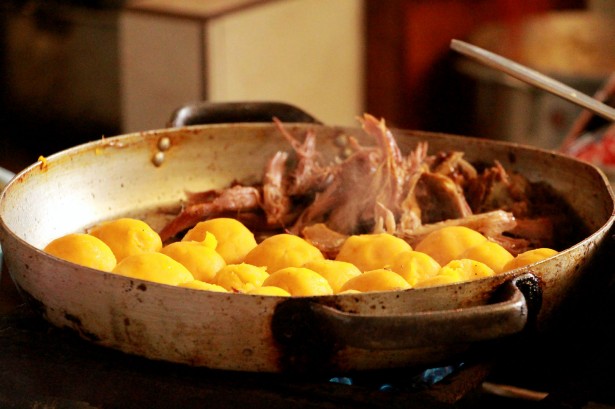 Ecuador is also widely known for it's extensive offering of creative and unique street food. Of course foreign street food is not for the faint of heart and sometimes even advised against, but I have had some of my most memorable and interesting culinary encounters from the stalls of local vendors and entrepreneurs. I was surprised and delighted to find such a strong street food culture here and as is normal in Ecuador, the stall offerings vary depending on geographical location and altitude. Some things that are not to be missed in this genre of eating are Llapingauchos, Encebollado, Empanadas de Viento, Carne en Palito or Salchipapas. Llapingauchos are Andean potato patties stuffed with cheese and cooked on a griddle until crispy and brown, every bit as delicious as they sound. Encebollado is an Ecuadorian fish soup made with fresh tuna, yuca and other vegetables and then topped with pickled red onion rings; ask the locals about this national dish and they will tell you it also happens to work great as a hangover cure. Empanadas are one of my favourite South American snacks and trying the Ecuadorian version was high on my priority list. Empanadas here are stuffed with cheese and onion and then fried and sprinkled with sugar only furthering my love for the small golden pockets of flavourful goodness. Lastly what would a street food menu be without some sort of meat on a stick and with the Carne en Palito or the Salchipapas you can get a protein fix like no other. Carne en Palito are thin slices of meat seasoned with garlic, achiote and cumin and grilled on skewers, and Salchipapas are french fries with fried hot dog sausages. This last one may sound somewhat strange and unappealing but this staple South American "fast food" conjures up feelings of satisfying simplicity among almost any local you happen to strike up a conversation with.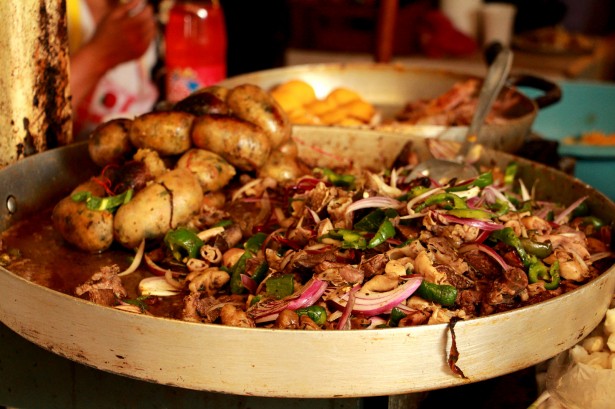 Above and beyond the many restaurant choices, lunch spots and street food stalls, there is really no better way to dive into the nitty gritty of a countries culinary core then to visit the local market. The Otavalo market in Ecuador is one of the most famous markets in South America, and it is located an easy driving distance of approximately two hours from the city of Quito. You can easily take a day trip here, or better yet plan to spend the night in Otavalo and get to the market bright and early before the tour groups come and the prices go up. The market is very conveniently open every day of the week but is significantly busier on Saturdays. Although I regularly try and avoid crowds when I am travelling, I made the journey to Otavalo on a Saturday so that I could get a first hand look at how this market works at it most chaotic and it was an experience I am glad I did not miss. The market has a little something for everyone with local handmade crafts, clothing, souvenirs, and even a live animal market but I had come for the food and produce section and once again, I was not let down. The food section is covered with a makeshift roof and when you first enter your senses are assaulted at every angle with various meals and dishes being displayed by local women continuously replenishing their stock. The women are lined up as far as the eye can see behind low counters preparing and serving whatever dish they have decided to offer for that day. For a price of around $1USD you can have a seat at the counter and order a plate of your choosing. You will see bowls of homemade oils, sauces, and spices lining the counter and you would be wise to expect at least one of them to be spicy. The dishes at these kind of markets tend be as local and traditional as they come and once you have satisfied your curious appetite you can spend some time wandering the aisles of fresh vegetables, colourful flowers and exotic and unique fruits.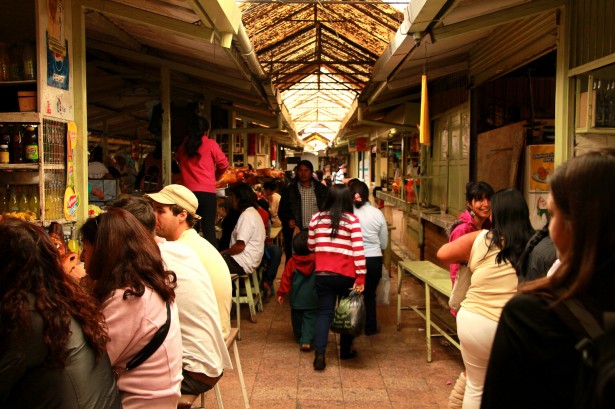 Ecuadorian cuisine can please even the most pickiest of eaters and can surprise even the most seasoned of foodie adventurers. The flavours are distinct, the ingredients are fresh and more then once you will probably surprise yourself by eating something unexpected. The best thing you can do is have an open mind, try the locro de papas soup, and follow the throngs of locals; there is no better indication of an authentic and delicious restaurant then a group of locals enjoying the fare.