Do you and your lover talk openly about the thoughts, sights and scenarios that turn you on? Do you admit that other people sometimes wander in and out of your fantasies or have you adopted a "Don't Ask, Don't Tell" policy to sexual attraction?
A wandering eye can actually enhance a relationship
Most of us have been conditioned to desire a lover who only has eyes for us. However, couples who are madly in love suggest that a wandering eye can actually enhance a relationship. Brett, who has been married for twelve years appreciates the fact that his wife Helen encourages him to admire other women:
"We're not Swingers or anything, but browsing can be fun. Even though I don't want to have sex with other women, I sure do like the idea of it. It keeps things exciting and I feel like it gives me variety without any of the hassle or risk. She is always my number one and I can't tell you how happy I am to be with a woman who is secure enough to admit that she's not the only pretty woman in town."
Other couples agree. By giving one another permission to look, fantasize and even talk about what excites them outside of the relationship, Margaret explains that it actually fuels the fire in the bedroom:
"He knows he has nothing to worry about. But looking at other men whets my appetite. After a night out admiring other handsome guys, I come home ready to jump him! And who would complain about that?"
Her husband of eight years, Adam, adds that her honesty actually makes him less jealous: "If she were to pretend that I'm the only handsome guy on the planet, I'd know she was lying and I'd wonder what else she is lying about. So by being honest about what she likes, I trust her even more. It's just not realistic to think that I'll be the only dude on her radar for the rest of her life. After all, she's human and so am I. If she were to pretend that this was the case, I'd see it as lying and it would lay a weak foundation for the rest of our relationship."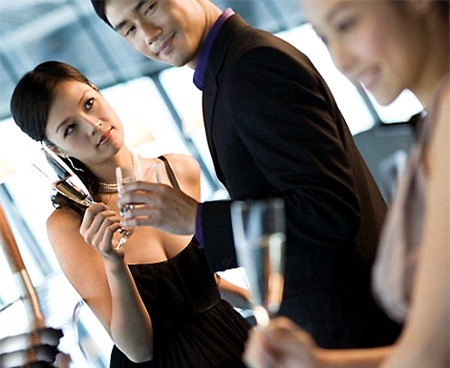 Just as we admire the diversity of beauty in nature, architecture, art and design, so too can we admire the human body without the need to narrow our thoughts and fantasies to a monogamy-takes-all perspective. Our attraction to our partners runs deeper than the skin and is not rooted solely in the aesthetic. Accordingly, the experience of primal sexual attraction and the complexity of intimate connection can be mutually exclusive.
So the next time you find yourself feeling jealous in response to your lover's attraction to another guy/gal, ask yourself what really fuels your jealousy and remember that a wandering eye is not necessarily tantamount to a wandering heart.