By: Marni Wasserman
Coming off a long winter it's time to get back in shape. You may be wondering how to scrounge up the energy to get you through your fitness workouts. Well I have the perfect solution: plant based foods. Not only are they jam-packed with nutrients and bio-available vitamins and minerals to fuel your body, but they also taste amazing.
Let me remind you that when you work out it causes stress, which creates acidity in the body. In order to regain a state of alkalinity it is essential to neutralize the body by consuming a plant-based diet filled with whole foods.
Here are my top sources of energy foods: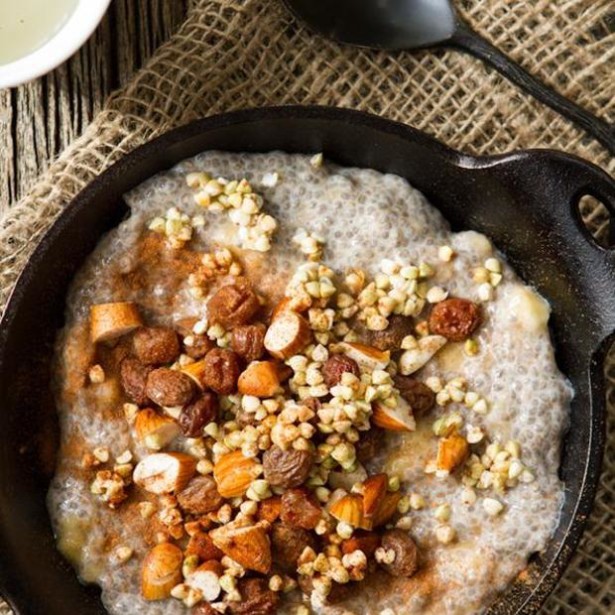 1. Almonds are rich in magnesium which helps turn sugar into energy. These nuts will also help regulate your protein intake rather than quickly using up your energy. An ounce of these nuts a day will keep you full and loaded with energy.
2. Chia seeds are loaded with fiber and complete protein to raise energy levels. Not only are they gluten and grain free, but also their absorption properties serve as an excellent way to avoid dehydration after a workout. Chia makes the most delicious morning porridge.
3. Cacao is one of nature's richest sources of magnesium. It gives me a natural boost of energy – the perfect excuse to have chocolate for breakfast. Tossed in a smoothie or a cereal it adds the perfect crunch and kick!
4. Coconut water and coconut oil – Coconut water replenishes the body with much needed electrolytes. Coconut oil is one of the only fats that is directly turned into energy by the body, and helps conserve energy for breaking down other foods. Cook with coconut oil because it is safe at high temperatures, and adds a delicious taste to your food.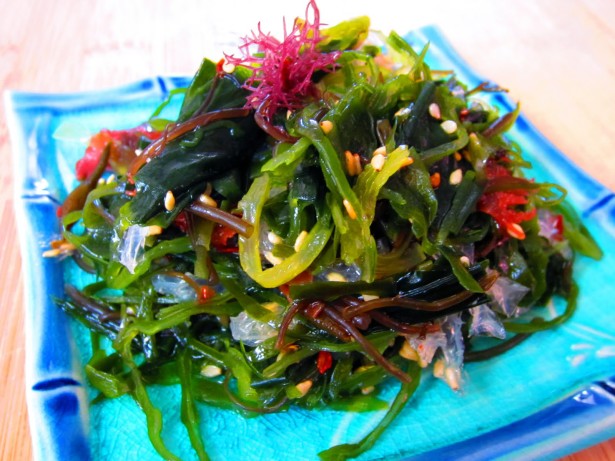 5. Sea vegetables store a wide range of trace minerals and nutrients. In addition they provide natural sodium to the diet. My  favourite sea vegetable is arame or nori. It gives me mental clarity and focus.
6. Kale is a powerhouse green leafy veggie. It is loaded with magnesium and is alkaline forming. Chopped up in a raw salad, steamed as a side dish or sprinkled with some sea salt and baked into chips, kale completes any dish.
7.  Hemp Seeds contain the perfect ratio of omega-6 to omega- 3 fats. They lead to increased productivity, prolonged energy and decreased stress levels. When hemp is consumed in the form of oil, it is a great vegan alternative to fish oil. Put them on salads, in smoothies and in cereal. 
8. Honey, soothing and easy to absorb, is loaded with enzymes and antibacterial and antimicrobial properties. It's a natural source of sugar and calories and acts as a muscle fuel during exercise. Honey is a great way to replenish your muscles after a workout It serves as a perfect addition to any pre workout snack.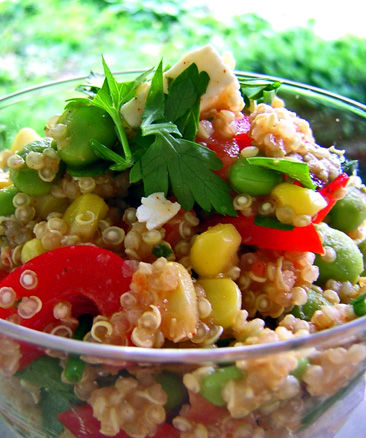 9. Quinoa contains all of the essential amino acids, the building blocks for protein. As protein builds muscle, it is important to consume protein especially after a workout. Try adding a citrus dressing to your quinoa for some extra vitamin C
10 . Tempeh is fermented, easy to digest, delicious and one of the highest sources of plant protein. Marinate tempeh with cider vinegar, lemon juice and coconut oil for a boost to my salads and wraps.favourite sea vegetable is arame or nori. It gives me mental clarity and focus.
Simply said, Marni Wasserman's life is rooted in healthy eating. Certified Chef, Culinary Nutritionist, and founder of Marni Wasserman's Food Studio & Lifestyle Shop located in midtown Toronto where she teaches her signature cooking classes, and offers collaborative workshops and urban retreats. She is also the Author of Fermenting for Dummies and Plant Based For Dummies.
Marni uses passion and experience to educate individuals on how to adopt a realistic plant-based diet that is both simple and delicious. She is dedicated to providing individuals with balanced lifestyle choices through organic, fresh, whole, and natural plant-based foods.
You can learn more about Marni by visiting her Facebook page, following her on Twitter, or by checking out her website at www.marniwasserman.com