We all want to look youthful, juicy and glowing all the time. These beauty secrets below are easy to do on a budget and provide results that are quickly noticeable.
Always remember that relaxation and self care are the keys to health, beauty and a wonderful life!
1) CASTOR OIL: Miracle Face & Face Revitalization
The word castor oil probably conjures up an association with its use as a laxative or as a healing castor oil pack. Little do most people know that it's also an amazing anti-aging secret!
Due to it's emollient qualities, organic castor oil can be used on the face and under the eyes to smooth out wrinkles, soothe sunburn, and help scars to disappear. It can also be used on the hair to improve it's shine, lock in the moisture and improve its texture.
Skin Application: Apply a thin layer under your eyes and face before bed. Do a trial run on a small area of your skin for the first night, as with any new product.
Hair Application: Apply to the ends of your hair in small amounts. Leave it on for 10 minutes to a few hours. Castor oil is very sticky, so make sure you try this for the first time on a weekend to see what works for you and your hair washing/styling routine.
2) GREEN TEA BAGS: Soothe & Remove Puffiness From Your Eyes.
Many of you probably tried to switch from coffee to Green Tea to feel pious about your caffeine intake with the infusion of antioxidants. Due to the same therapeutic qualities of why Asians drink Green Tea after fatty meals, is the reason it's excellent in reducing puffiness around the eyes. This is a great alternative to the classic "place cucumbers on your eyes" regimen.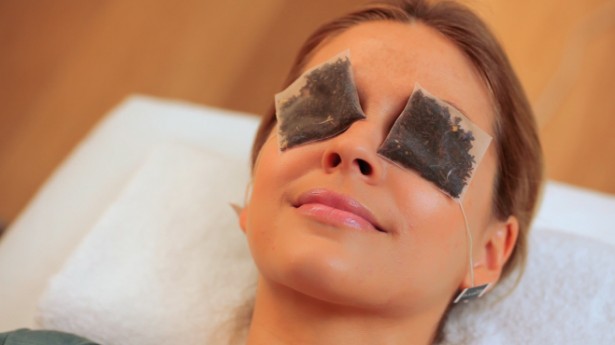 The tannins in the green tea tightens the skin around the eyes and reduces swelling. Tannins are astringent and help to shrink the blood vessels under the eyes; reducing the dark circles. The caffeine content also helps to shrink the blood vessels.
Application: Brew 2 Green Tea Bags (different varieties might have a different effect). Allow the tea bags to cool and place one bag over each eye for 5 minutes while lying down. Try cold green tea bags for a different effect.
*It's important to find out the reason for the puffiness if it's a long term condition.
3) FOOT BATH: Relaxation & Headache Reduction
Even the mere thought of soaking your feet in hot water brings a 'sigh' of relief. Relaxation in all forms helps with youth and beauty. A hot foot bath diverts blood from your head to your feet which can also bring great relief for a headache.
By adding different things to your water, you can create an entire routine just for your feet:
Application: Sit on the edge of your bathtub or use a separate mini tub. Ideally, do this before bed. Put your feet in the hot water for 5-15 minutes. Use this time to meditate or read a pleasurable book; the point is to completely relax.
Lavender: Add 3-5 drops of essential oil to the water for added relaxation and help for athletes foot.
Epsom Salts: Add 1 cup of salts to your water to help reduce tension/pain in the feet.
4) TURMERIC: Cracked Heel & Dry Feet Relief
Turmeric has numerous health benefits; its anti-inflammatory quality being superb.
Application: Mix 3 tablespoons turmeric with 4-5 drops of coconut oil. Apply to areas of your feet that are dry and cracked for quick relief. Apply in between toes for athlete foot.
**Turmeric can stain the skin and clothes yellow, so use with care.