"Krystal Walter Matchmaking" Vancouver's Eligible Bachelor: Steve!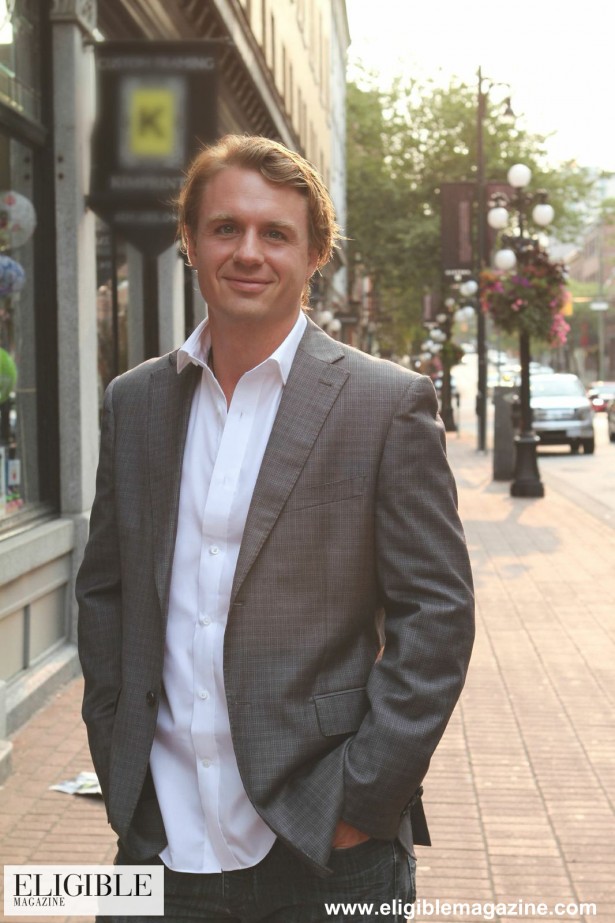 Steve is a successful entrepreneur, visionary, adventurer and philanthropist. His life story is one that could easily be the plot of a Hollywood movie. He dropped out of high school at age 14, had several early career successes and then decided to return to school – at Harvard and MIT. He started his current company at age 19 and has grown it to a multi-business, rapidly growing global organization with more than 135 employees , which he leads as CEO.
At age 25, after months of feeling ill, Steve was diagnosed with stage 4 peripheral T-cell lymphoma, an extremely rare, deadly, and untreatable form of cancer. After countless hours of research into his options, he realized he would be playing a special role in his healing, as an investigator, a visionary, a problem solver, and a messenger of a deeper truth. He and his team invested in his cure and, today he is alive and well with no trace of the disease.
Today, at 33, he lives a life full of adventure and joy. He loves to engage in smart, thoughtful conversation, and whether it's sailing in storms, racing cars and motorcycles, jumping out of airplanes or summiting the world;s tallest peaks, he is a man on a mission to make the most out of life. With a personal vision to bring more love into the world, he spends a great deal of his time serving others and helping those in need. His laid-back, easy going personality is fueled by a sharp mind, an unending curiosity about the world and the people in it, and a belief truly anything is possible.
Name: Steve

Occupation: Rebel with a Cause.

Things I'm passionate about: Making the impossible possible with a goal bringing more love into the world.

My ideal first date would be: Hop on the Harley with my date, cruise to third beach for a picnic, make a fire and hang out under the stars.

People say that I am: A handful.

My ideal partner is: someone who can have fun at Burning Man one week and be equally at ease and enjoy a State Dinner at the White House the next week. She's brilliant, deep and a hell of a lot of fun!

Dating deal breakers: Someone who is limited by their fear. I am looking for someone who wants to play an active role in our collaborative life adventure.

I'm not bragging but: the people in my life are some of the coolest in the world.

A talent that may surprise you: I can rap. And I have been told I am pretty good at it.

Three artists you'll find on my iPod: Mozart, The Dali Lama four stages of meditation and Drake .. among many others.

My dream vacation: Either being invited to Richard Branson's island or taking part in the Vic-Maui race – racing a sailboat from Victoria to Hawaii.

On weekends you'll find me: playing polo, driving my motorcycle too fast, hanging out on my deck or at the beach with people I care about.

What I put on my burger: Fully loaded and always with extra pickles!

I was most impressed on a date when she: challenged me, I love being surprised by a question or statement I wasn't expecting. Makes things interesting.

In high school I was: Not there, I dropped out in grade 9. I spent most of my time sneaking into university classes so I could learn as much as possible. I love learning new things.

My guilty indulgence is: ice cream.

In my past life I was: A samurai monk.

In my next life I'll be: a spiritual leader.

If my life were a genre of movie, it would be a: I don't know that a specific genre fits, it's a mix of sci-fi meets reality TV, with a splash of action/thriller.

The actor that should play my life story is: I would like to say a young George Clooney or Brad Pitt, but honestly it would have to be someone who truly understands my
deepest purpose.

Favourite ice cream flavour: anything with chocolate.

To relieve stress I: go for a run along the seawall.

If I played hooky I'd: be on a sailboat or go for a cruise on the Harley.

If I found a genie in a bottle my three wishes would be:

1. for unlimited wishes

2. for everyone to live in their heart

3. survive the zombie apocalypse

Favourite Vancouver spot to visit: I love Third Beach, great place to have a BBQ, hang out with friends and watch the sunset.


Want to suggest or even be one of "Vancouver's Most Eligible Bachelors"? Email

[email protected]

with your suggestion.

FOLLOW US ON INSTAGRAM TO SEE NEW BACHELORS AND BACHELORETTES WEEKLY AND BEHIND THE SCENES PHOTOS! (eligiblezinesmosteligible)

Photographer: Kaitlyn Wyenberg Photography

Special Sponsor: Krystal Walter Matchmaking