Fall is in full swing and the crisp air will put chills through your bones. Only a warm cozy fall coat will keep you satisfyingly warm during the season ahead. This is a perfect time to go over your current coat collection and decide whether or not you can wear them for another season. If not, then maybe it's time to retire old faithful and give it to the loving arms of your donation box. Since we definitely live in a time where the quote "money doesn't grow on trees" really has come into fruition, I would suggest all of you to check out my smart, affordable and fashionable outerwear picks to add to your stylish mix.
Eight of my personal favorite fall outerwear options under $400!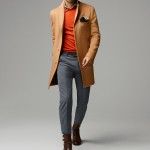 1. Wool and Cashmere Coat
     Brand: Massimo Dutti 
This stylish camel colored topcoat is no longer just reserved for suits. It's stylish and acceptable to pair this style with your jeans in order to achieve a more casual look.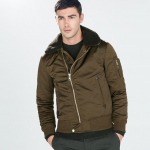 2. Jacket with Fur Collar
     Brand: Zara
This hunter green flight inspired jacket is a popular silhouette trending for the fall season. My advice is to "Buy! Buy! Buy!"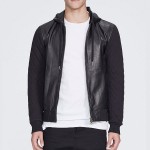 3. "Detroit Hooded Leather Bomber"
      Brand: Zanerobe
Bomber style jackets are everywhere! However, I personally love how this particular Australian brand executed a brilliant casual fashion alternative by making the popular bomber silhouette into a leather jacket that traditionally as of late, is predominately in a biker style for many seasons.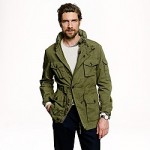 4. "The Field Mechanic Jacket"
      Brand: J-Crew
This vintage military inspired jacket has become a great fall staple to add to your wardrobe. This military jacket trend has been in style for at least a decade, so I would consider it money well spent.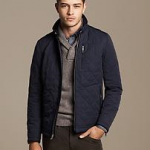 5. The Quilted Jacket
    Brand: Banana Republic
This is a great piece of outerwear not only for shielding you from a cold breeze, but is also fantastic for layering with a sweater and shirt underneath. To do this style justice, I would suggest either going for a more preppy "British look" by wearing it with chinos, a cowl neck sweater with a collared shirt and finishing it off with pair of brogues. You can also go for a sportier                                                       feel and pair it with jeans, a henley and sneakers.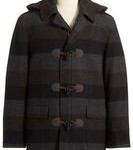 6. Striped Toggle Coat
          Brand: Tallia Orange
This style of coat is inspired by the popular trend known as the "Duffle coat" which you will also see carried under most brands. In past seasons, men always seem to have fewer options to pick from when it comes to color and patterns on their outerwear. Instead of sticking to your comfort zone by choosing the standard grey or black, try to be open to some color or classic patterns such as                                                a subtle plaid or a stripe.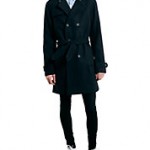 7. Navy Wool Mix Trench Coat
    Brand: TOPMAN
This classic staple is timeless. You can never go wrong buying into this silhouette and it is a guarantee you will wear it for many years to come, not to mention some of Hollywood's greatest male leads. For example Humphrey Bogart's signature style involved wearing a trench coat and let's be honest the man had swagger! End of discussion!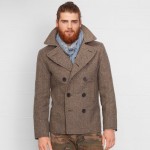 8. Herringbone Peacoat
     Brand: Denim & Supply by Ralph Lauren
This heritage style jacket looks fantastic and very slimming on most body types. This is a very versatile style that you can basically wear with anything. However, I will be honest, it does have one downfall. It is the fact that this classic style is so "safe" that you will see a sea of peacoats being worn everywhere but in this case "if it ain't broke why fix it".
So fellas, take my lead and get shopping!