The perfect holiday gifts tend to be the ones we enjoy ourselves. For those of us who have a wine lover in our lives, a bottle of something special is usually a great bet. But with so many intriguing gadgets, educational materials, and experiences to be found, there are more creative ways to show that special person in your life that you love wine too.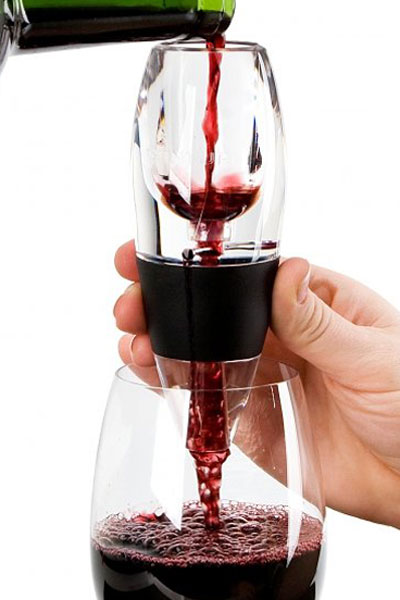 Decanters and aerators are a great way to add a level of class to any connoisseur's collection. A beautiful glass decanter can act as a centerpiece for a meal or an accent for the bar. While aerators are usually less showy and more compact, they perform the same task as decanters by permitting air to contact the wine. Air can have a positive impact on a wine's aromas, creating an environment where the wine can breathe and relax prior to drinking.
Books about wine are the perfect gift. Depending on the wine lover's particular level of knowledge and interest, you could do well to start with one of the books in my previous article about wine books, or select from the following list of paperbacks with a narrative:
Tasting Pleasure by Jancis Robinson MW
Palmento by Robert Camuto
Phylloxera by Christy Campbell
Love By The Glass by Dorothy Gaiter and John Brecher
Wine And War by Don and Petie Kladstrup.
Each book tells a story through wine, educating readers along the way.
There are great films about wine being produced for the direct-to-dvd market. My list in a previous article on the subject includes a great jumping off point, but also consider these stunners:
Wine For The Confused
The Vintner's Luck
Bottle Shock
Corked
A Good Year
The Secret of Santa Vittoria
What better way to add a bit of edutainment during the holidays?
Local wine experiences are easy to find these days. Day-trips offer creative opportunities to learn about what's happening in your area while getting more engaged with innovations in the wine industry. I suggest planning something in advance with an established winery or tour agency to be sure you know what your options are. These experiences can be quite popular during the holidays, and they're great for those who wish to extend the season beyond the twelve days of Christmas.
However, if you find that your well of local experiences or tours is a bit dry, a romantic wine bar is a great alternative. Wine bars usually offer multiple tastings featuring flights of wines from individual regions or intriguing wines from around the world. If you feel like taking this option up a notch, and you happen to know a sommelier, ask them to help you arrange a private tasting for two with high-end wines and a light meal. What could be more romantic than a private wine education from one of your local best?
There is an abundance of travel and wine tourism opportunities for those who wish to splurge. Companies like my Etna Wine School and concierge travel services work together to create packaged experiences that are educational and unforgettable for those looking to splurge a little. Whether you want to travel abroad or stay close to home, there are options to scintillate the winelover in all of us.
Whether you are a beginner or a professional, when it comes to discovering more about wine, the holidays are a great time to try something new. If you would like to tell us about your holiday gift ideas for wine lovers, please leave a comment below.