Regardless of how good your girlfriend is in the sack, sometimes you may need her to do things a little harder or softer or, you know, move around more. It's not that she's not great at what she'd doing, but you're having a tough time shaking the feeling that you might be enjoying yourselves more if she just tweaked her repertoire a little bit. Plus, you know and feel it, the more complex her routine is, the more chances you have at lasting way longer than the usual. But how do you tell her that without hurting her feelings? Or losing sex privileges for weeks? I'm giving you some tactful ways to get her on the right track.
Give her the good with the bad
Before pointing out where she's lacking in the love department, give her some positive reinforcement. Appear wowed at a certain move she had just done or simply hold her in your arms a little tighter, so that she silently understands that you adore what she's doing. Don't just bluntly share with her what she's not doing quite right. The minute a woman hears negative feedback, she gets uncomfortable and feels like she's done something wrong, which makes her reluctant to initiate anything ever again. Soften the blow by prefacing the criticism with a compliment about what she's doing right. Repeat after me: "That feels so amazing. I'd love it if you used your hand even more."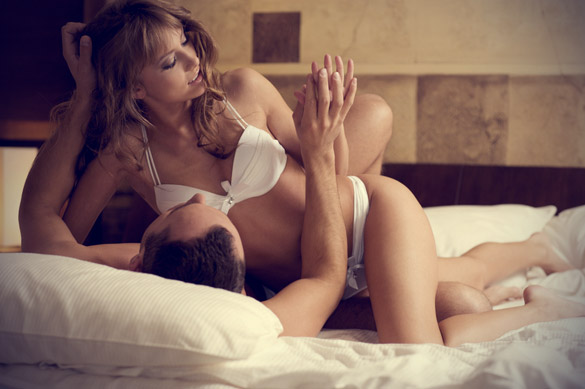 Don't wait too long
Your girlfriend is working away, doing her damnedest to get you off. Meanwhile, you keep thinking "If only she would…". Speak up now or forever hold your peace, buddy. When you allow those thoughts to go on for more than five minutes and then tell her to change things up, it's too late. Part of her brain suddenly wonders if you've spent all that time thinking "God, will this torture ever end?".
Mind your bed manners
When you're in the heat of the moment, it can be tough to put complete sentences together. And although one-word commands like "Harder" and "Faster" can be effective, they often come off as rude commands. When you bark orders, it sounds like you think she owes you something, and it's disrespectful. No, you don't need to say please and thank you, but if you want it done right, ask nicely. Your best bet is to pose a question: "Could you maybe lift your hips more?" Throw in a kiss or a term of endearment and she'll be even more eager to oblige.
Play do-as-I-do
Say you have a tough time telling her exactly what you want. A simple game of frisky back-and-forth can help. Whisper in your girlfriend's year, "Whatever I do to you, you do to me." Then touch, lick and kiss her in a way that you would like reciprocated. After she's mirrored your moves, she can demonstrate what turns her on. This is a more playful way to ask for and get what you want sexually, without making her feel self-conscious. Plus, your hands-on tutorial will double as a naughty foreplay activity.
Want to read more about improving the sex life you and your partner enjoy? Click here
By Gabrielle Moore
Gabrielle Moore helps couples around the world improve their sex lives. She communicates daily with her more than 300,000 subscribers. Gabrielle is the author of several best-selling books, such as "The Female Orgasm Revealed", "Turn Her On Faster", "Hot Licks", and many others.