Sparkling wines are synonymous with happiness, joy, and hope. There is no other wine in the world so intrinsically attached to one set of human emotions. For centuries, people have been popping corks of effervescent wines to celebrate special occasions and end of the year festivities. Why should this year be different?
Following is a list of sensuous sparkling wines that can be found on most market and specialist-retailer shelves. I hope they help you find something to make your memorable moments extraordinary.
First, a primer on how sparkling wines get their bubble.
The traditional method, first created in Champagne, involves making a low alcohol "base wine" from local grapes. Once the base wine is finished, the wine is bottled with a liqueur di tirage – a syrup of wine, sugar, and yeast – to start a second fermentation inside the bottle. After several months or years of aging, any sediment inside the bottle is released. The bottle is topped up with a dosage of wine and sugar to create a "house style." Wines made in the traditional method will (usually) have fine bubbles, a soft creamy mouthfeel, and refined characters and flavors of citrus, nuts, and baked bread.
The charmat method also begins with a base wine, but the liquer de tirage is added to a tank of wine where the second fermentation takes place. Though the characters in the final wine are similar, they often lack the refinement of wines made in the traditional method. However, the charmat method does reduce the final cost for the consumer because there is a lot less manual labor involved in the production of each wine.
Without getting too deep into the other methods in which sparkling wines can be made – they are mostly variations on the traditional and charmat methods – we can move into what to buy and why.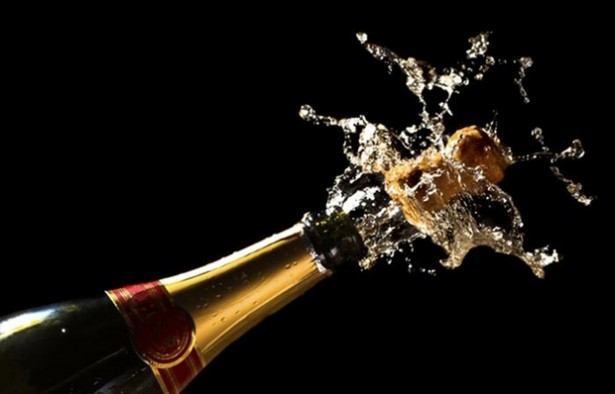 Champagne is without a doubt the grandmother of all sparkling wines. Made only in north-east France, the base wines are made from Chardonnay, Pinot Noir, and Pinot Meunier. Champagne made only from Chardonnay are called blanc de blancs – they are crisp, bright, fruity with undertones of baked bread – while the standard Champagne has all three varieties blended together. Blanc de noirs will feature only Pinot Noir and/or Pinot Meunier. Vintage Champagne – bottles with a year on them – will come from special vintages where the grapes were of a high quality. $$$+
Cava is Spain's version of Champagne. The wines are made in the same traditional method, but not the same grapes. Parelleda, Xarel-lo, and Macabeo – three white grape varieties – are used. While all Cava has a minimum bottle aging on lees of nine months, most producers will age their wines longer than the minimums. In bottle, lees aging contributes myriad flavors to Cava. You can read another of my articles here if you are interested in learning more. Essentially, two great things about Cava are that it is immensely more affordable than Champagne, and quality is usually very high. $+
Prosecco is Italy's sparkling wine. Though Franciacorta – a traditional method spumante made primarily from Chardonnay, with small percentages of Pinot Noir and Pinot Blanc – is undoubtedly Italy's royal sparkling wine, it is many times more expensive than Prosecco. Prosecco is a charmat method wine made from the Glera grape, grown in the northeast region of Veneto. At its best, the wine shows a generous amount of citrus and tree fruit with a hint of sweetness. $$+
Moscato D'Astiis the sweetest wine on this list. This Italian sparkling wine, grown in northwest Italy, is made in a modified charmat method. Rather than the wines being subjected to two fermentations, the wine is chilled to a point where the primary fermentation stops. The wine is bottled with the fermentative gases and featuring all the primary fruit aromas and flavors intact. Because of this unique method of production, alcohol levels are lower – maximum 5.5% abv –and it makes one heck of a great dessert wine. $$+
Whatever sparkling wine you decide to toast with, I hope you have a warm and happy New Year celebration.