Welcome back ladies and gentleman to another week of The Bachelor. I think it is fair to say at this point that this season's Bachelor is a little more out of the ordinary. Zombies, drunks, crazy girls and blacked out bikini bottoms are the keywords of this episode, and we see that Chris' behaviour resembles more of a 14-year-old hormonal teenager than a man. Besides his looks, that is.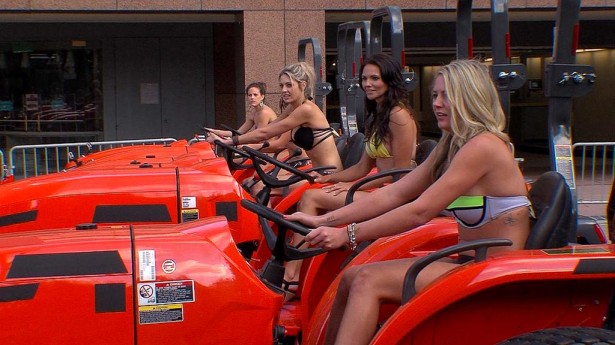 This week's episode started out with a group date, where Chris took his lovely ladies for a nice romantic tractor race… in bikinis… in the middle of the street. I understand that Chris wants his lady to mesh with his country heart, but could it get any more typical? Yes, actually—it could. Ashley I., winner of Chris' tractor race, posed on top of her man…in the tractor…in the middle of the street…half naked. I guess you're not that hard to please Mr. Soules.
The one-on-one date card went to Megan, who… how do I put this lightly… just isn't all that on top of the Bachelor ways. Instead of getting all excited about her one-on-one with Chris, she asked if the card was a "love note." Meanwhile all the girls stared at her ready to rip her head off, until finally someone clued her in that no Megan, you're going on a date. It's OK Megan we all have our days. Maybe next time, try not to break into Chris' house, try on his motorcycle helmet and bash your head into his fridge, wall, ceiling, floor and counter. Helmets can't protect all those brain cells up there.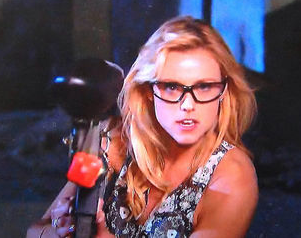 The next date was another group date accompanied by a couple zombies here and there. Chris always knows the key to his woman's heart, and what better than taking his ladies on to the paintball battlefield to strike out some zombies. How romantic is he! Some of the girls enjoyed it, while some of them were just… not all there. Ashley S. stole the key to my heart again this episode. It was nice to see her talking to the sky, the moon, the tree to the left and who knows what else. But it was obvious she was on a completely different planet. And when we didn't think it could get any worse for the girl, she decided to bend down on all four and starting talking to a cat. Sorry Chris, but I think Ashley S. found her true love.
At the Final Rose Ceremony, Chris sends home Jordan, Tara and Kimberley (for a second time), Tandra and Alissa.