Toronto's Most Eligible Bachelor: Knickoy!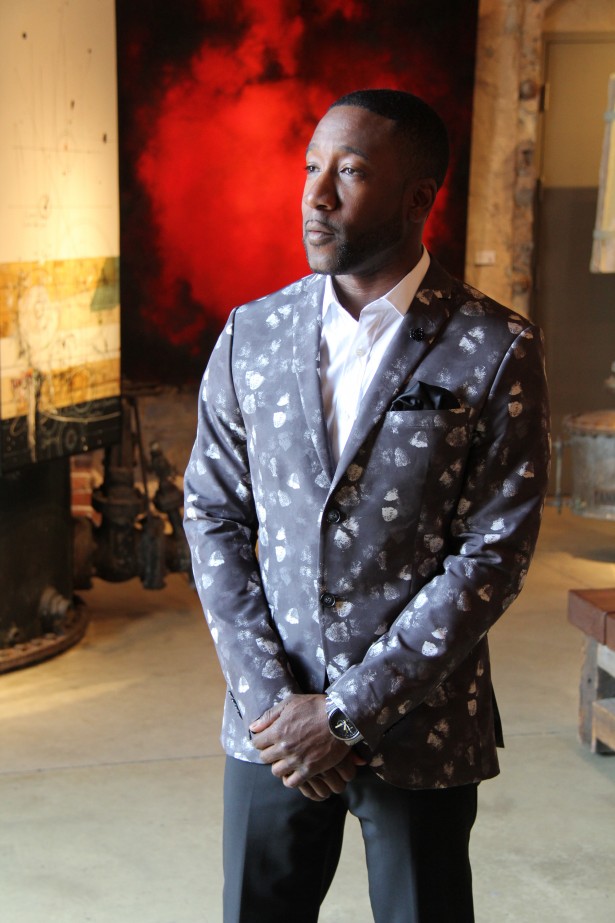 Knickoy is that down to earth, fly by the wire type of guy that loves to squeeze every bit of juice out of life. Fun and happiness are the only things that are a must on a daily basis for him. Born and raised in the city, he calls himself a dreamer, but what sets him apart is the amount of hard work he puts in to turn all those dreams into reality.
Not only does Knickoy work hard but he also plays hard too, having a huge love for sports, cars, food and being active, Knickoy never has a dull moment in his life. "I like spontaneity, surprises and laughing my ass off" says Knickoy.
Being the spontaneous type, Knickoy is looking for someone that is open to trying new things and is able to have fun while out of their comfort zone. He is looking for someone who is fun loving, adventurous, active and can handle not being too serious. "I like to be with someone who is 100% them self around me, that comfort only helps to bring out the best times between two people."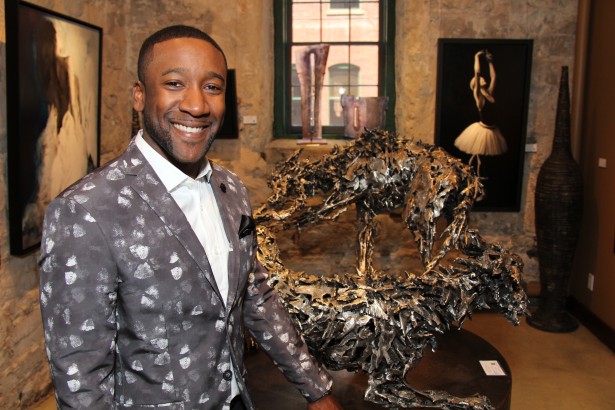 Name: Knickoy Robinson
Occupation: Owner Of Luther's Chicken
Things I'm passionate about: I have a lot of passions, I seem to pick new things all the time but there are a few I have lived with since day one. Basketball was the first, a game I can watch and play for the rest of my life. Obviously with time certain things aren't as easy as they once were so you tend to gravitate to the ones that give you some more longevity LOL!! I picked up golf about 10 years ago and it has definitely become a large part of my life. No matter the season I always find a way and excuse to get the clubs out. I am also a petrol head, a deep passion for cars, motorcycles and practically anything that has a motor.
My ideal first date would be: There are too many ways to answer this because I think that most of what goes into planning the first date with a woman, usually entails things you feel she will enjoy. So if we were to flip the script and a woman was challenged to take me out on a first date, I would most likely say something active. We are all so accustomed to sitting at a dinner table and being forced to create conversation with someone you don't really know. Yes, there are definitely people you click with off the bat and things just flow but there are also those times when things can feel forced. When you put people in a place where their focus is on other tasks, it is easier for them to be relaxed and enjoy the company.
People say that I am: If we are only talking about the good things they say they are usually pretty nice. I've been told I am funny and outgoing…. Probably because I just enjoy making people laugh and being a part of the most memorable elements of people's day. I'm a goof and don't really like taking things too seriously.
My ideal partner is: Someone that can keep up with me. I have always prided myself in introducing people to new things, whether they are things I have been doing for a while, or something I have recently picked up. Teaching is something I enjoy and learning with someone is always fun.
Dating deal breakers: I am very old school, I like to talk to people. When I say talk I don't mean text, I mean pick up the phone, dial their number and talk. I have one key dating deal breaker, it's on a 2 strike basis. If I call you and you don't answer but choose to respond with a "hey what's up", or something along those lines, that is strike one. If you are busy, fine I understand, sometimes it is easier to quickly respond if you're busy, but there are those people that just don't call back and want to continue the conversation via text. So let's just say it happens for a second time, well that's it for me. there is not turning back, rethinking, nothing! It's over and there is no if and's or buts.
I'm not bragging but I: Have dimples.
A talent that may surprise you: We'll keep this one under wraps. LOL!!!
Three artists you'll find on my iPod: I am constantly adding to my music collection and am open to listening to all types of genres. The three artists getting the heaviest rotation at the moment are The Game with his new album "Documentary 2", Adel with her latest incredible creation "25" and to close it out the Biebs, YES Justin Bieber's "Purpose". I'm sure the moment this gets published it will be a different three but this is what I'm rocking on this day at this time.
My dream vacation: I've been blessed to have travelled a fair bit with the intent of travelling a lot more. But there is one on that list that I dream about almost every day. The Maldives, Rangali island to be exact, is my dream vacation. 36 total hrs, 3 flights to get you to the middle of nowhere. Over water private villas and the only place that has a restaurant submerged 12ft under the ocean. Would you complain?
My favourite part of living in Toronto: I could go on and on and on about how much I love this city.
What I put on my burger: Ketchup, Relish, Tomato, S&P and a touch of mustard. If garlic mayo is available that's a must.
I was most impressed on a date when she: Can also make decisions. Simple and plain. Such a turn on.
In high school I was: I was the kid that got along with everyone. We all went to high school and know that was the time when cliques ran rampant. I was never a fan of them, I ran with everyone and brought groups together which only helps later in life when it comes down to operating with people from all different walks of life.
My guilty indulgence is: I can clear out a large bag of Maynards Gummie Bears like you've never seen. I have a really bad sweet tooth so when it comes to candy, there is no chill button.
In my past life I was: The same person I am today, I've just been given another chance to do it better this time around.
In my next life I'll be: Me, with more tools to do it better the next time around. LOL!
If my life were a genre of movie it would be: A romantic comedy. I am a hopeless romantic, emphasis on hopeless, but at the same time have fun with it.
The actor that should play my life story is: Michael B. Jordan
Favourite Toronto Hot Spot: Luther's Chicken (Shameless Plug ;-))
Favourite ice cream flavour: This is a simple answer, it's classic, will never let you down, right to the point, Vanilla Bean. But has to be Breyers.
To relieve stress I: I head out to the driving range, grab 2 buckets of balls, pop my headphones in and swing. Swing until I've cleaned those buckets out or until all that stress has rolled off my shoulders. No matter what I choose to do to relieve that stress, it is always accompanied by music.
If I played hooky I'd: Jump out of a plane.
If I found a genie in a bottle my three wishes would be: The first would be an endless stream of untaxable money. The second would be a chance to sit down with Tupac and ask him where he's been hiding this whole time. The third would be to give myself and the closest around me immortality (or just turn us into vampires) whatever's easiest.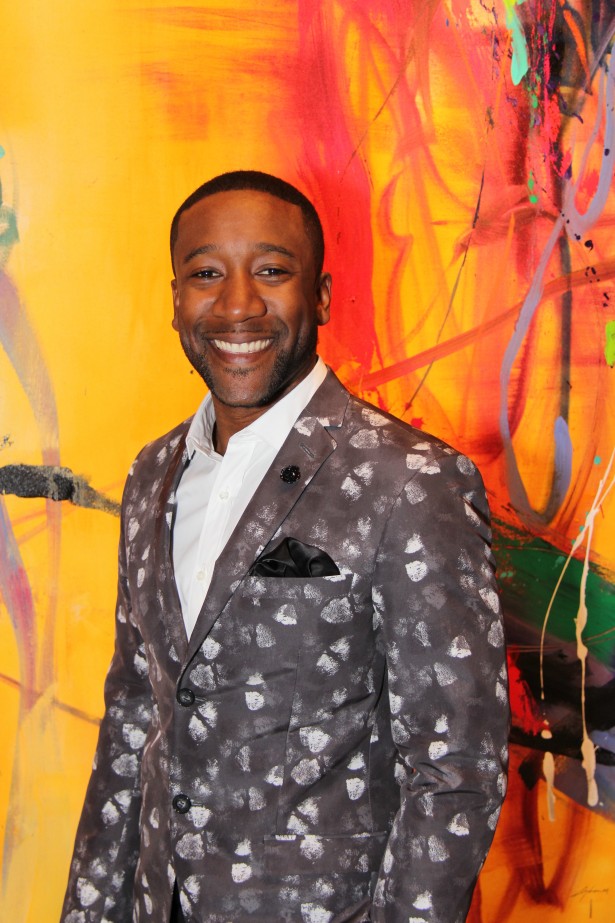 Styled by: Charlotte Jenkins at GotStyle Distillery District; Knickoy is wearing Blazer; Tiger of Sweden paint splatter print ($699) Belt; Anderson's pebbled leather ($160)  Shoes; GotStyle five-eye cap toe leather, black ($225) 
Want to suggest or even be featured as one of "Toronto's Most Eligible Bachelors"? Email [email protected] with your suggestion.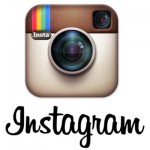 FOLLOW US ON INSTAGRAM TO SEE NEW BACHELORS AND BACHELORETTES AND BEHIND THE SCENES PHOTOS (eligiblezinesmosteligible)
Credits:
For more information on the art featured please visit Thompson Landry Gallery
Photography by Daniel Joseph/Eligible Magazine
Clothing, styling and sponsorship provided by Gotstyle Menswear, Toronto.