Toronto's Most Eligible Bachelor: Vineet!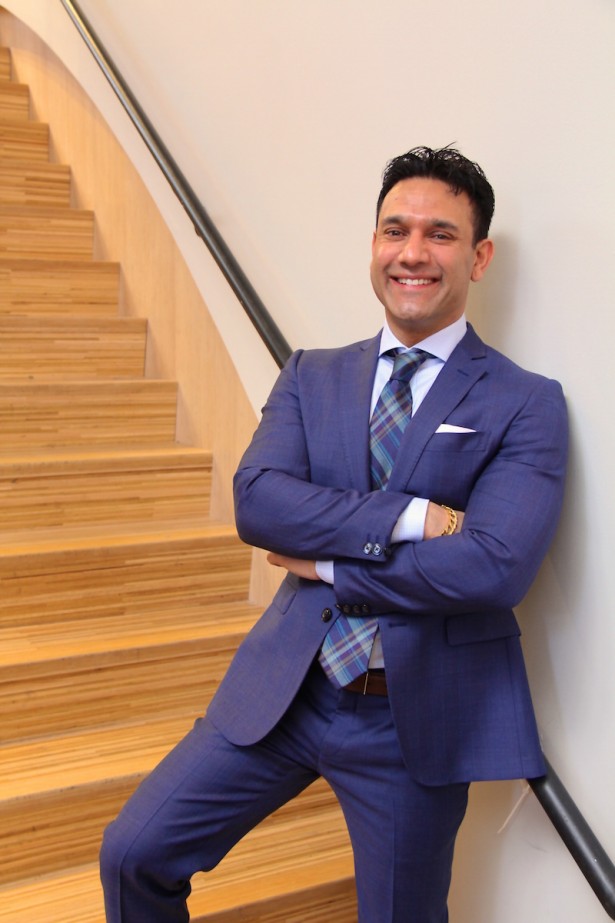 Vineet has had an interesting ride to date, never a dull moment in his life.  Brought up in a small city with the values to match, he has conquered many challenges and achieved a lot of dreams to date.  He has also travelled the world and stayed true to his priorities along the way and has been blessed with a great family and a tonne of friends.  Now again in the midst of experiencing a stage of resurgent growth. He is driven and striving toward his goals.  Vineet is always looking for an opportunity to help, give, grow and increase the meaning of his daily work and is always wanting to make a positive impact, plus he believes it is time to lead and apply all he has learned to date.
"I am unique! We all are."  Vineet is an honest, loyal and trustworthy person. Family oriented and committed to his friends, his craft and to spiritual growth.  "It's about we not me", he says.  Strong, determined and resilient without an ounce of quit, he is also very independent and hopes to enrich the world.  Vineet believes he is has been blessed in many ways.  He is still very athletic and health conscious and enjoys a wide variety of activities, too many to list, but also appreciates the moments to chill out and connect with loved ones.  Giving, sharing, caring and love are fulfilling to this bachelor.  He is also introspective, considerate and a man of character.  Calm yet passionate with more energy than most and he doesn't see that changing in the near future.
Vineet is looking for an honest woman with integrity.  Someone who won't just date any dude, someone with standards.  Someone caring, generous and unselfish and with lots to offer.  A family oriented and loyal soul would be an amazing match.  He would love to find a woman who takes care of her physical and inner worlds.  Physical beauty without substance is unattractive to this doctor. He is looking for someone with a depth of personality that he can talk to and grow with and share a beautiful life with.  Vineet hopes to enjoy a true deep energizing love that is priceless.
Name: Vineet
Occupation: Doctor
Things I'm passionate about: family, relationships, living, helping, health, presence, improvement
My ideal first date would be: to start the day with lots of sunshine, the beach is always nice,  doing something active together.  After we could relax fully. Later hit a comedy club, laugh and escape.  We could finish with amazing engaging conversation, smiles and laughs, while connecting over a fantastic meal with some great music to accompany.
People say that I am: successful, generous, polite, nice, fun, funny
My ideal partner is: honest, smart and has integrity with a great set of morals, knows herself and is insightful and has a depth of character. She know what she wants from life.  Is family oriented, caring, nice and independent.
Dating deal breakers: dishonest, selfish, self-centered and superficial to name a few
I'm not bragging but I: am just getting started!!
A talent that may surprise you: there are too many to state just one…lol, open to creating new ones with my future spouse
Three artists you'll find on my iPod: Calvin Harris, David Guetta, Armin van Buuren
My dream vacation: I have travelled quite a bit, but I love warm exotic climates, culture, activity, and adventure but also love to unwind and relax after a full rich day.
My favourite part of living in Toronto: the multiculture flair
What I put on my burger: everything but olives and anchovies
I am most impressed on a date when she: smiles, is attentive and engaging, as well as down to earth. Has a sense of humour and takes care of herself.
In high school I was: the same build as I am today
My guilty indulgence is: I love sweets
In my past life I was: I can't remember, maybe a warrior
In my next life I'll be: saint
The actor that should play my life story is: George Clooney should play my life story
If my life were a genre of movie it would be: action comedy
Favourite Toronto Hot Spot: I love to mix it up and truly the company makes the night, but I will put a plug in for Brassaii. I also like to dine at Lee on King West. 
Favourite ice cream flavour: chocolate!!!
To relieve stress I: I do some kind or exercise or spend time with my loved ones
If I played hooky I'd: go to the beach
If I found a genie in a bottle my three wishes would be:
1. Experience all that life has to offer
2. Have and raise children with my soulmate
3. Extraordinary health, and happiness for all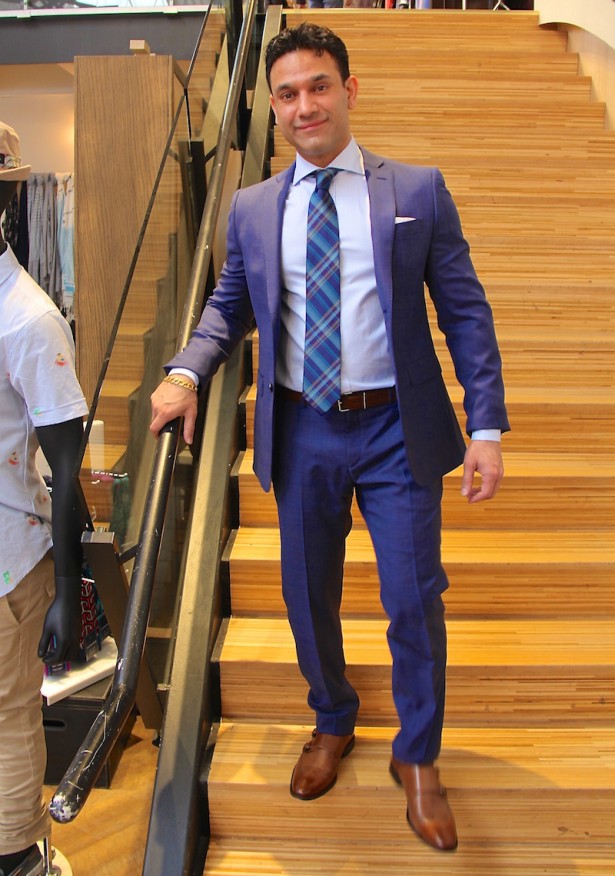 Styled by: Charlotte Jenkins at GotStyle Distillery District; Vineet is wearing Suit: $1195 Lab Blue wool tonal plaid Belt: $150 Andersons Saffiano brown Tie: $95 Strellson Shoes: $225 GotStyle double monk tan Pocket Square: $55 A Christensen
Want to suggest or even be featured as one of "Toronto's Most Eligible Bachelors"? Email

[email protected]

with your suggestion.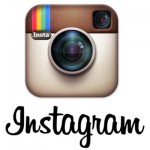 FOLLOW US ON INSTAGRAM TO SEE NEW BACHELORS AND BACHELORETTES AND BEHIND THE SCENES PHOTOS (eligiblezinesmosteligible)
Credits:
Photography by Daniel Joseph/Eligible Magazine
Clothing, styling and sponsorship provided by Gotstyle Menswear, Toronto.