It's often difficult to look your best during the colder months. With so many layers to fight off the frigid weather, it's easy to end up looking like an anthropomorphic marshmallow. But winter can be one of the most fashionable times of the year with proper layering and pairings, which provide a greater opportunity to show off much more of your style. These are a few tips to put together the perfect winter outfit that will keep you warm and looking great.
Peacoats
Half the battle is trying to find the right coat. You need something that's thick enough to keep you warm on the coldest of days but not so bulky that you need an extra room in which to keep it. The peacoat is a winter classic that never goes out of style. It's a staple for the frozen months and always keeps you snug without overdoing it. Also, it pairs great with both casual and formal outfits to keep you looking good. Colin Farrell has already been spotted rocking a peacoat for 2016, so you might want to hop aboard this trendsetting train before it leaves the station.
Sweaters
A good sweater is a versatile essential for any wardrobe and during the winter, it's a must have for pretty much everyone. When it's cold outside it's hard to beat a nice cashmere sweater. Cashmere is a soft and luxurious wool that is warm enough to keep you toasty, but it's still light enough not to make you break a sweat.
Dress Boots
Dress boots were very popular in 2015 and we fully expect this trend to continue throughout the spring. A dress boot is incredibly versatile and can look great with jeans, slacks or a suit. It also provides a lot of options while keeping your feet nice and toasty. There is a wide variety of leather options to choose from, such as traditional blacks and tans to more bold looks like oxbloods and burgundies. We like the Chelsea boot for its lack of laces and comfortable elastic side panel, which makes it easy to slip on.
Scarves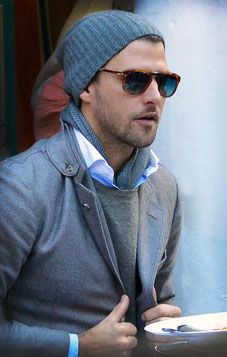 Winter is a time for minimalistic colours, with grays and blacks being the tones of the season. Because you'll be going with a more drab motif for your outfit, ensure that your statement scarf has a splash of colour to make it all the more bold. Also, make sure you learn how to properly tie your scarf to ensure that you look snug this season, and not smothered.
Sunglasses
Just because it's cold doesn't mean that it isn't bright. You can practically go blind when facing the winter sun, especially if there's snow or ice on the ground. However, few things look better with a winter outfit than a stunning pair of shades. That's stunning, not stunner. Get an all purpose pair in black or tortoiseshell in a classic style like aviators or wayfarers to make sure you look cool, and not corny.