By Pamela Putman – Luxury Editor
I was considering holding back on my enthusiasm for the ribbon cutting at Saks Fifth Avenue. You know, it's such a 'girl' thing to be excited about shiny things and beautiful clothes. But when I arrived to the sea of people who clearly got the memo about the official opening, I was taken aback by the number of suits that were ahead of me. And by suits I mean, suits worn by men. As in, men predominantly waiting patiently to witness the retail debut of Saks Fifth Avenue in Canada. In our Toronto, no less.
It's as large and spacious and solemn as a museum. With history making moments that include Chanel, I feel comfortable with this allusion. Designed by Saks Fifth Avenue Store Design and Planning, in partnership with FRCH Design Worldwide, the Queen Street store is bright and elegant, with over 169,000 square feet covering four floors.
It is almost impossible to take in all that the store has to offer (It's likely that I will return. Clever, clever Saks Fifth Avenue). The detail is magnificent. The store's first level features several boutiques, glittering jewelry displays and a beauty hall. And so many handbags, with representation from Celine, Saint Laurent Paris, Bottega Veneta, Givenchy, Chloe, Valentino, just to name a few.
In fact, premium brands are the main attraction even in the cosmetics department, which includes Maison Francis Kurkdjian, Parfums Christian Dior, Clive Christian, EX NIHILO, MEMO Paris, SERGE LUTENS, Guerlain, Carre Hermès Perfumer, Acqua di Parma, Le Labo, House of Creed, Byredo, Diptyque, Kilian, Jo Malone London, Trish McEvoy, Laura Mercier, By Terry, Decortè, Cellcosmet, Apothecary, Tom Ford, La Prairie, La Mer, Chantecaille, Cle De Peau, Aesop and Valmont on their vendor list.
The second floor features menswear, and more premium brands such as Balmain, Dior Homme, Martin Margela, Givenchy Dunhill, Isaia, Zegna, Helmut Lang, Kenzo, Rag & Bone along with others. The displays are stated and masculine, with a subtle reminder of the value of a sharp dressed man.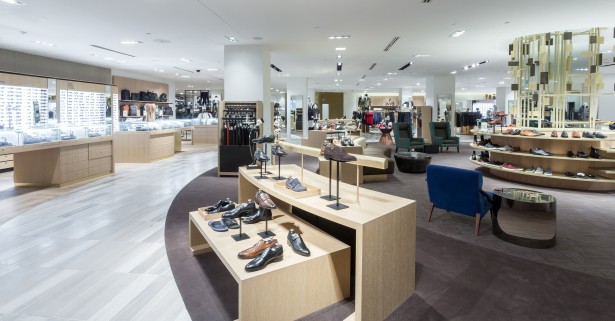 Women's ready to wear and personal shopping suites can be found on the Third floor. The dazzling display includes styling services (with a private suite and refreshments) and designers including Azzedine Alaia, Céline, Saint Laurent Paris, Givenchy, Valentino, Balenciaga, and Alexander McQueen. The first ever women's ready-to-wear concession will open soon, presented exclusively by Dior.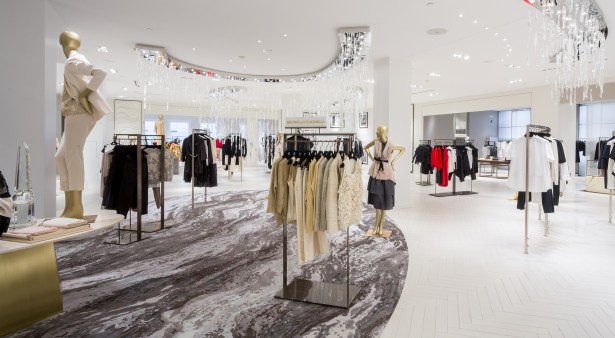 In April, Pusateri's Fine Foods will open a 25,000 square foot upscale food hall. And a three-level, 11,000 square foot restaurant/bar operated by Oliver & Bonnacini will open in May, featuring the "the vibrant essence of South American cooking and dining with unique Spanish influences", presented by Chef Anthony Walsh.
The store is nothing short of a shopping experience extraordinaire, and a new grand jewel of The Six as we so affectionately call this town. Stay tuned for Sak's second Canadian location opening at Toronto's Sherway gardens on Thursday, February 25.