With summer just around the corner, everyone is preoccupied with getting back into shape with those "bikini bodies". The pressure to look perfect is incredibly strong, especially for those in Hollywood. But Demi Lovato doesn't have time for any of that or to listen to anyone's body shamming. Yas queen!
RELATED: Lena Dunham's Stance On Photoshopping Your Body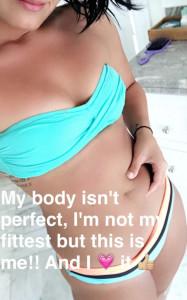 The singer posted a photo of herself pinching her belly in a bathing suit on Snapchat. Her caption read, "My body isn't perfect, I'm not my fittest but this is me!! And I
Lovato has been outspoken about her struggle with eating disorders and body image in past, admitting that while it's been a struggle, she's come out better and healthier for it. Encouraging all women to love their bodies, no matter the size and unrealistic ideals that people may hold you to.
In the past, Demi Lovato suffered from depression and an eating disorder after being bullied. At the age of 18, Lovato decided to check herself into rebah after she realized she was causing herself more harm than good.
Lovato looks absolutely stunning in the snap, but then again are we really surprised? The girl just exudes Confidence.
Photo Credit Via @ddlovato