So, you have been seeing, messaging, dating, and sleeping with a man, but he does not want to label things. You do not need that type of a headache in your life, do you?! In some cases, it is tough to figure out why men do not want to commit, and we could drive ourselves crazy replaying every possible circumstance concerning how, or why, things changed direction.
What we know is that some men fear commitment and are afraid of losing their independence and freedom. They want to make sure they are making the best decision for them, and sometimes it's hard for them to determine what exactly that is.
Check Out Match Me Canada's 5 Main Reasons Why Men Are Afraid To Commit
1.  He loses the chance of dating other women in the future
The thought of choosing one woman only can be pretty frightening. Online dating has created an avenue to meet thousands of singles. For some men, it is hard to imagine committing to only one woman when there are so many funny, smart and beautiful women to meet.
2.  He is still dealing with past relationship issues
If he is still hung up on a past flame, then chances are he is fearful of committing because he still has pain from his past. Instead of dealing with his emotional challenges, he may continue to date one woman followed by another, hoping that the time will come when his problems will magically be resolved. This is common among immature men or those who have communication issues.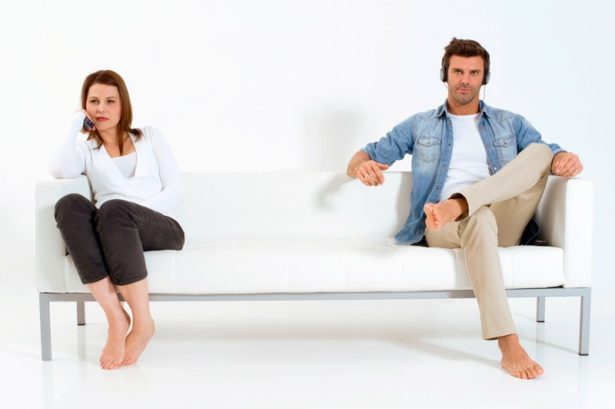 3. He is insecure
He is insecure and thinks you will find somebody better, and then leave him, so in a way he is protecting his heart by being non-committal. It sounds crazy doesn't it?
RELATED: Dating The Commitment Phobic Man
4.  He has got other priorities to look after
A guy has fear of a commitment when he is not able to deal with other areas of his life along with his love-life. He has friends, job, family, and other things which he gives higher concern than the commitment. As a result, he builds a wall between you and him, and his other personal life matters.
5. He is unsure of the success of the relationship
Another fear of commitment sign includes the uncertainty of achieving hundred percent successful partnerships. Guys who are scared of commitment will often think of risks associated with the relationship. These vague concerns keep him away from putting more interest into the relationship, and he will sooner or later draw back.