The outdoor summer-long fitness and wellness program, Sweat Sessions will be taking place all summer in the Meatpacking District, New Yorkers have been sweating up a storm every Tuesday evening. The fun al fresco fitness series consists of three free 45-minute classes at 6pm, 7pm and 8pm and will run through August 29th. After each workout, cool downs are hosted at Samsung 837 and feature healthy bites and sips to help you recover from your heart pounding workout. The Meatpacking District has also collaborated with The Wellth Collective, New York City's premiere wellness consulting firm, to assist with the programming.
Not only is this a great way to squeeze in a workout but an excellent opportunity to meet new people and try new classes at the same time! The Sweat Sessions will feature nearly 40 classes and 20+ studios and master trainers over the course of the summer from a variety of modalities.
Eligible Magazine had the opportunity to sit down with the Sweat Sessions team to discuss the popularity of these workouts and how it's bringing New Yorkers closer together!
   How are these workouts bringing people together? Do you think Sweat Sessions is a unique opportunity to meet people?
The Sweat Sessions brings people together by providing an opportunity for New Yorkers to participate in top brand and studio workout classes almost every Tuesday during the summer months. Boutique fitness can often feel inaccessible or intimidating, is brought to the community, completely free of charge. Produced and underwritten by the Meatpacking Business Improvement District, in partnership with The Wellth Collective, the Sweat Sessions has become one of the most popular free group fitness programs in the city, with classes often averaging 100 attendees. The atmosphere is that of a close community, where healthy living and personal wellness is celebrated; fitness is the new happy hour.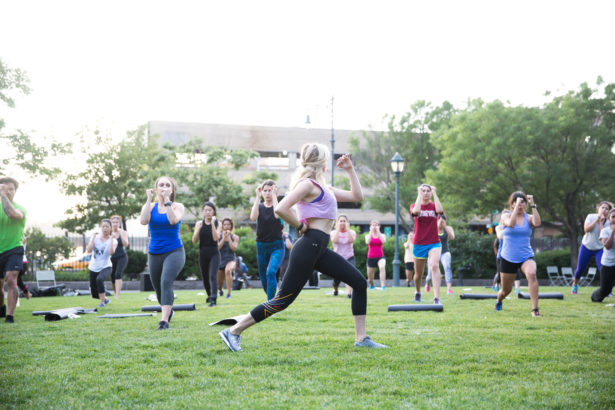 In addition to the workout classes, the Sweat Sessions also offers a post-workout Cool Down, where participants can enjoy complimentary healthy bites and hydrating sips from local businesses. The Cool Downs provide a way to mix and mingle with other likeminded individuals!
   What types of workouts do you offer each Tuesday?
The Sweat Sessions will feature nearly 40 classes and 20+ studios, and master trainers over the course of the summer from a variety of modalities including boot camp, yoga, barre, boxing technique, pilates, dance cardio and more. Classes will be led by such renowned brands as Lululemon, Model Fit, Bari Studio, Dance Body, Exhale, Liftonic, Uplift, Body Space Fitness, 305 Fitness, Dogpound and many more.
   What are people saying about the Sweat Sessions?!
Since the series began, the Sweat Sessions has been an instant hit. The growing popularity over the years is easily seen by the growing number of attendees! We often hear that Sweat Sessions is perfect for everyone – fitness friends, first timers, and even first dates! The range of modalities offer endless options, and each class is led by an expert instructor. People have commented that it's a relief to have a fun and effective workout without the barriers to entry like cost.
Sounds like a fun workout? What are you waiting for, sign up for a workout day today and head over to The Meatpacking District's Sweat Sessions will take place at Hudson River Park's 14th Street Park, on 10th Avenue between 14th and 15th streets.
The schedule of classes and activities will be announced the week prior, and anyone may sign up for a free class and view the upcoming schedule of classes by visiting thesweatsessions.splashthat.com