We all love watching a flick at home, while wrapped up in our warm fuzzy blanket; especially on those cold months when the breeze isn't quite as warm. We love looking out of our window to find bright red and orange leaves decorating our lawns or sparkly white snow. Isn't it true that enjoying a warm cup of cocoa while cuddling up next to our better half in the evening, is music to our ears? Why not pair all of these reminiscent images of colder seasons with a quiet Wine & Dine experience in the comfort of our own home? Try these palatable, mouth-watering dishes to adorn your evening.
Red Wine Beef Stew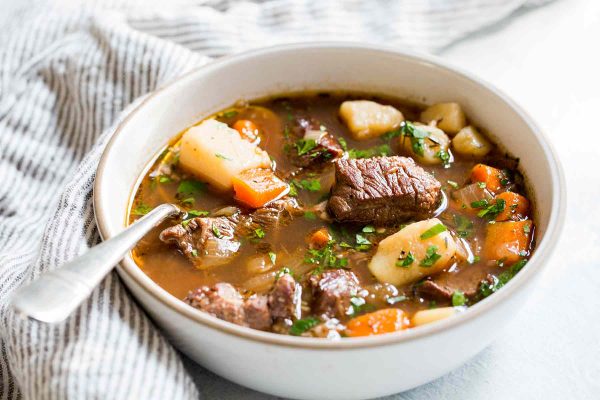 Did I say beef stew? Yes, I did!  In my opinion, this has to be Canada's favourite comfort food in the cold winter months. Think about tender and succulent beef, braised in red wine and mixed with delicious potatoes finely chopped into cubes and diced carrots in a flavourful onion, and garlicky mix. This was just a sneak peek of what you can make at home, keep reading and take notes on these delicious recipes for your dinner plans.
Ingredients:
4 pounds chuck roast, cut into 2-inch pieces
1 1/2 teaspoons kosher salt
1 teaspoon freshly ground black pepper
3 tablespoons all-purpose flour
1 tablespoon olive oil
1/4 cup tomato paste
2 cups dry red wine, such as Pinot Noir or Syrah
4 cups low-sodium chicken broth
1 medium yellow onion, quartered
2 bay leaves
4 sprigs thyme
10 medium carrots (about 2 pounds), peeled and cut into 3-inch pieces
1 1/2 pounds baby white or red potatoes, halved
Preparation:
1. Preheat the oven to 325°F. Season the meat with salt and pepper, place in a large bowl, and toss with the flour.
2. Heat the oil in a large Dutch oven or wide-bottomed pot with a tight-fitting lid over medium-high heat. Cook the meat, in batches, until well browned on all sides, 6 to 8 minutes, transferring the pieces to a plate as they are browned. Pour off and discard any drippings from the pot.
3. Add the tomato paste, wine, broth, onion, bay leaves, thyme, garlic and 2 of the carrots and bring to a boil. Return the meat and any juices back to the pot (the meat should be barely submerged in liquid), cover, and transfer to the oven. Cook for 2 hours.
4. Using tongs, remove and discard the cooked vegetables. Add the potatoes and the remaining 8 carrots to the pot, cover, and return to the oven. Cook until the meat and vegetables are fork-tender, about 1 hour more.
5. Don't forget to bring a loaf of crusty French bread for sopping up the rich sauce.
Chicken Noodle Soup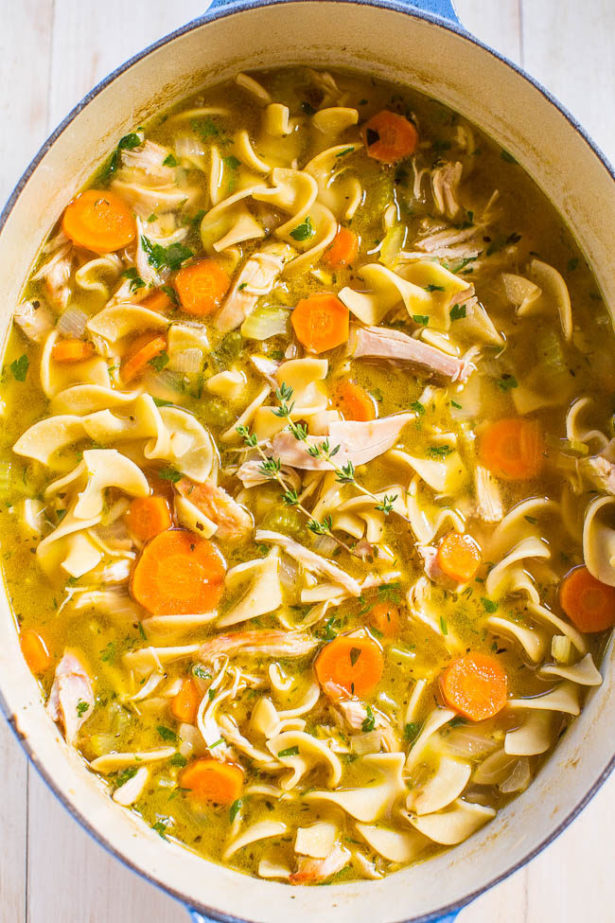 If you're in a rush and you don't have the time for a top-notch Wine & Dine but you would like a warm, nutritious meal, why not opt for good old chicken noodle soup. It's fast, easy to make and warm to the soul, perfect comfort food for those cold winter months. Here is the recipe:
Ingredients:
2 quarts water
8 teaspoons chicken bouillon granules
6-1/2 cups uncooked wide egg noodle
2 cans (10-3/4 ounces each) condensed cream of chicken soup, undiluted
3 cups cubed cooked chicken
1 cup (8 ounces) sour cream   
Minced fresh parsley     
Preparation:
1. In a large saucepan, bring water and bouillon to a boil. Add noodles; cook, uncovered, until tender, about 10 minutes. Do not drain.
2. Add soup and chicken; heat through. Remove from the heat; stir in the sour cream and sprinkle minced parsley. Yield 10-12 servings.  
Olive Garden Zuppa Toscana
I cannot depart without covering a personal favourite comfort food for the winter months: Olive Garden Zuppa Toscana soup. If you have never tried this soup, I feel for you, because there is nothing like it. It's creamy, cheesy, spicy, thick texture speaks to your taste buds. You can learn to make it at home and make a huge pot until you're dead tired of eating it, or just drive to the U.S and visit the Olive Garden in person.  I think you can save the mileage and cook it at home, here it is: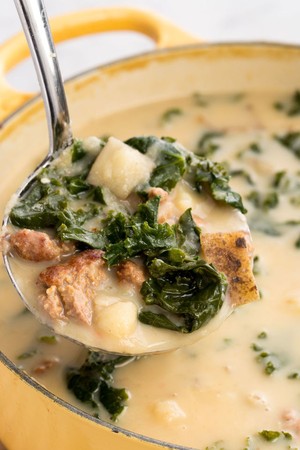 Ingredients:
1 lb. Hot Italian sausage, casings removed
1 large onion, chopped
3 cloves garlic, minced
kosher salt
Freshly ground black pepper
6 c. low-sodium chicken broth
4 large russet potatoes, diced
1 bunch curly kale, leaves stripped and chopped
3/4 c. heavy cream
4 slices cooked bacon, chopped
1/4 freshly grated Parmesan, for serving
Preparation:
1. In a large pot over medium heat, cook sausage, breaking up with the back of a wooden spoon, until browned and no longer pink, 5 to 7 minutes. Transfer to a plate to drain.
2. Add onion to pot and let cook until soft, 5 minutes, then add garlic and cook until fragrant, 1 minute more. Season with salt and pepper. Add chicken broth and potatoes and cook until potatoes are tender, 23 to 25 minutes.
3. Stir in kale and let cook until leaves are tender and bright green, 3 minutes, then stir in heavy cream, sausage, and bacon and simmer 5 minutes more.
4. Season with pepper, garnish with parmesan and serve.
There you go beautiful folks, three outstanding comfort foods to fill up those cold days when stepping outside feels like a chore.