So the good news is all of this week's remaining contestants have now confessed their love for Becca; the bad news is that one of them's still Garrett.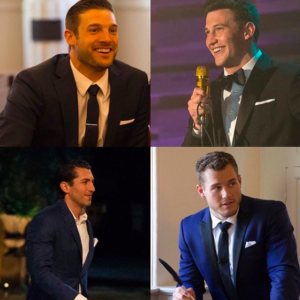 This season's hometown dates kicked off in Garrett's hometown of Manteca, California. Apparently, his family owns on a tomato farm. Now, I love me some tomatoes (Hello, caprese salads!), but I still wouldn't make out with Garrett for all the tomatoes in the freaking world. Unfortunately for her, Becca did just that. When Garrett escorted our girl on a tour of his farmlands, he taught her to plant crops, then grabbed the first opportunity to stick his homophobic tongue down Becca's throat. Do you think Garrett's kisses taste like racism?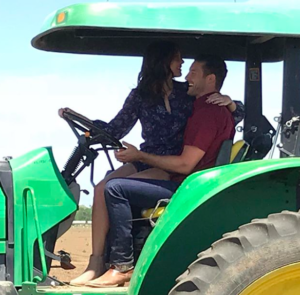 For their part, Garrett's family appeared normal. You'd never guess they'd raised a son who likes memes suggesting victims of high school shootings are paid actors. His relatives were, however, very dramatic when it came to the topic of Garrett's divorce. His sister straight up cried while talking to her brother about his failed union. I get that bad relationships are sad, but Garrett is hardly the first person to dissolve a marriage. I'm not sure it warrants his sisters tears years after the fact. Plus, why do Garrett and his sister have completely different accents? Didn't they grow up in the same place? Can someone please explain the linguistic science behind this? It is driving me to distraction!
Of course, Becca loved Garrett's family. The happy group sat around the dinner table, engaging in laughter-filled conversations, a sight that would have warmed my heart if Garrett weren't my sworn enemy at this point. And, judging by how passionately Becca Frenched him when it came time to leave, Garrett, winner of The First Impression Rose, is still the one to beat. Now excuse me while I go gag myself with a spoon….
The following hometown date took us to Buffalo. As a Torontonian, I've long harboured certain – unfair – stereotypes about Buffalo. In the 6ix, nearby Buffalo is thought of as one giant outlet mall. But now I realize it's a totally charming place. Jason's Buffalonian hometown subverted all my expectations. It was quite possibly the best publicity Buffalo's ever received, and that's not hyperbole.
Jason certainly showed Becca the best that Buffalo has to offer. First, he took her to the bar where Buffalo wings were invented. Next, Jason brought Becca to a hockey arena, where he proved to a proficient player. Seriously, his technique was so solid, it made me wonder if he secretly played for the NFL or something. The hockey-themed portion of the date was punctuated by Becca and Jason making out on a Zamboni. And they really put the "bone" in zamboni, if you catch my drift. It was steamy! Plus, has anyone besides my friends on Twitter noticed that Jason is a dead ringer for Jack Pearson (AKA Milo Ventimiglio) on This Is Us? He's a hottie.
Soon, it was time for the moment of truth – Becca had to meet Jason's parents. As Jason described to his mother during some alone time, the banker feels like he's been "coming from behind" this whole season. For weeks, he felt insecure about the depth of their connection compared to Becca's relationships with the other dudes. However, their recent dates have convinced Jason that he might be in the lead. Oh, how I wish that were true!
Jason's family proved as delightful as he is. In fact, Jason considers his brother and brother-in-law his relationship role-models, which was nice to hear. It was refreshing to see Becca click with a contestant who doesn't hate queer people, unlike Garrett.
Jason capped off the hometown date by professing his passionate love for Becca. She seemed pleased by the declaration, but I somehow doubt it'll will secure him the coveted Final Rose season.
The third hometown date went to Blake. And it was one of the rawest, realest things we've seen from this franchise. Blake brought Becca to his old high school, a move Jordan Rodgers previously used back in JoJo's season. When contestants do this, it's typically because they peaked in high school and want the titular Bachelorette to see their old sports trophies from Grade 12, because that's the last time they accomplished anything. However, Blake subverted my expectations, completely. In a shocking twist, it turned out Blake brought Becca to his alma mater to reveal a painful secret, he's survived a school shooting.
As Blake explained, a random gunman opened fire on his high school campus. His mother, who worked as an administrative assistant at the school, was the one who announced the "Code White" on the PA system. Tragically, a student lost her life that day. Blake told the whole story with strength and grace. I was teary-eyed by the end. What a harrowing experience for a teenaged boy to have!
No, Blake did not bring Becca to his high school to brag about his glory days. On the contrary, he used his Bachelor Nation platform to raise awareness about gun violence in America. He's pretty much perfect. At this point, Becca could choose Blake, who raises awareness about gun violence, Jason, whose romantic role-model is his gay brother, or Garrett, who LOVES guns and HATES gay people. That should NOT be a hard decision to make!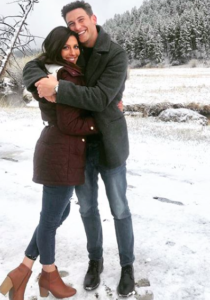 Blake's parents were probably the most adversarial. His mother took Becca to task over whether she's actually ready to settle down, given the televised demise of her engagement to Arie last winter. The whole interrogation was a tad bizarre. After all, we know Blake's mom left her husband for Blake's English teacher back in the day. I don't want to judge the woman for her complicated love life, but I feel like she of all people should have sympathy for Becca. Certain relationships just don't work out, but it doesn't mean others can't. It's not like all her relationships are doomed forever just because she once cancelled a wedding!
The last hometown date when to Colton. Like Colton himself, this date was sweet in a bland way. The former football player took Becca to a children's hospital, where they gifted some adorable kids with goodies. It was a lovely idea, but it didn't allow new or interesting elements of Colton's personality to shine through. At this point, all we really know about him is that he's a virgin who was pretty good at football and likes to do community service. Those are fine things, but you'd probably want more info on the nitty gritty details about the person you might be marrying, namsayin? Does Colton like brunch? What sort of music does he listen to? Would he bingewatch Glow in bed with you? That's information one ought to have before getting engaged.
Colton's family were nice people. Though I must say, Colton's father was oddly fixated on his son's virginity. He and Becca actually discussed his son's chastity together during a tete-a-tete. That would definitely have crossed a boundary for me. Which makes me wonder, am I a prude for not wanting to talk to a boyfriend's dad about shagging his son? Am I the odd one out, dear readers? Is that how things are normally done?
Before The Rose Ceremony, Becca brought out the big guns. She summoned Bekah, Tia, Seinne and Caroline – fellow alumnae from Ari's season of The Bachelor – for some girl talk. Becca claimed she did so because these are the people who, and I quote, "know me the best." I'm not sure why Becca's closest confidantes are a bunch of women she met last fall while they were competing to marry a loser, but who am I to pass judgment?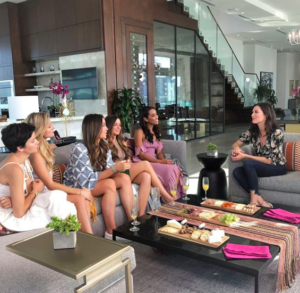 Anyway, Becca took advantage of her girl time, revealing juicy details, like a conviction that Jason is the "best kisser" on the planet. But when Colton came up, Tia abruptly whisked our leading lady away for a private chat. Once alone, Tia revealed that she has continued feelings for Colton! Yes, despite having given Becca the greenlight to date her ex only a few episodes back, Tia's now rescinded her blessing. Come on, Tia! No takesy backsies! That's a rule!
Not surprisingly, it was Colton who went home following this installment's Rose Ceremony. Becca claimed it was because her feelings for him weren't sufficiently strong, but, let's face it, Tia's feelings probably factored into the decision. That begs the question, why on earth the didn't Tia say something sooner? Poor Colton was completely devastated. He'd sought out Chris Harrison for sex advice and everything! Everyone's favourite virgin was excited to go to the "Fantasy Suite!" Let's hope he has some sexy times in Paradise.
Dear readers, this week's recap has come to a close. I'll y'all next week, when Becca takes her final three contestants to Thailand!