Interested in celebrating your emergence from a two-year lockdown hiatus with an event that will not only entertain, but involve you? Then, A Grimm Night, an immersive theatre experience, playing at The Great Hall in Toronto, is perfect for you.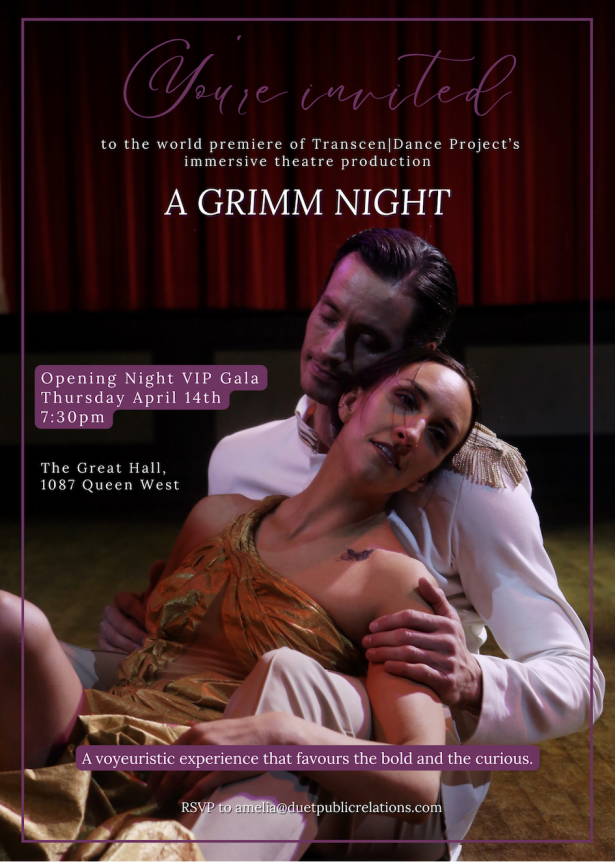 Transcen|Dance Project is a Toronto-based company looking to stretch the boundaries within the Toronto dance community and create a new environment for audiences to experience art and live performance. Founded in 2015 by former Canadian dancer, Julia Cratchley, who trained as a contemporary dancer at the illustrious Arts Umbrella in Vancouver and danced as a freelance dancer across North America.
The Transcen|Dance Project's latest creation, A Grimm Night is an immersive theatre experience inspired by the Brothers Grimm stories. A Grimm Night will see guests don masquerade masks, and roam free to discover the dark magic of the most sacred of childhood fairy tales. From the moment that they arrive, the audience is at the centre of the story; they are set free to roam all four floors of The Great Hall and interact with the all-star cast, including legendary prima ballerina and Canadian Walk of Fame inductee, Evelyn Hart. A Grimm Night is a voyeuristic experience that favours the bold and the curious.
When: Opening Night: April 14th at 7:30pm. April 15th and 16th at 7pm. Late Showtimes: April 15th and 16th at 10pm.
Where: The Great Hall, 1087 Queen St. West, Toronto.
Tickets are on sale now and can be purchased here.
General Admission: $73.45, VIP $107.35, and Opening Night $113.00
* VIP tickets include line bypass, a glass of bubbly and coat check.