You know what I love about the beauty industry? How quickly it responds to customer demands. They really aggregate all those customer reviews (which are admittedly sometimes bogus. I'm looking at you, Sunday Riley). Then, they use that information to create the products their customers want. It's an efficient and effective process! And creation of mini makeup products is the perfect example of how the industry responds to customer demand.
A few short years ago, the industry realized makeup users were looking to replicate their every day makeup bags into miniature sizes for travel, or for daily toting needs. And voila! Almost immediately, the industry responded. A few brands produced minis of their signature products and other brands quickly followed suit. Now, the entire Sephora checkout area is lined with mini-sized products and travel totes.
The only downside to the mini makeup trend is that makeup minis aren't economically advantageous for the purchaser. There are a few exceptions, but minis are typically priced much higher than you'd expect, given that you're getting so much less of the foundation or the lip gloss you would usually buy. But, no matter how much we may love it, the beauty industry is still an industry; they figured out customers are willing to shell out big bucks for the convenience of buying blush that actually fits into your clutch. Alas, you don't always get what you pay for!
In spite of the pricing model, I'm a huge advocate for minis. Although the price to product ratio isn't ideal, minis also make products more accessible at a lower price point for customers who aren't able to afford the full-size product, but do want to be able to dress up for special occasions. There's also the added bonus that minis make great gifts for! But most importantly, they can make your day-to-day life easier. Now you don't have to carry a purse the size of Alaska just so you can fit your entire makeup bag inside.
Now here's a list of my favourite minis for your perusal! I hope you find a tiny treasure.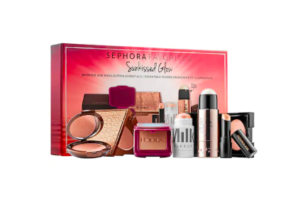 Laura Mercier Translucent Loose Setting Powder Mini-Sephora, $30.00
The full-sized product is already receiving abundant praise. The Holy Grail of translucent powder, it's a staple with pro makeup artists. But the original packaging leaves something to be desired. It's so bulky, you may have to bring a second purse to work! But the mini size makes traveling with this divine so much easier. Rejoice!
BECCA Shimmer Skin Perfector Pressed Highlighter Mini-Sephora, $23
Highlighters, and most modern cheek products that I think of, are one of those products I believe need a pricing and size ratio overhaul. After all, a little bit of such product can go a really long way! I personally don't believe in buying full-sized products for my cheeks. That's why I love BECCA; it has a range of mini shades for all your shimmering needs!
FENTY BEUTY BY RIHANNA Two Lil Mattemoiselles-Sephora, $24
Lip minis are the best way to invest in daring shades you wouldn't normally wear. In contrast with highlighters, I find lip minis are always a good investment. Plus, these minis are actually pretty well priced. Fenty Beauty has perfected the art of mini duos, with their previously reviewed (by me!) Bomb Baby Mini Lip and Face Set, this lip mini duo is a perfect addition to your Fenty mini collection. Spanked is a pink, dusty rose shade that is neutral enough to be daywear. Whereas, Griselda is a bold burgundy you can whip out at night.
MIU MIU Eau de Parfum Rollerball-Sephora, $35
Fragrance minis are the best. They are a fraction of the price of an entire bottle, and you can touch up your scent while on the go. My number one piece of advice for purchasing a fragrance mini is to make sure it's a 'parfum' and not an 'eau de toilette'. Parfurms are made with a higher concentration of oils. In a full-sized bottle, parfum is much more expensive. When it comes to minis, they're all usually priced in the $30-$35 range, whether you want a parfum or an eau de toilette. And with a fresh, quirky parfum like this MIU MIU fragrance for $35, you're sure to smell great all day.
Bumble and Bumble Hairdressers Invisible Oil Mini-Sephora, $25
If you're anything like me, your hair is frizzy in the summer, but dry in the winter. That's where having a dry oil on hand can really help. A little pricey for my taste, this Bumble and Bumble's Invisible Oil Mini is one of the most overpriced beauty products. But the convenience that comes with being able to tame fly-aways on a dry, static-y winter day? That's priceless.
Conclusion:
Minis may be smaller than your average makeup, but they pack a big punch. You won't regret investing in pint-sized version of your favourite products. Trust us!