Does your polish match your personality? What is your manicure saying to the world? Do different hues make different statements? Well, we have the answers to these burning questions. You're welcome!
Red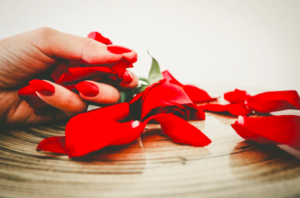 Red is sexy, bold and shows that you're classy and glamorous. Chances are, paparazzi are hiding outside your window just waiting to catch a glimpse.
Yellow
Yellow is the universal colour of sunshine, happiness, and all things warm. Pale yellow polish was a trend this summer, but why not continue bringing the sunshine during the colder seasons? Your yellow nails show that you're a bundle of warmth and joy, and that you're always willing to offer a big hug.
Blue
You're bold. Okay – so there are many shades of blue, and not all of them are super bright and confident like royal blue. There's a softer baby blue, which is simply a subtler boldness, but nonetheless, it shows confidence. If you're rocking blue, you take charge of life.
Black
Black is stereotypically kind of punk-rock and gothic, and yeah, it totally could be. But black nail polish shows that you have a darker side (as we all do), and you're not afraid to show it.
White
Only for the purest of the pure – WRONG. White may be simple and clean, but it's a pretty bold shade to go for. It shows you're confident and chic with a hint of elegance.
Nude
All you nude-wearers, you are low-maintenance while still being polished and poised. You love relaxing with a good book on the beach, OR your workplace doesn't allow bring nail polish, so this is your only option.
Pink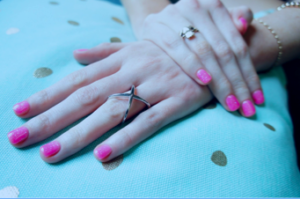 Pink can mean two different things. Paler shaded suggest a more shy, conservative side, while hot pink implies your love for Avril Lavigne's punk-rocker vibe. Where's my Sk8er Boi at?