"We were in the Beauty Department and she held up the Shu Uemura eyelash curler and said 'what is this?'" You may remember that iconic line from the movie The Devil Wears Prada. It's a biting quip delivered by none other than Giselle Bundchen to describe Ann Hathaway's character Andy, mocking her ineptitude where all things fashion and beauty are concerned. Here, the prized eyelash curler is a symbol of Andy Sachs' ignorance when she starts working at Runway Magazine (Which, of course, is a fictional stand-in for Vogue). Well, unlike Andy, I've known about Shu Uemura's famed eyelash curler for a while…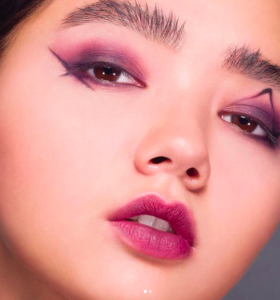 Before I get too cocky, let me assure you, the fact that its eyelash curler is "the best" in the business was all I really knew about Shu Uemura beauty products. I was no expert about the line, but last week, I thought it was time I become one. So, like a good investigative beauty journalist, I went down to Nordstrom and booked a beauty consultation with Jessica, Shu Uemura's freelance traveling makeup artist. She would be my Shu Uemura spirit guide.
Shu Uemura (the inventor of this eponymous beauty brand) was a cool man from Japan who loved all things makeup. In fact, he first worked in the film and entertainment industry as a makeup artist. Uemura launched his first cosmetic product, a cleansing oil, in 1960.  Other products, like the aforementioned eyelash curler, followed later. And with that, a legendary line of products was born!
To begin my makeup consultation, Jessica used the Ultima8 Sublime skincare line to prep my skin. She emphasized how Shu Uemura started as a skincare line, and now offers six different cleansing oils, plus a wide range of other skincare products. Beautifully scented and very delicate, this skincare regimen perfectly prepped my face for makeup application.
The most dynamic products were Shu Uemura's two brow pencils. The first, simply called Hard Formula ($29), looks like a regular pencil crayon aside from the way it is sharpened. Jessica regaled me with how these pencils are sharpened in the style of a naginata samurai sword. Customers can bring these – literal – beauty weapons into Shu Uemura stores or beauty counters to have them professionally sharpened. This sharpening style makes it easier to draw precise brow-like strokes on one's face. The Hard Formula is oil activated, meaning the pigment will not appear if you test it by drawing a line on the back of your hand. The pigment will only activate when applied on your brow, where it mixes with the natural oils on your face. I have tried almost every brow pencil under the sun, making me somewhat jaded. But I was so surprised. The formula and sharpening really makes for a much more natural and delicate application, and the proof is in the very noticeable results. This brow pencil coloured me surprised…
The second brow pencil is an automatic, pre-shaped naginata pencil with a spoolie and removable, refillable cartridge. This product is more costly, and retails for $42. But, it also has a built in sharpener. I know, a built-in sharpener for an automatic pencil? Sounds wild, and it is! I was floored by the ingenuity of the packaging paired with the pencil's unique formula.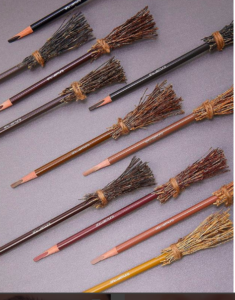 It must be said that Shu Uemura's makeup is perfectly pigmented. No shadow is too intense for you to ever need to course correct; the lipsticks are rich, the glitter is bright but not blinding, the blushes give you the most perfect flush. Aside from one annual holiday eyeshadow palette, all of Shu Uemura's shadows and pressed powder products are sold separately. Customers purchase individual shades, or you can put them together in sets of three, six, or eight. The line has a wide range of hues, with beautiful blues, bright yellows, shocking pinks, and gorgeous neutrals, browns, and taupes in both matte and shimmer finishes. A person could stock their entire makeup needs from Shu Uemura for both edgy festival looks and formal functions.
Jessica used the new holiday palette to give me a berry toned, gold shadow for my eyes and a deep burgundy lip. Every year, the brand comes out with a limited edition holiday line. This year they paired with a French chocolatier and so the line is appropriately called 'La Maison du Chocolat.' Everything has a subtle cacao scent. Not chocolate, but cacao. The scent is earthy and comforting.
Next, Jessica showed me the iconic eyelash curler, the one that confounded Andy Sachs herself ($25). I explained to Jessica that I have tragically short eyelashes. Every curler I've tried pinches my lids. She assured me the Shu Uemura curler would not pinch me. Instead, it would give my lashes a lovely twirl. After she was finished, I looked in the mirror and gasped. Today, I understand why it this product is award-winning. My lashes looked amazing! Long with a perfectly curled even though I was sporting minimal mascara. Jessica told me the curler is precisely engineered with the exact amount of control, so as not to place too much pressure on your lashes. That pressure will give you a great curl, every time. The curve of the curler fits every eye shape without grabbing your lid. I completely understand why it's considered an industry staple.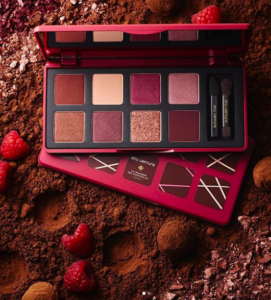 Suffice it to say, Shu Uemura knows how to make stellar beauty tools. To drive the point home, Jessica also showed me the Petal 55 foundation brush ($79). This palm-sized, oval-shaped brush has a hexagonal handle meant for gripping with your fingertips. It's handmade in Japan and contains precisely 189,000 synthetic hairs for an absolutely smooth and poreless finish. Rubbing it across the back of my hand, it honestly felt like dense air. There is virtually no other way to describe how smooth and luxurious it is. Naturally, it is currently sold out and on continuous back order. However, mark my words, that brush will be mine one day.
Shu Uemura is a beautiful, well-priced, playful, and absolutely thoughtful beauty line. I hope you find some time to test products at your local Shu Uemura outlet, so you can experience the same joy I did. No wonder Giselle judged Andy Sachs for not knowing Shu Uemura!