December 5th, 2018 Pantone announced that "living colour coral" would be the colour for Spring 2019. According to Pantone, the decision was  based "on the look of healthy coral reefs in the world's oceans." However, this announcement might come as a shock, since a variety of bright and bold colours filled up the runways during  New York Fashion Week.
However, as seen on the runway, yellow sits as one of the biggest colour trends for Spring 2019. From a hues of yellow ranging from Lemon Verbena, Aspen Gold, and Mango Mojito these colours made classic to bold statements on the runway.
Yellow is the colour of vibrancy,  happiness, and sunshine. This bright colour is optimistic and extremely dynamic.  Yellow is the colour of youth, and also demands attention.
For those who might shy away from this dramatic colour, wearing yellow as an accessory would be the best solution.
Whether you choose to wear Lemon Yellow, Aspen Yellow, or Marigold this colour can be brightened up or toned down to accommodate almost every look.
For example, at Max Mara's runway show the models looked bold and trendy rocking yellow from head to two.  In contrast, Oscar de la Renta runway show, combined statement pieces where yellow isn't the dominant colour,  yet still managed to make a bold statement with yellow even as an accent colour.
RELATED: Swim Wear Trends 2019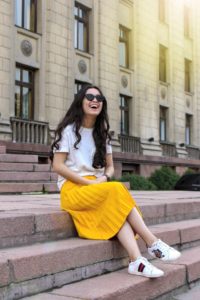 These designers are not the only ones that played with this bold colour,  Kate Spade, Brandon Maxwell, and Monse to name a few, incorporated this colour to there runway looks in both uniquely dynamic ways.
Yellow isn't just for couture fashion either,  throughout Spring 2019 and a couple of seasons before yellow was seen on your favourite Instagram influencers and YouTube stars,  but in small doses.
In all, it's safe to say the people have spoken declaring yellow as the statement colour for Spring 2019. Whether this colour is rocked in the form of a jacket, purse or heel, it is the perfect accent colour for any spring inspired outfit.