We all know how important physical activity is to overall well being. Living in a city that is constantly bustling' it can be hard to fit in that gym time. But don't forget the impact that something as small as walking can do for you. There are many benefits of walking more. Incorporating additional walks as part of your routine for overall well being can be as easy as taking the stairs, getting off the bus one stop early and walking the rest of the way, or walking to your local shops. Every little bit is great, but experts say 30 minutes or more a day is best.
Here are some of the reasons that we should all spice up our daily routines with an additional walk: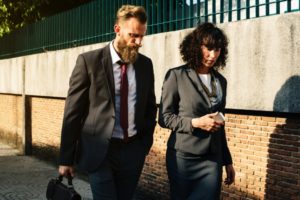 Physical Benefits
Walking daily can do many positive things to your body. Incorporating walking into our routines can do things like increase cardiovascular fitness, reduce body fat, and boost strength. The American Cancer Society also says that women who walk 7 or more hours per week have a fourteen percent lower risk of breast cancer than those who walked less than three.
RELATED: Healthy Habits
Emotional Benefits
It's common knowledge that exercise releases endorphins, and walking is no different. Endorphins can produce positive feelings and can reduce stress. With the influx of these happy hormones along with the sense of accomplishment that comes with sticking to your wellness goals, committing to walking has the potential to increase your self-esteem.
If you choose to commit to walking by yourself it can also give you time to reflect. Frequently self-reflecting can increase your emotional intelligence and contribute to overall well-being.
Psychological Benefits:
Some sports psychologists believe that regular exercise can help with your mental health, specifically with decreasing the symptoms associated with depression and anxiety. Adding walking to your routine can also help if you have trouble sleeping. Walking can help increase your body temperature which calms your mind and helps you fall asleep.
Seasonal Benefits
When it's summertime – definitely try to walk outside. Not only will you work on that tan but it gives you a chance to absorb some vitamin D, which is great for your bones.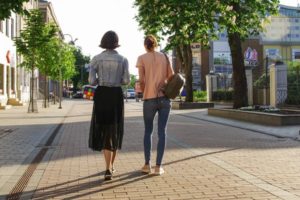 Surprising Benefits
According to Harvard Health, walking can help curb that sweet tooth. They said that a walk can reduce cravings for chocolate and the quantity you stress eat.
There are so many benefits to walking, it's low impact, it's free, and it doesn't have to be vigorous to improve your health, but if you choose to make it harder you can add routes with hills or increase speed or distance.